One thing that changes drastically once you have kids is your hair. Somehow, it's always messy, and you never seem to have time to style it the way you used to. But, you don't have to give up on it completely!
Here are 20 awesome and easy hairstyles for busy moms that will make you a rockstar again!
1. Easy Chignon
Rock that chignon anytime you want with this easy tutorial, and make sure you have plenty of bobby pins to keep it in place. It's a good alternative to the everyday bun and gives your hair more volume and texture if you're trying to be fancy!
2. The Messy Bun
The holy grail of easy mom hairstyles, the messy bun is a perfect solution for busy moms – it takes about a minute to style your hair – even if it's dirty. All you need to spruce it up a little is a chic headband and it looks like you've put a lot more effort in than you have!
3. The Alternative Low Bun
If you are having an epic bad hair day and the bun just doesn't want to stay together, go for the low bun. If you want a big bun, you can use the bun sponge ring. If you want a quick low bun, you can make a messy bun without it.
4. The Quick Curls Trick
If you're looking for curls but don't want to spend hours, these 5-minute curls can do the trick! Get the extra volume you're looking for before the school run, and you can let them set whilst you're doing other things too! It's the ultimate easy mom hairstyle, taking just a few minutes, and no heat (to forget to turn off) either!
Get the Right Equipment
Styling your hair at home allows you to experiment with different looks without having to spend a fortune. From blow-dryers and flat irons, curlers and clippers – there is a wide range of equipment available that can make it easy for anyone to style their hair like a professional. The best hair dryer for black hair is one that is designed to reduce heat damage while delivering gentle and efficient styling. For those with fine hair, a lightweight dryer with a concentrator attachment can narrow down the airflow for extra control. On the other hand, those with thicker locks may want to look for ionic technology which helps reduce frizz while protecting strands from heat damage. With a few pieces of quality equipment and some practice, achieving any desired hairstyle is possible!
5. The Perfect Ponytail
Tired of the ponytail? Spice it up with more volume and texture. The trick is to use several headbands and then work in layers. This will give your ponytail more structure, bringing this classic hairstyle to a whole new level.
6. Sleek Ponytail
This hairstyle is also a go-to hairstyle for moms when you have greasy hair because let's be real – nobody can tell whether it's greasy when it's super sleek!
7. The Easy Fishtail
Is the ponytail too bland for you? Go for a fishtail instead – it's actually super easy to make and will become a go-to mom style when you're too busy to do more. Bonus? It actually looks super elaborate and you don't have to blow dry your hair right before either.
8. The Pipe Braid
The pipe braid looks awesome on any type of hair. It will take a bit to master the twisting, but once you do that, you can have it ready in a few minutes! This is one you can do to impress and works on the kids too!
9. The Half 'Up-Do' Top Knot
The bun is a go-to for most moms with long hair and tends to become boring after a while. You can switch things up by choosing to do a half bun instead – it will keep your long hair flowing while solving the problem of it always ending up in your face.
10. The Pixie
Many moms have decided pixie is the easiest look when you have kids. The thing with the pixie cut is that you need regular styling to keep it looking good. If you don't have time for regular trips to the hair salon or you're growing out your pixie, you can still style it in awesome ways, as this tutorial shows.
A great way to keep your pixie cut in shape is to find one of the best hair clippers that will last you years. This way, you won't need to get your hair touched up at a salon every week to keep it short.
11. The Rolled Updo!
Want something more formal but without the effort? This is a busy mom hairstyle tutorial for a chic updo. The headband you use determines how formal or quirky you can make it!
12. The Vintage Milkmaid
Have a vintage style? Make your mom-do look like it took a ton of effort with this milkmaid hairstyle that is super quick and easy to do. Just make sure you're well stocked up on bobby pins ready for this one to catch all the strands.
13. The Twisted Ponytail
Who knew there were so many ways to customize your ponytail? This is a cool twisted version that looks super elaborate but is actually done in mere minutes!
14. A side-swept trick
15. High Ponytail
The classic high ponytail is always an excellent choice. If your hair is extra long, you can wrap your hair once over the hair tie to hide it Arianna Grande style.
16. French Braid
Classically braided as one or two, the french braid is a quick style you can do for yourself that keeps its look throughout the day.
17. Braided Bun
Even if you can't braid very well, the braided bun is an elegant look that can be done in as little as five to ten minutes.
18. Side Braid
Side braids are a cute addition to mostly down hairdos. Part your hair just off center, divide into three pieces and braid.
19. Half-Up Bubble Pony
The super trendy half-up bubble pony is not only stylish but won't look messy or need to be fixed later.
20. Space Buns
Make a pair of half-up high ponytails, twist them, and wrap up into buns. Bobby pins will help hold this hairdo into place.
Stock up your supplies with these mom hair essentials
No easy mom hairstyles can be complete without a few select accessories, so here are some essentials we absolutely love using for our quick hairstyles!
Bobby pins – let's be real, they are a lifesaver, and keep your hair out of your face and take care of any strands.
Spin pins – these are awesome for buns and keep them in place much better than any hair tie could!
Quality hairbrush – the best way to quickly style your hair as you dry it quickly.
Wide tooth comb – this is what you should be using on damp or wet hair. It's great for thick, curly, and tangled hair.
Bun sponge ring – the best way to get those beautiful huge buns! It takes a bit of time to get used to it, but you'll never go small bun again!
Hair Ties – you can never have enough hair ties, so stock up!
Headbands – they come in lots of styles and can elevate any hair in mere minutes!
Leave-In Conditioner + Detangler – great for detangling and nourishing the knottiest bedhead. 
Hair Oil – when used properly hair oil helps prevent split ends and breakage. Apply it from mid-shaft down every night for the best results.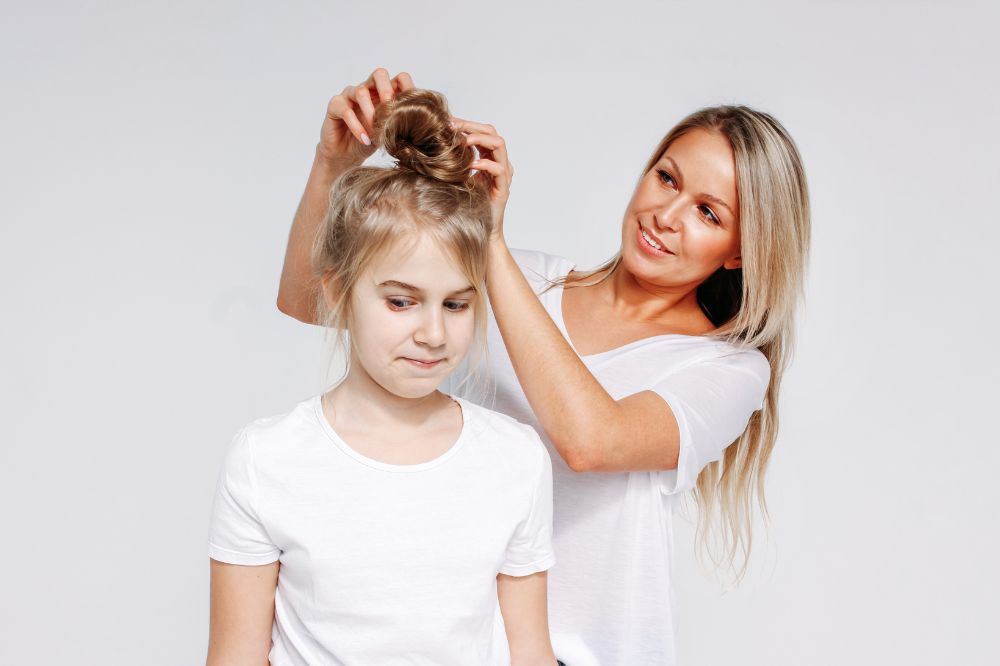 Ladies, being a busy mom doesn't mean you must bid farewell to fancy hairstyles! The above 14 easy hairstyles for busy moms will make you and your hair look awesome in just minutes, and when you combo them with the right pins and accessories, you'll never have a dull hair day in your life anymore!