Do you have an omelette maker but struggle to come up with interesting ideas?
An omelette is a great way to have an easy, healthy meal packed with nutritious ingredients. So have an omelette maker in your home is a no brainer if you're after a quick bite to eat while avoiding the potato chips and cookies!
Omelette makers aren't just a one-trick pony though – there are a number of other meals you can make, from pancakes to main entrees!
Take a look at our top 8 favorite omelette maker recipes and you'll never have a boring meal again!
1. Protein-Packed Chicken and Mushroom Omelette
One of the most attractive things about omelettes is the fact that they are high in protein. This makes omelettes perfect for fitness enthusiasts or egg meal prep, and if you're looking for an extra protein punch, this is the omelette for you.
For this recipe you will need:
Eggs
Mushrooms
Chicken
Butter
Garlic
Vegetable Stock
Salt & Pepper
First sautée your mushrooms and cubed chicken in a pan with butter, garlic, and a splash vegetable stock. After your mushrooms and chicken are fully cooked, add them to your omelette maker with your beaten eggs. Season with salt and pepper to taste and let it cook.
To cut some calories from this recipe, remove all or some of the egg yolks.
2. Mediterranean Omelette
If you love the idea of sitting in the warm morning sun eating a delicious omelette with the tastes of the Mediterranean, look no further than this delicious breakfast. This next omelette is super simple and should only take 5 minutes to prepare.
For this recipe you will need:
Eggs
Butter
Spinach
Olives
Onion
Oregano, Salt & Pepper
Beat your eggs with a knob of butter, then add a small handful of spinach, 2 tbsp of diced olives, 2 tbsp of diced white onions, 1 tbsp oregano, salt and pepper to taste and stir together.
Add this tasty mixture to your omelette maker and cook – easy!
3. Spicy Cashew Omelette
If you want to try something a little different, this nutty omelette has a crunch and a mighty kick and we love it!
For this recipe you will need:
Eggs
Cashews
Onion
Celery
Mushrooms
Cilantro
Chilies
Oil
Heat up some oil, then add 150g chopped cashews, 1 diced onion, 2 tbsp chopped celery, and 200g chopped mushroom. Cook until onion softens and cashews are toasted.
Next, beat your eggs with 2 tbsp coriander and 2 chopped chilies, then add the vegetable/cashew mixture all together and cook in your omelette maker.
Serve alongside some authentic poppadoms broken into large pieces for some added crunch!
4. Classic Ham & Cheese Omelette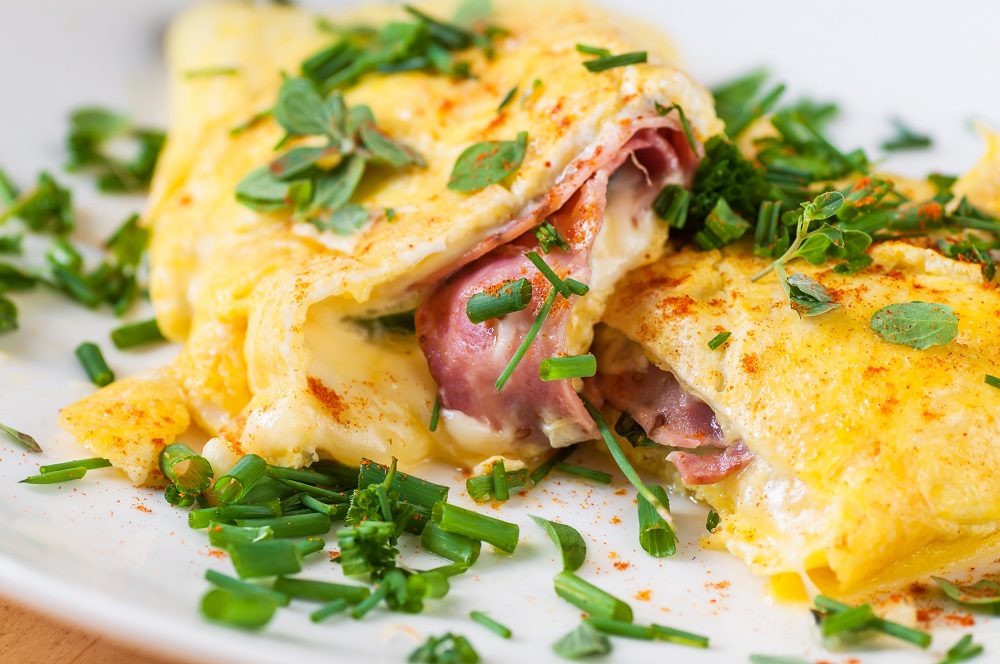 The classics are called classics for a reason – everyone loves them and they taste just like you remember them. You can't go wrong with ham and cheese!
For this recipe you will need:
Eggs
Chopped Ham
Shredded Cheddar Cheese
Salt & Pepper
Butter
Melt some butter in your omelette maker then pour your beaten eggs, chopped ham and shredded cheddar cheese mixture in. Add salt and pepper to taste.
Serve your ham and cheese omelette with seasoned home fries, fresh fruit salad, bacon or avocado toast.
5. American Pancakes
Yes, you read that right – you can make pancakes in your omelette maker!
You can make this with boxed pancake mix from the grocery store or you can make it from scratch. If you're making this recipe from scratch you will need:
Flour
Eggs
Vegetable Oil
Milk
Salt
Oil or Butter
Put 2 large eggs, 100g plain flour, 1 tbsp vegetable oil, 300ml milk, and a pinch of salt into a bowl and whisk to a smooth batter.
Add a little bit of oil or butter to your omelette maker and pour the batter in – this will need less time to cook than an omelette so keep an eye on it.
Once cooked, add your desired toppings like maple syrup or jam and enjoy!
6. Banana Pancakes
Another variant on a family favorite – this is the most simple recipe on our list but is no less tasty!
For this recipe you will need:
All you need is 2 eggs and one sliced banana – put them in a bowl and mash them until you have what looks like a pancake batter. Great your omelette maker and add the batter.
Cook for a few minutes and serve with yogurts and/or fruit for a meal that will keep you full for hours.
7. Protein Pancakes
Here's another variant on pancakes aimed to help you get in all your protein for the day.
You can buy protein pancake mix from your local grocery store now or you can make it from scratch. If you want to make this recipe from scratch you will need:
Flour
Oat Flour
Protein Powder
Banana
Cinnamon
Milk
Salt
Baking Powder
Butter
First combine all of your dry ingredients together in a small bowl and mix well. Then mix all of your wet ingredients together in a different bowl. Mash your bananas until they're smooth into the wet mixture.
Now you're ready to mix all of your dry and wet ingredients together. Mix your ingredients together but do not overmix. Your batter will be thicker than ordinary boxed pancake mix. You'll need to let your batter sit for 5 minutes before cooking.
After the five minutes are up, butter your omelette maker and pour the pancake batter in. Top with fresh fruit and/or sugar free syrup.
8. Adult Grilled Cheese
Grilled cheese is one of the ultimate comfort foods and little kids love it, but you can put an adult spin on it. Use fancy bakery bread, add meat and gourmet condiments for a sophisticated take on it.
For this recipe you will need:
Bread (from your favorite bakery)
Deli Sliced Cheese (like whole milk mozzarella)
Roasted Garlic Compound Butter
Bacon
Sriracha
Adult grilled cheese is made like normal grilled cheese but with different ingredients. Spread your compound butter onto your bread to go down on your omelet maker. Next add sriracha, whole milk mozzarella, bacon and your top slice.
For an added bonus, serve with tomato basil soup for dipping.
You'll Never Want To Put Your Omelette Maker Away!
Now that you know a few delicious meals you can make with your omelette maker, you'll probably make it a permanent fixture in your kitchen rather than just something you bring out once in a while.
Let us know what recipes you try in the comments now that you have a few new omelette maker hacks!