When it comes to furniture, comfort should be a top priority. You want pieces you can use for years, not just a few months or weeks. Whether you are redecorating your home or just looking for the perfect pieces, choosing comfortable furniture is essential. Comfort does not have to come at the expense of style, either. Plenty of stylish and comfy options will fit any budget and decor style. From classic couches to cozy bean bags, we've rounded up some of the most comfortable home furniture items you must have.
Bean Bags
Bean bags offer an unbeatable combination of comfort and convenience that is hard to come by in other furniture items. The super large sofa bean bags are designed to provide maximum relaxation, as the soft foam material molds around your body for a comfortable experience. They also come in various shapes and sizes, so you can find something that suits any room's décor. In addition, they are easy to move around since they are lightweight and don't take up much space. Furthermore, they typically require minimal maintenance and cleaning compared to traditional furniture pieces like couches or chairs. 
Regarding style and design, bean bag chairs have evolved over the years and come in various colors, fabrics, patterns, and sizes to match any décor. Whether you're looking for something modern and chic or bright and vibrant, there is bound to be a bean bag that suits your taste. They are also super versatile and can be used in almost any space, from living rooms and bedrooms to gaming areas or home offices. 
Regarding comfort, no other furniture item compares as much as a bean bag chair. Not only do they provide great support while sitting or lounging around, but they are also super soft and fluffy, so you won't need extra cushions or blankets like you would with traditional furniture items. The foam inside the bag adapts to your body shape when you sit on it, making it incredibly comfortable for extended periods.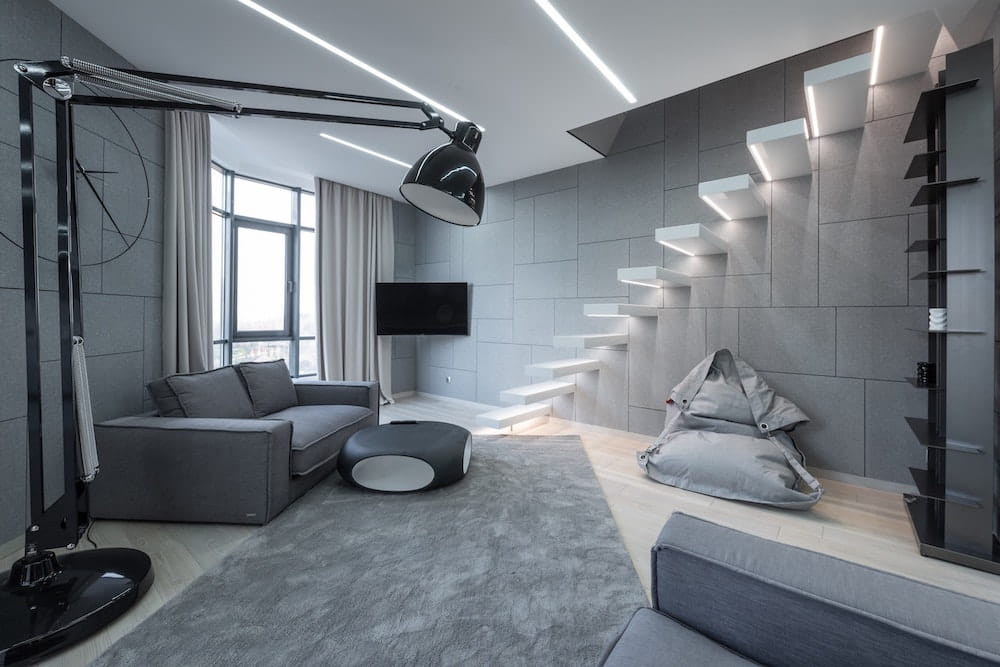 Sectional Sofas
Sectional sofas are a great way to add comfort, style, and practicality to your home. Their versatile shape can be used in almost any room of the house, and make it easy for you to create different seating arrangements for gatherings with friends or family. They also offer plenty of support for lounging around at home. Not only do sectional sofas look stylish, but they are incredibly comfortable too 
The wide variety of shapes available means that there is always something to suit everyone's needs, from the classic L-shaped option to more modern options such as chaise lounges or curvy designs. The large range of materials available also ensures you have ample choices for upholstery and colors, allowing you to tailor the look of your sectional sofa to match the rest of your home decor.
Sectional sofas are designed for comfort, with plenty of cushioned support for head and neck areas and armrests. The fabric is usually soft and breathable, staying comfortable even after long sitting. They also come in two or three-seat configurations which are great if you want separate seating areas within a piece of furniture.
Recliners
Recliners are not just attractive, stylish furniture pieces – they are also incredibly comfortable. The adjustable backrest and footrest positions allow you to create a personalized experience no matter your size or preferred seating style. Recliners come in many shapes, sizes, materials, and colors to suit any decor, giving you plenty of options when shopping for one. Plus, recliners provide plenty of support for your head, neck, back, and legs while sitting, which can help reduce fatigue and improve circulation. As if those reasons weren't enough to convince you that a recliner is an essential piece of furniture for your home! 
Recliners offer more than just comfort; their versatility makes them perfect for almost any room in the house. Recliners can provide a comfortable spot to relax and unwind, whether you're enjoying a good book in the living room or catching up on work in the office. They are also great for watching TV in your bedroom or simply taking a nap during lunchtime. With so many options available, it's easy to find one that meets your needs and fits perfectly within your existing decor.
Rocking Chairs
Rocking chairs are one of the most comfortable pieces of furniture that you can have in your home. They look great and provide a soothing rocking motion as you sit in them, making it easier to relax and take a break from the hustle and bustle of everyday life. The rocking motion helps to increase circulation, which can help reduce pain and tension in your body. Rocking chairs are perfect for use in any room, whether you want to read or simply sit back and enjoy some well-deserved rest.
In addition to being incredibly comfortable, rocking chairs are sturdy and can last for many years. They come in many different styles, so you'll surely find one to suit your home's interior. Plus, they're easy to maintain, so you won't have to worry about them deteriorating over time. Thanks to their classic design and durability, rocking chairs are a great investment for anyone looking for a comfortable piece of furniture.
Rocking chairs also make a great addition to any living space. They provide a cozy place to relax, read, or enjoy peace and quiet. And with the variety of styles available, they can easily become the centerpiece of your room! Whether you choose an antique rocking chair or one that is modern and sleek, you can be sure it will bring warmth and style into your home.
Daybeds
Daybeds are one of the most comfortable pieces of furniture that you can have in your home. They provide extra comfortable sleeping space and a cozy, versatile atmosphere. Daybeds come in many styles, shapes, and sizes to fit any room or style preferences while providing excellent comfort. 
One great feature of daybeds is that they offer an adjustable mattress system. This allows you to easily change your mattress's height by adding or removing mattresses as needed. This is especially useful when transitioning between a twin and queen-sized bed for larger families or guests visiting from out of town. 
Another great advantage of having daybeds is their ability to double up for seating during the day. They are great for sitting in the living room, reading or watching television, or even just relaxing with a cup of tea after a long day. These daybeds provide extra comfort that you won't find from traditional seating options like couches and loveseats.
Choosing comfortable furniture for your home doesn't have to be difficult. There are plenty of comfy options available that will fit any budget and decor style. From classic recliners to modern sectional sofas, these are some of the most popular pieces you should consider when redecorating or looking for new additions. With comfort in top-of-mind, these items will make your home feel cozy and inviting for years to come.