Children love surprises and gifts. Whether it's their birthday or a special holiday, surprising your kids with something unexpected is sure to bring a sparkle to their eyes. It's always nice to have a few creative gift ideas up your sleeve when you want to make a kid feel extra special. Also, giving them something unique and thoughtful can create a lasting memory. Here are 6 creative gift ideas for surprising your kids.
1. Japanese snacks and candy
Kids always love trying something new, so why not introduce them to the exciting world of Japanese snacks and candy? From matcha-flavored KitKats to strawberry mochi gummies, there's a huge variety of options to choose from. It's sure to be an unforgettable experience for your children! You can get snacks from Japanese supermarkets or order them online. If you want to make the gift extra special, why not add a traditional Japanese toy or game as well? Additionally, you can even teach your children about Japanese culture and cuisine at the same time.
2. Art supplies
For children who are particularly creative and love to express themselves, art supplies can be a great gift. Consider stocking up on paints, pencils, paper, canvases, or any other items you think your child would enjoy using for their artwork. Not only will this get the creative juices flowing but it also encourages your kids to explore their artistic side and develop new skills. This could be a great way to foster an untapped talent that may even lead to a career in the future! Plus, they'll have fun creating all sorts of pieces of artwork that you can hang proudly around the house or give away as gifts. 
3. Science experiment kits
Science experiment kits are an awesome way to help your kids learn about science and have fun at the same time. There are many different kits on the market, ranging from simple experiments that just require basic ingredients and tools, to more complex ones that teach kids more advanced concepts. Whether it's a chemistry set or a kit designed to explore outer space, these types of gifts will show your children how interesting and exciting science can be. Plus, they get to keep their work as a souvenir of their learning experience! 
4. Virtual reality headset
Virtual reality headsets are becoming increasingly popular and provide an immersive experience that kids can enjoy. It allows them to explore virtual worlds, experience exciting games, or watch movies like never before. VR headsets come in a range of sizes and prices, so you can find one that fits your budget. You might even be able to score a great deal by buying a used headset from someone else who has already upgraded. Give your kids the gift of exploration with this unique technology! It's sure to be a hit. 
5. Sports equipment
Sports accessories and equipment make great gifts for any kid who loves to stay active and outdoors. Whether they love camping, swimming, or playing soccer, you can find the perfect gift to show your support for their athletic endeavors. You could also purchase a new bike or skateboard to give them an extra boost of confidence and motivation when it comes to outdoor activities. For younger kids, wooden play sets in the shape of animals, castles, or cars are always a hit – these will provide hours of imaginative play with friends! If your child is more of an indoor person, a basketball hoop and ball or a football could be just the thing to keep them entertained for hours.
6. Educational toys
Educational toys are a great way to get your kids engaged and learning while having fun. Whether it's a simple jigsaw puzzle or a more complex science kit, you can find something perfect for whichever age group your child is in. For example, if you have a toddler, try getting them an interactive alphabet game that teaches letters and words. Or for older children, you could pick up a robot-building kit that introduces basic programming concepts.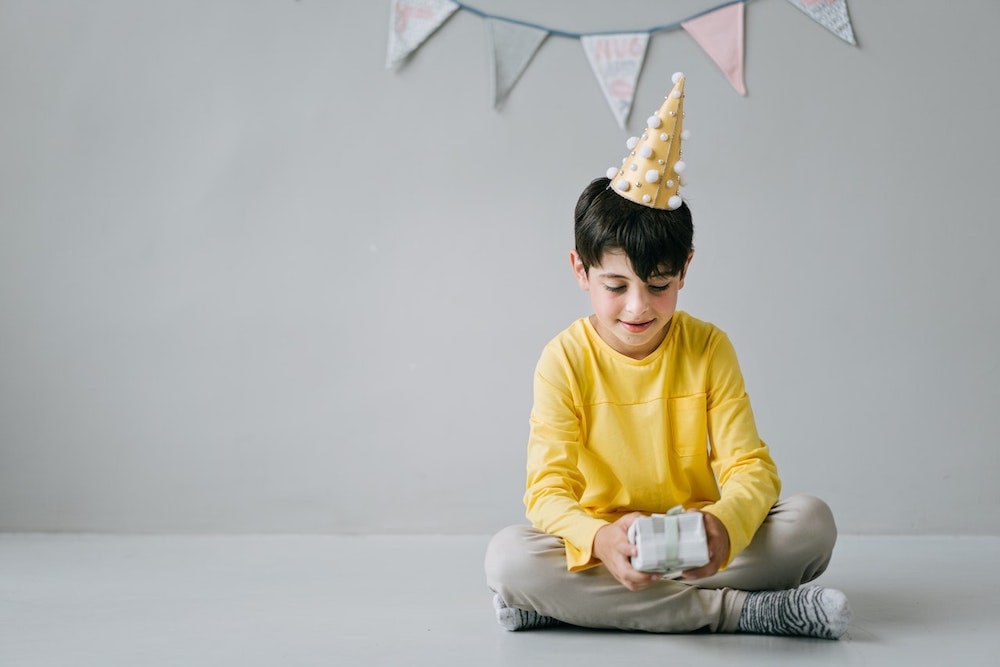 No matter what level of education your child is at, there's bound to be something out there that will challenge their minds and spark their curiosity! Not only will they love the gift but it might help them become smarter too. 
No matter what you choose, any of these 6 creative gift ideas are sure to surprise and delight your kids. Whether it's a virtual reality headset or a science experiment kit, these unique gifts will make wonderful memories that will last for years to come. So don't hesitate – get shopping now and find the perfect present for your beloved children!