Do you have a smoker in your life that's difficult to buy for? Most smokers are passionate about their habits, and they can be tough to shop for. This blog post will discuss some gift ideas that any smoker will love. 
A Cabinet 
Every smoker wants to have a special place to store and preserve their smoking products and equipment. Buying your friend a fancy cigar humidor will surely put a smile on their face on their birthday. But what if you want to go a step further and buy them a cabinet that will accommodate all of their smoking supplies?
If your friend is a passionate smoker, then they will definitely appreciate a cabinet that is designed specifically for storing and protecting their cigars and other smoking products. Humidors come in a variety of styles and designs, so you can find one that fits your friend's personality perfectly.
These cabinets are a great way to show your friend how much you care about their hobby. It is a gift that will keep on giving, as they will be able to enjoy their cigars for years to come.
Popular Cigar Brands 
There are many popular cigar brands out there, and you getting them a box of fancy ones as a gift is sure to make their birthday special. Cohiba, Montecristo, Romeo y Julieta, and Arturo Fuente are all popular brands that passionate smokers will love. You can find these brands online or at your local cigar shop.
Cohiba cigars are one of the most popular brands on the market and are known for their high quality. Montecristo cigars are another popular brand that produces excellent cigars. Romeo y Julieta cigars are popular for their smooth taste, while Arturo Fuente cigars are known for their rich flavor. All of these brands would make an excellent gift for a passionate smoker on their birthday.
A Cigar Accessory Kit 
When someone loves smoking cigars, it means they need good gear for it. Here are the pieces they need in their kit:
cutter

lighter

ashtray

cigar case

cigarillo tube
Giving them a kit that contains all of these accessories will show that you support their cigar-smoking hobby and want them to enjoy it to the fullest. It's the perfect gift for anyone who takes cigar smoking seriously!
Engraved Lighter 
A lighter from star lighters wholesale with a personal message is a thoughtful gift for any passionate smoker in your life. Whether you want to commemorate a special occasion or just show your appreciation, an engraved lighter is a unique and appreciated present.
There are many different ways to personalize an engraved lighter. You can have a simple message or date engraved on the front, or go for something more elaborate like a scene or design. No matter what you choose, an engraved lighter is sure to be appreciated and cherished by your smoking friend.
A Tobacco Case 
Fancy tobacco cases come in all shapes, sizes, and colors. They can be made of a variety of materials, including wood, metal, and even leather. But what makes a tobacco case a great gift idea for passionate smokers?
For starters, a tobacco case is a stylish way to store and transport cigars. And while many cigar aficionados already have a humidor to keep their cigars fresh, a tobacco case is a great way to take a few cigars on the go. Whether your friend is going on a business trip or taking a leisurely vacation, a tobacco case ensures that they can enjoy a good smoke wherever they are.
An Air Purifier 
It's essential to have clean air in your home, especially if you're a smoker. An air purifier is an excellent way to remove smoke and other pollutants from the air, making it a great gift idea for your favorite smoker. 
There are many different types of air purifiers on the market, so it's important to choose one that's right for the smoker in your life. Some factors to consider include the size of the unit, the type of filter, and the noise level. 
A Grinder 
Some types of tobacco need to be ground up before being smoked and a grinder is a great tool to have on hand. If you're looking for a birthday gift idea for a passionate smoker in your life, consider a grinder. There are many different types of grinders available on the market, so you're sure to find one that suits your needs. 
For those who like to roll their own cigarettes, a grinder can make the process much easier. Grinders can also be used to chop up tobacco for pipes and cigars. Some people even use them to create their own blends of spices and herbs.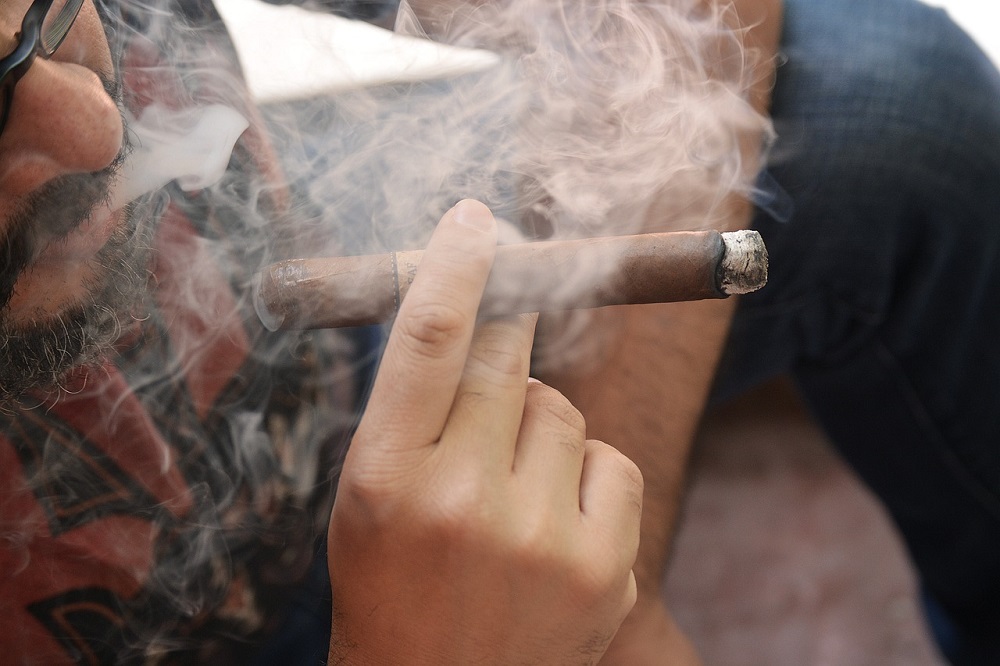 Passionate smokers like to enjoy their activities in the fanciest possible way, so having a cabinet to store their kit is a great way to honor them. Get them a box of fancy cigars or an accessory kit. Another good idea would be an engraved lighter, while tobacco cases will make their lives much easier outdoors. If you want to improve their health, get them an air purifier. Finally, a grinder could also be a good option!