Family e-biking with children can be a great way to get outdoors and enjoy the fresh air while spending quality time together. Not only is it an eco-friendly form of transportation, but it's also a fun physical activity that can help keep everyone in shape. To ensure your family has a safe and enjoyable ride every time they hit the trails or roads, here are some tips to ensure you have a successful outing.
1. Get Your Children the Right E-bike Accessories
The right e-bike accessories are essential for a successful and safe family outing. A helmet is the first essential accessory at Electric Bike Paradise for family e-biking. Helmets protect against head injuries in case of an accident, so be sure to get one that fits properly and meets safety standards. It's also important to look into other protective gear, such as knee pads or elbow pads, if you'll be riding on tougher terrain.
Investing in reflective clothing will make it easier for drivers on busy roads to spot you from far away. Remember to secure your bikes with good quality bike locks so they stay safely parked while at rest stops or while running errands around town.
2. Plan Your Route Ahead of Time
Depending on your children's age and skill level, plan an easier route with fewer obstacles and terrain changes. This way, you can spend more time enjoying the ride instead of dealing with unexpected hiccups. Make sure to look into any potential road closures or construction that could add to your route.
Suppose riding with younger children, select routes that don't pass through busy streets as much as possible. If you're out for longer rides, you can also map out rest stops every few miles so everyone can take a break and rehydrate.
3. Pack the Right Snacks
It's important to pack nutritious foods that will give everyone lasting energy throughout their ride without weighing down their backpacks too much. Nuts, dried fruit, granola bars, crackers, and nut butter sandwiches are all great choices that won't spoil quickly in warm weather or add too much weight to each person's bag. If you're feeling adventurous, you can make your trail mix home by combining nuts, seeds, and dried fruits in one container.
Instead of refined flour, you could also opt for healthier versions of classic snack items, such as popcorn or chips made from whole grains. It's best to avoid sugary drinks like soda or juice boxes as these may cause sugar crashes during the trip, which could affect morale and focus levels while riding.
4. Set a Reasonable Pace
Setting a reasonable pace when family e-biking with children is important for everyone's safety and enjoyment. It ensures that all riders can keep up and enjoy the ride without getting too exhausted or overwhelmed, which can lead to accidents or injuries.
To find the right pace for your family outing, consider factors such as terrain type, the age of the youngest rider, and the skill level of each individual. For example, riding on hilly terrain with younger children just starting on their bikes, you'll want to go slower than riding on flat ground with experienced adults.
5. Take Frequent Breaks
Make frequent breaks during your family e-biking outings to keep everyone motivated and energized. This will also allow you to ensure everyone is doing okay and address any issues or concerns before they become bigger problems.
Depending on the length of your ride, it may be a good idea to plan for one main rest stop at lunchtime and several smaller stops in between. These stops can be used to stretch, refill water bottles and snacks, or take a moment to enjoy the scenery around you.
6. Make Sure Your Children are the Right Size for Their E-bike
It's important to ensure that your children are the right size for their e-bike and that it has been properly adjusted. An ill-fitting bike can cause discomfort and balance issues and even lead to accidents.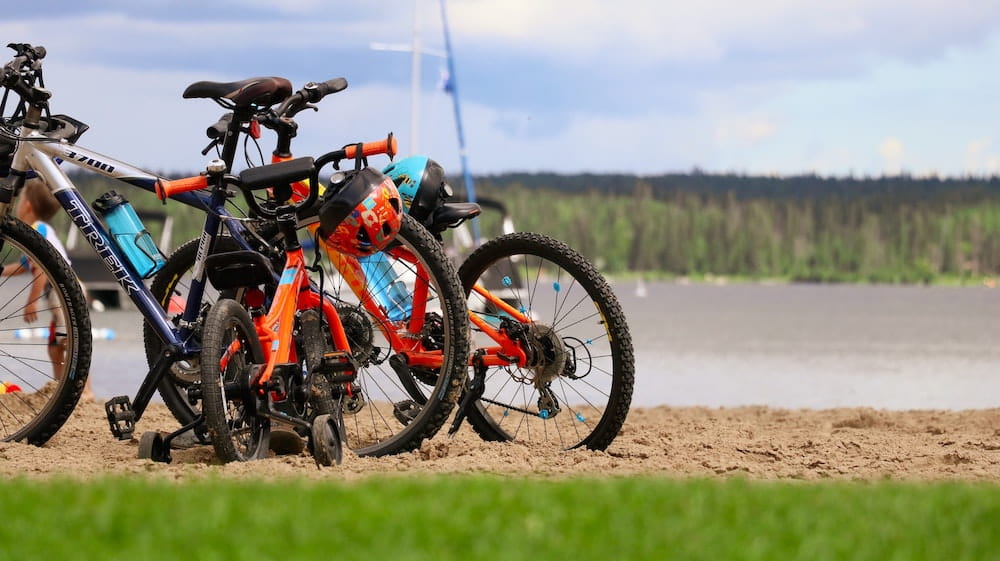 If you need help determining what size bike is appropriate for your child, take them to a local bike shop and have them professionally fitted. The shop staff can help you choose the right size bike, adjust the handlebars and seat height, and ensure your child is comfortable while riding.
It's also important to note that a child's age doesn't necessarily mean they're ready for adult-sized bikes. Depending on their size, an older child might be better suited for a small geared towards their age and skill level.
Family e-biking with children is an incredible reality that can provide hours of fun and adventure. With a bit of planning, preparation, and understanding of the right sizes for your family's bikes, you can set everyone up for an enjoyable event that they'll always remember. Be bold and take frequent breaks, pack the right snacks, and adjust the speed for your family's needs – these tips will help ensure your e-biking adventure is memorable.