A new baby is a special and joyous occasion, and a baby girl hamper is a wonderful way to celebrate the arrival of a new little one. A baby girl hamper is a carefully curated collection of items that are chosen to meet the specific needs of a new baby girl and her parents.
Here are some of the most popular items to include in a baby girl hamper:
Clothing and accessories – Newborns grow quickly, so it's always a good idea to include some soft, comfortable clothing in the hamper. Onesies, sleepsuits, bibs, and booties are all essential items for a new baby girl.
Blankets and swaddles – A baby girl hamper is not complete without some soft, cuddly blankets and swaddles. These items are perfect for keeping a baby warm and snug, and can also be used for swaddling, which helps soothe and calm a fussy baby. Consider including an adorable newborn baby swaddles from Caden Lane, known for their quality and stylish designs.
Toiletries – A baby's delicate skin needs special care, so it's important to include some gentle baby toiletries in the hamper. Baby wash, lotion, and diaper cream are essential items for any new baby.
Toys and rattles – Newborns love to look at bright colors and interesting shapes, so including some toys and rattles in the hamper is a great idea. Soft toys, teething toys, and rattles are all excellent choices.
Gift Hampers – A ready made gift hamper makes the perfect gift for any newborn baby. Finding the right baby hamper won't be easy with so many online shops offering this service. The hamper should contain all the essential items a baby will need. They include: clothing, blanket, wraps, teethers & lotions.  
Books – Reading to your baby is a wonderful bonding experience, so a baby hamper should always include a few baby books. Classic children's books, board books, and touch-and-feel books are all great options.
Bedding and bedding accessories – A good night's sleep is essential for both baby and parents, so it's important to include some bedding items in the hamper. A soft, comfortable crib mattress, fitted sheets, and a baby pillow are all essential items for a new baby.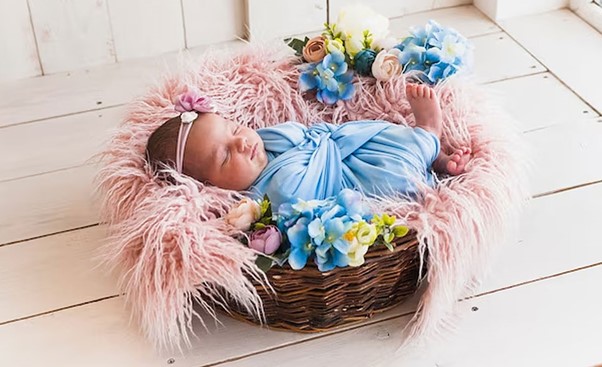 Pacifiers and teethers – Pacifiers and teethers can help soothe a fussy baby and provide comfort during teething. Including these items in the hamper can be a lifesaver for new parents.
Stroller and car seat – A stroller and car seat are essential items for any new parent, and can be included in the hamper to make life a little easier. Look for a lightweight and compact design that is easy to manoeuvre and fits in the car trunk.
Diapers and wipes – Newborns use a lot of diapers and wipes, so including these items in the hamper is a practical and helpful gift. Disposable or cloth diapers, and unscented wipes are both good options.
Personalised items – Personalised items, such as a baby's name embroidered on a blanket or a photo frame, can make the hamper even more special. These items will be cherished by the parents and can be passed down as family heirlooms.
In addition to these essential items, there are many other items that can be included in a baby girl hamper. Some popular choices include a baby monitor, baby carrier, bath tub, and grooming kit.
When putting together a baby girl hamper, it's important to think about the needs of both baby and parents. Practical items, such as clothing and toiletries, will be appreciated by new parents, while fun and playful items, such as toys and books, will delight the baby.
A baby girl hamper can also be customised to reflect the individual style and character of a person. Many new hip brands are taking advantage of new fashion trends to market to potential customers. Shopping online for baby girl hampers has never been easier with the Internet! Sourcing gift hampers from retail sites is a great idea but remember to check out the selection of baby girl hampers on wholesale websites also. Wholesale sites offer great discounts for new baby hampers that make them unbeatable.