Adding creative elements to your yard design can take an ordinary outdoor space and turn it into something special. Whether you love spending time outdoors or would like to create a more inviting atmosphere for guests, there are several ideas to consider that help make your yard stand out. In this blog post, we'll discuss 6 interesting ideas on how to be creative with your yard design. We will also provide tips and tricks to help you get started. So if you are on the hunt for creative ways to dress up your yard, read on! 
1) Consider Getting The Trees Cut
If you are looking for a dramatic and eye-catching way to improve the look of your yard, consider getting some of your trees cut. Professional tree cutting service providers can help shape and trim your trees in a variety of ways that will add visual interest to your landscape. You can even have them sculpted into interesting shapes like animals, or even characters or logos. This can make your yard stand out and create a unique aesthetic that will be sure to impress. So, consider this idea if you are in the market for a creative and unexpected way to enhance your landscape. 
2) Use Colorful Flowers and Foliage
A great way to add life to your landscape is to add a variety of colorful flowers and foliage. By choosing plants with different colors, shapes, and sizes you can create a vibrant look that will be sure to impress. You can also mix up the textures by including succulents or ornamental grasses. Adding these elements will bring depth to your space and make it more inviting. Plus, you will enjoy the beauty of nature all year round! 
3) Place Interesting Garden Statues
Garden statues are an easy way to enhance your yard design in a creative manner. They come in many different styles so you have plenty of options when it comes to choosing one for your outdoor space. There are classic pieces like angels, animals, or mythological figures. But if you want something more unique, consider going for a modern look with abstract sculptures or even recycled pieces like old tools or found objects. There are endless possibilities when it comes to garden statues as well as other simple ways to do hardscapes,  so have fun finding the perfect one for your space! 
4) Incorporate an Outdoor Fireplace 
Adding an outdoor fireplace to your yard design is a great way to create a cozy and inviting atmosphere. Not only will this be a great gathering place for friends and family, but it will also add warmth and character to your space. You can choose from several materials including brick, stone, stucco, tile, or metal depending on your style preference. And don't forget about the accessories too! Consider adding comfy chairs, outdoor rugs, and other decorative elements to make it a pleasant place for conversation. Additionally, make sure to use fireproof materials and follow safety standards when installing. For example, it is important to ensure that your outdoor fireplace is located at least 15 feet away from your house.
5) Install Hanging Lights 
Installing hanging lights in your yard is an excellent way to enhance the overall look of your space. Whether you are looking for something industrial or more romantic, there are many options available that can help create the perfect ambiance at night. And with so many styles and designs to choose from, you can find something that fits your particular taste. You can also use them as accent lighting to highlight certain features like a garden path or seating area. So just have fun choosing something that will add character to your yard design! 
6) Create a Water Feature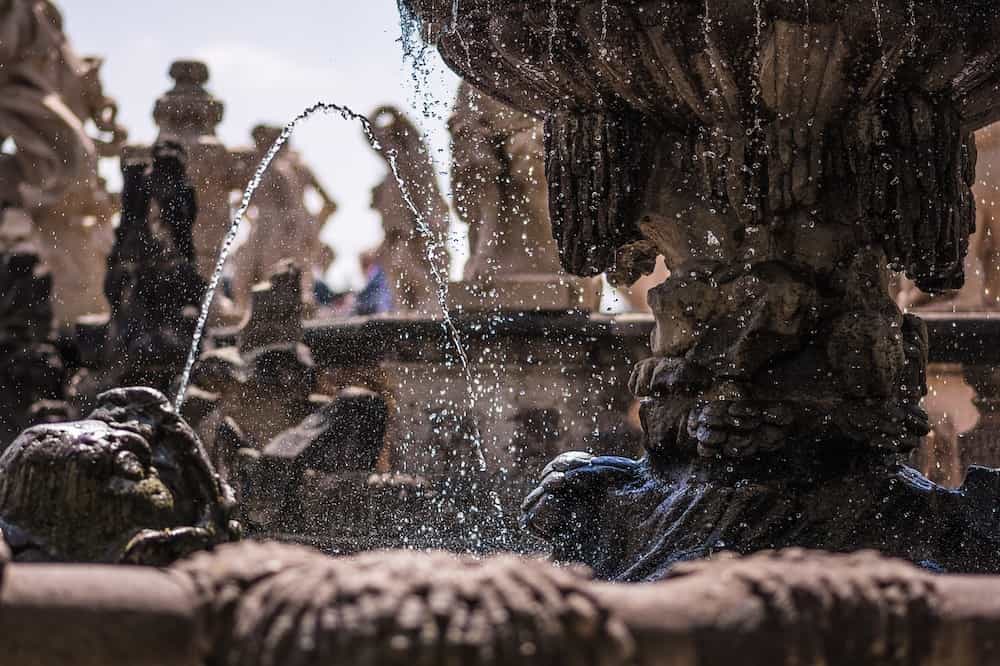 Adding a water feature to your outdoor space is a great way to create a relaxing and tranquil atmosphere. You can choose from many styles including ponds, fountains, waterfalls, and more. This will provide the perfect backdrop for conversation or just for enjoying nature in all its glory. Plus, it is an easy way to bring wildlife into your yard like frogs, birds, butterflies, and other animals that will help make it even more inviting. This will also add a unique visual element to your yard design and create a point of interest. So consider incorporating a water feature if you are looking for something truly special. 
We hope these ideas have inspired you to get creative with your yard design! It doesn't take much effort or time to add unique touches but they can really transform your space. So start planning now and enjoy the beauty of nature in your own backyard!