Over the years, the more chill and relaxed vibe brought in by barn weddings has made it pick up speed with its popularity. Many couples now lean towards intimate barn weddings to commemorate their most special day. Imagine the cozy vibe of warm yellow string lights strewn across an old but charming barn in the country fields or farm. Barn weddings offer a whole new world of magic, unlike traditional weddings.
However, like planning any wedding, the excitement and busy schedule leading to the big day may have you forgetting some crucial facets. While there is small stuff you don't have to sweat, there are also the must-have details you mustn't overlook.
When planning your barn wedding, be sure not to forget the following details:
1. Wedding Look
One of the first things to do when planning a barn wedding is to choose your wedding look. This applies to the couple and even to the entourage. Barn weddings have a more relaxed look. Therefore, you can skip all the fluff of bejeweled dresses and stick with a classic, elegant, but simple look, like the ones you can find in Sondeflor.
As for the makeup, go for barely-there earth tones. The bride can go for lighter lip colors during the ceremony, then switch to dark, wine-like red lipstick colors for the reception.
2. Wedding Flowers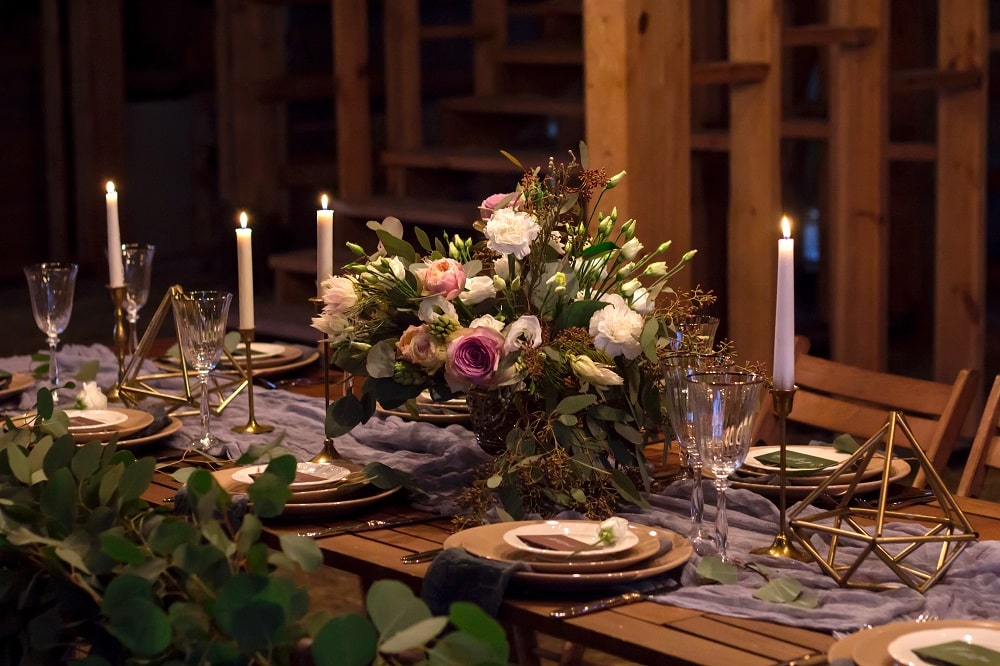 Barn weddings can have flowers, too. From the bridesmaids floral bouquets to the ceremony and reception flowers, there are many ways you can style the flowers. Ultimately, this depends on the season you're having your barn wedding, too.
For instance, if you're planning a spring wedding, you can go for brightly colored spring flowers to add more hue to the barn. If it's during autumn, foliage, branches, and lots of oranges and reds for your flowers will look great to complement the whole barn wedding feel.
3. Wedding Invitation
In today's digital day and age, many couples choose to forego the printed invitation, particularly when they've opted to go with an intimate wedding. However, wedding planners will opine that it's still nice to have one, even for a simple barn wedding you're having.
Digital wedding invites can't compare to the feeling guests have when they receive a traditional wedding invite. So, don't skip this. Your barn wedding can opt for neutral earth tones or dark, rustic tones to complement the whole theme. Having burlap wrapping across the invite will be a nice touch, too.
4. Grounds
Another challenge with a barn wedding is that the space may not offer car-friendly grounds for your guests. The last thing you'd want is to have your guests go through muddy or rocky problems because their wheels got stuck or they're finding it hard to move around.
Be sure to choose a barn with stable grounds, especially if your wedding date will happen during the rainy season. This sounds gritty, but it's a small but vital detail to ensure a perfect and smooth wedding day.
5. Barn Size
Don't be stingy with the barn size. Remember that you don't have sophisticated heating and air-conditioning systems, as hotels and other wedding venues would have. Thus, you have to be keen on comfort.
Think of your guest size well, so you're sure that the barn can accommodate it comfortably. Your guests should feel cozy to dance the night away without sweating too much. Likewise, the guests shouldn't be seated too closely, with only little room to breathe.
6. Wedding Venue Décor
Of course, you can't skip the string lights, yet the extent of how you're going to decorate the venue depends on your budget and the bar's condition. For example, some barns already look good; hence, you can be minimalistic with your decoration approach. Meanwhile, some barns could use a lot of work.
Having tree branches, birds' nests, candles, white draping, and a few flowers here and there are only some of the few ideas you can incorporate into your décor. Like your wedding outfit, a good search through sites like Pinterest will give you lots of inspiration for your barn wedding.
Conclusion
There's so much more to planning a barn wedding than finding the barn you love and having farm-like picnic tables. Simple as it may be, this doesn't mean that you don't have to go into the tiny details anymore. Barn weddings can be as beloved as traditional ones in a big and elegant ballroom, especially when the latter is something straight out of the couple's dream. Be sure to cover the details discussed here, along with many more your planner will remember to have, as you get the ball rolling.