Christmas is fast approaching, and it's my favorite season of the year! Every year, I decorate my Christmas tree with different themes, and this year, my theme is BTS! Yes, you heard it right: I'm a BTS Fan! I am a proud Army!
When it comes to decorating the Christmas tree, the ornaments are the main highlights of the tree. This is where our own unique style and craftiness tend to shine. Since my theme for this year is BTS, I did a couple of do-it-yourself (DIY) ornaments (BTS ornaments). This way, I can personalize and decorate my tree according to my theme and liking. 
In this article, I made 3 different BTS-inspired Christmas ornament ideas with their step-by-step guide. I know there are millions of armies who are also looking for their BTS theme Christmas tree inspiration, and I'd like to share some of my ideas with my fellow armies. You know, sharing is caring. 
While DIYing my BTS ornaments, I'm also listening to the BTS Christmas song "Santa Claus Is Coming to Town" to pump up my mood while creating these pretty and cute ornaments. I'm sharing the YouTube link here so you can listen while reading my step-by-step guide on how I created my BTS-inspired ornaments.
BTS Tiny Tan Christmas Balls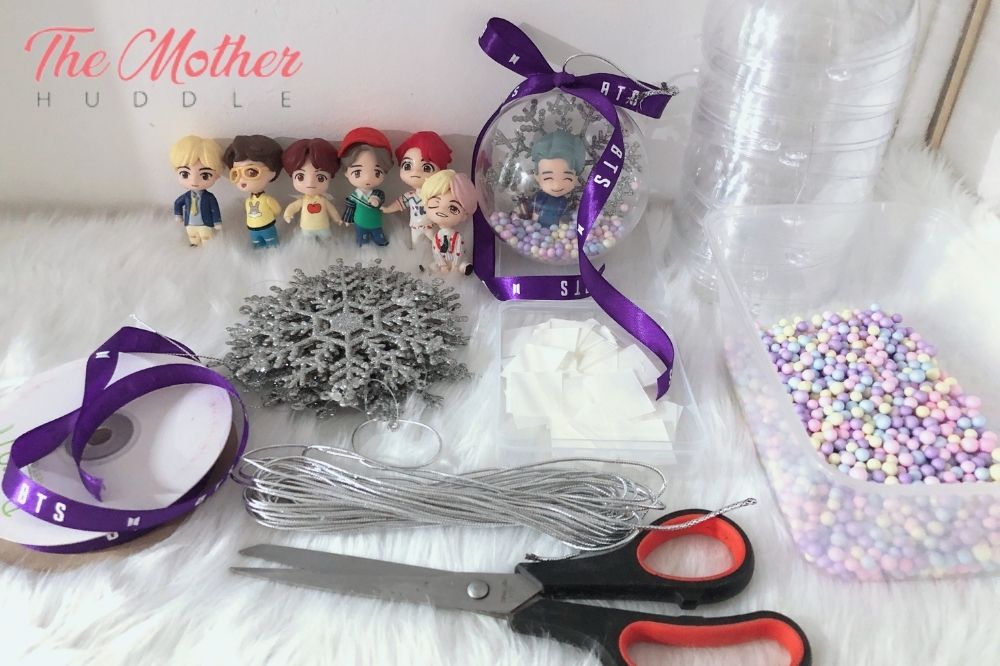 BTS Tiny Tans are super cute and adorable. I knew from the start when I started planning my decorations for my Christmas tree that I should include the Tiny Tans. I bought the Tiny Tan figures and made them as one of the ornaments that I'd like to hang on my tree. 
Materials:
Tiny Tan Figures (complete set)
Transparent Plastic Ball
Plastic Snowflakes
Dotted Double Sided Tape
Customized BTS Purple Lace (or just use a plain purple ribbon )
Metallic Cord
Pastel Colored Styro Beads
Scissor
Step 1: Placing the Snowflake Inside the Ball
Open the transparent plastic ball and put the plastic snowflake inside. Push back the snowflake.

Step 2: Adding the Adhesive to the Figure
Get the dotted double-sided tape and remove the cover. Place the sticky part of the tape at the bottom of the Tiny Tan figure. 

Step 3: Removing the Release Liner 
Remove the release liner or thin plastic film on the other side of the dotted tape, and make sure that the dotted tape covers the bottom of the figure by tapping it with your finger. 

Step 4: Placing the Tiny Tan's Figure Inside the Ball
Place the Tiny Tan figure inside the transparent ball in front of the snowflakes. Press the figure to make sure that the figure is stuck.

Step 5: Adding Styro Beads
Close the transparent ball but leave it partially open, and pour the styro beads inside the ball enough to fill the legs of the figure. 
Step 6: Closing the Ball
Close the transparent ball. Shake the ball carefully until the beads are even.

Step 7: Adding the Ornament's Cord Holder
Place the transparent ball where it doesn't move. In my case, I used scotch tape and put the ball on top so it wouldn't move. Then, carefully insert the metallic cord through the tiny hole in the ball. 

Step 8: Tying the Cord Holder
Cut the metallic cord to your desired length using a scissor, and tie the cord to secure it. The cord will be used to hang the ornament on your Christmas tree. 

Step 9: Making the Ribbon
Tie the purple lace into a ribbon. Make your ribbon bigger with long tails since big ribbons go well with round balls. But feel free to modify it as you like. 

Step 10: Adding Adhesive to the Ribbon
Use the dotted double-sided tape to stick your ribbon in the transparent ball. 

Here you go! This is my DIY BTS Tiny Tan Christmas Balls!
Oh my god! It's so pretty and cute! They're perfect for Christmas tree decorations. You can also add fairy lights inside the ball!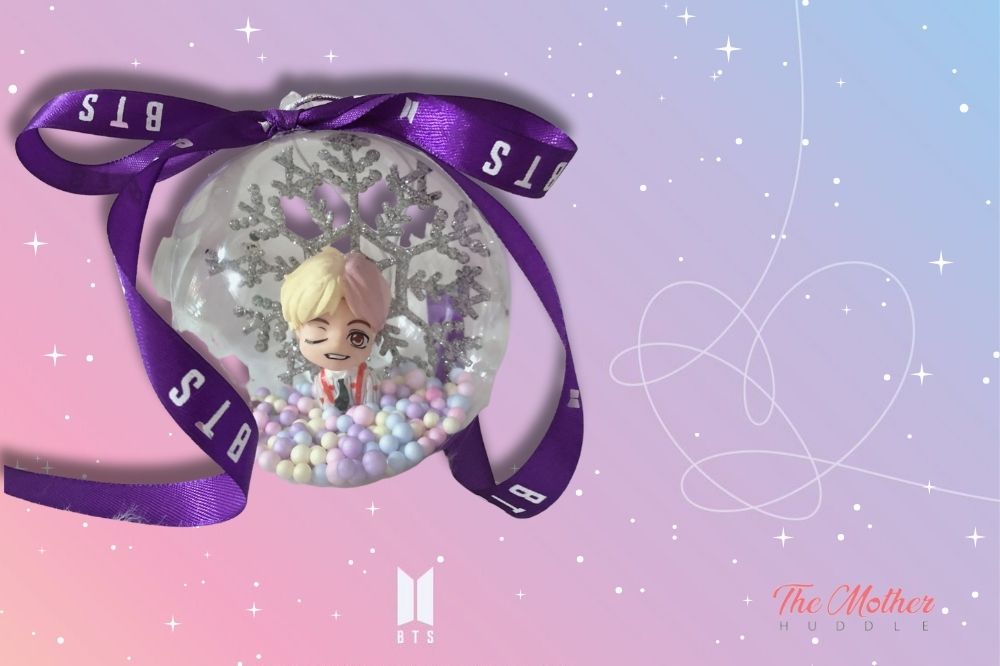 I love how this crafty project turned out. You can also sell this on Etsy or Amazon during the holiday season for extra cash. There are tons of armies looking for this.  Or, better yet, you can give this as a gift to your fellow armies. I'm pretty sure they will love this! 

BTS Hologram Christmas Balls
This is the simplest and cheapest BTS-inspired ornament with just two easy steps and easy-to-find materials that you can create but can spice up your Christmas tree. It's also fun making this with your kids.
Materials:
BTS Hologram stickers
Purple Shiny Christmas Balls
Metallic Cord
Scissor
Step 1: Placing the Sticker on the Ball
Remove the Hologram sticker from its plastic film. Then, gently place the sticker in the middle of the Purple Christmas ball. Since the surface of the ball is not flat, there's a possibility that the sticker may get crumpled when you attach it. 
So, when you're attaching the sticker, stretch it a little to prevent crumpling. Make sure all sides of the sticker are flat by pressing the stickers with your fingers. Do not put too much pressure when securing the adhesive, as it may break your ball. 

Step 2: Adding the Hanging String 
Insert the metallic cord through the hole at the top of the ball, use the scissors to cut the cord to your desired length, and tie the cord to secure it. The purpose of this cord is to hang the ornament on the tree. You can also buy Christmas balls that already have cord holders.

There you have it! My very own BTS Hologram Christmas Balls! 
I really had fun doing this! It's so easy and perfect for this upcoming holiday season. You can even make it a fun little project for your kids! I'm sure your Christmas tree will look more beautiful with these BTS Hologram Christmas Balls!

BTS CHRISTMAS TAGS
Have you thought about adding tags to your Christmas tree? Try it! It can add a personal touch to your tree. You can add your family photos during your favorite vacation trips, goofy pictures of your family members, the name of your family in a cute font, or anything that is close to your heart. Just add a cord holder and hang it on your tree. 
This time, I'm sharing how I made my own BTS Christmas tags with a step-by-step guide. You can follow this guide to make your own customized tags for your Christmas tree.
Materials
300 GSM Vellum Paper (or any thick paper like cupboard paper)
BTS Stickers
Customized BTS Purple Lace (or just a plain purple ribbon)
Metallic Cord
Equipment
Glue gun
Glue stick
Scissor
Puncher
Pencil
Any Round Object that can be your guide when encircling

Step 1: Outlining the Christmas Tag
Use any round object as your guide to draw a circle. The size will vary depending on what you like. You can use the tape like I did or use a sauce plate if you want a bigger circle.

Step 2: Cutting Out the Circle Tag
Follow the circle outline while carefully cutting the paper. Be careful and take your time doing this so you can have a perfect circle. But don't worry! A not-so-perfect circle tag is just fine.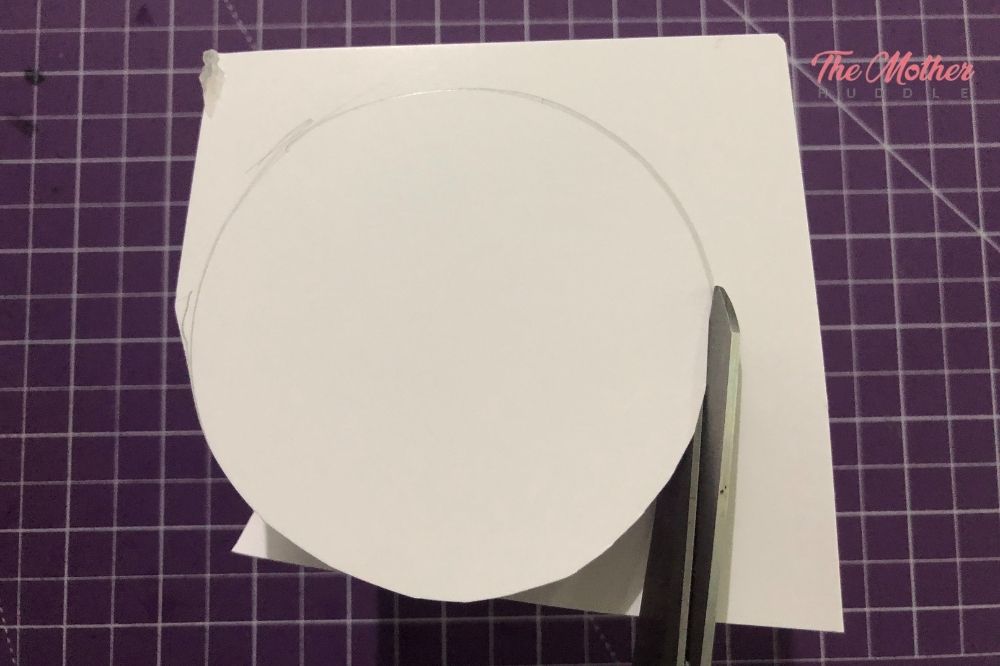 Step 3: Removing of the Release Liner
Remove the back cover of the sticker (a.k.a. the release liner.) Place the sticker in the middle of the cupboard paper. You'll notice that the sticker will overlap at the lower portion of the tag. Don't panic! It's normal and expected since the Christmas tag is round. 

Step 4: Cutting of Excess Sticker
Cut the excess sticker. This will create a clean, round bottom for your Christmas tag. 

Step 5: Creating a Hole for Hanging
Make a hole using a puncher at the top-middle of the circle.

Step 6: Inserting the Hanging String
Insert the metallic cord through the hole and cut it to your desired length using your scissors. Tie the cord to secure it. 

Step 7: Making a Ribbon and Attaching it to the Tag
Make a small ribbon using a purple lace. Put glue using a glue gun around the hole. Then, stick the ribbon and make sure it covers the hole. Press it hard and hold for a few seconds to secure the ribbon.

Voila! My BTS Christmas Tag is done! 
Oh, my purple heart is so happy with how it turned out! I love seeing my 7 adorable boys' pictures in my Christmas tree! It gives me butterflies! Whenever I see them when passing my tree, I can't help but sing my favorite BTS song, "Boy with Luv"  ♫ Oh, my, my, my, you got me fly so fast ♪♪ 
It's Going to be a Dynamite Holiday Season! 
I've had so much fun making these BTS-inspired Christmas tree ornaments. What I love about these ornaments is it has my own personal touch, and I love how I put my creativity and crafts into life. 
I'm really happy and satisfied that I was able to pull it off and see my fangirling inside of me in my Christmas tree. 
This simple DIY is also easy to make. You can do this in a day and stare at your tree with a smiling face, as it gives you a fulfilling feeling while listening to a BTS song as your background song as if you're in a movie! 
These DIY Christmas Ornaments can also be great gifts to your fellow armies or for those people that you are trying to persuade to join the fandom. You can even make extra cash by selling these BTS ornaments online. How cool is that! 
For me, Christmas is the best season for crafting and showing your creativity, which everyone can do for the holidays. Making your own DIY Christmas decors this holiday can make your Christmas more unique, interesting, more personal, and close to your heart. I just love and enjoy making DIY ornaments and customizing our tree every year.  It even became a family tradition each year that we'd be thinking about what our tree's theme would be every year!
 Hope I gave you ideas and inspired you to make your own DIY BTS ornaments for your Christmas tree and start pulling out some BTS holiday decor! Please let me know in the comments if you love my BTS decors, and don't be shy to show your own version of DIY BTS ornaments too! I love to see them!