Now that we're in November, I deem it entirely reasonable to start getting too excited for Christmas. I have a five-year-old daughter and I think I'm more excited than she is for the upcoming holiday. Each year I force myself to wait until this month before I start singing Christmas carols – carol of the bells by Celtic Woman is my favorite – and as a maker of things, what better activity to sing to than Christmas sewing!
When I took a gander online for some holiday crafting projects, I found a great many lists of cute craft ideas, but was disappointed about nine times in ten that the links didn't go anywhere, or that the content was locked behind paywalls. So, being the kind and generous and Christmas-obsessed lady that I am, I have compiled a list of carefully curated sewing projects that I think will appeal to most sewers. I've split them into five categories and kept to fairly quick-to-accomplish projects… so we can make more of them! 
QUILTING PROJECTS
---

As a child I always loved advent calendars! As a parent, I want my daughter to have the fun of them, but don't like how thoroughly un-eco-friendly they are. A quilted one, however, is going to last and last, eradicating that concern entirely. I liked this one in particular because of the generous pocket size – I can change up what I put in the pockets each year, it could be chocolates one year, and little hand-made ornaments the next! I also liked that you can give it radically different looks by changing the festive fabrics used.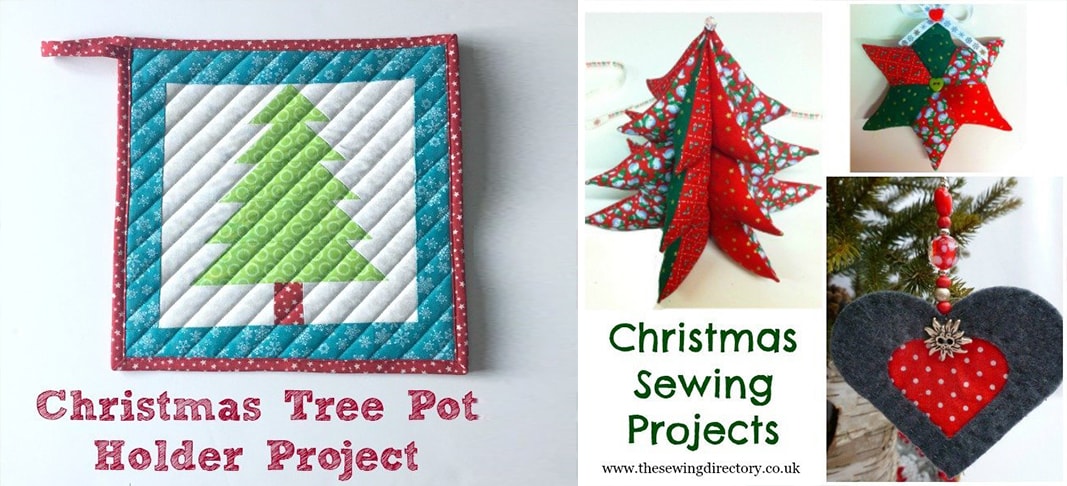 Putting up Christmas decorations brings out the child-like joy of the season for me, but it's those little touches that make it feel cemented into the house, and seasonal kitchen accessories fit the bill perfectly! Also, this cute little project is quick and simple so you can have it all the sooner, and it would also make a nice gift, too!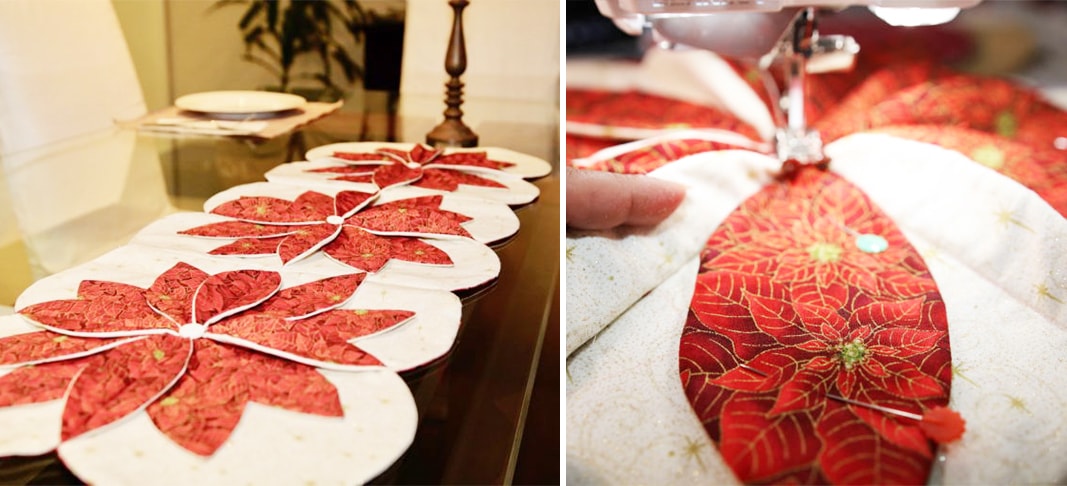 I love the three-dimensionality of this table runner, and that it's a bit of an intro to quilting, too. I haven't done a lot of quilting as yet, but it's something I'd like to do more of, and it's nice to do something other than a pillowcase! 

Who doesn't love a good ol' Christmas bonbon?! I have seen many a Christmas tree skirt pattern in the past few days, but this one stood out because it's so bright and playful! The pattern maker has gone with animals for her version, but different fabric choices could give you vastly different aesthetics to this cute little tree skirt.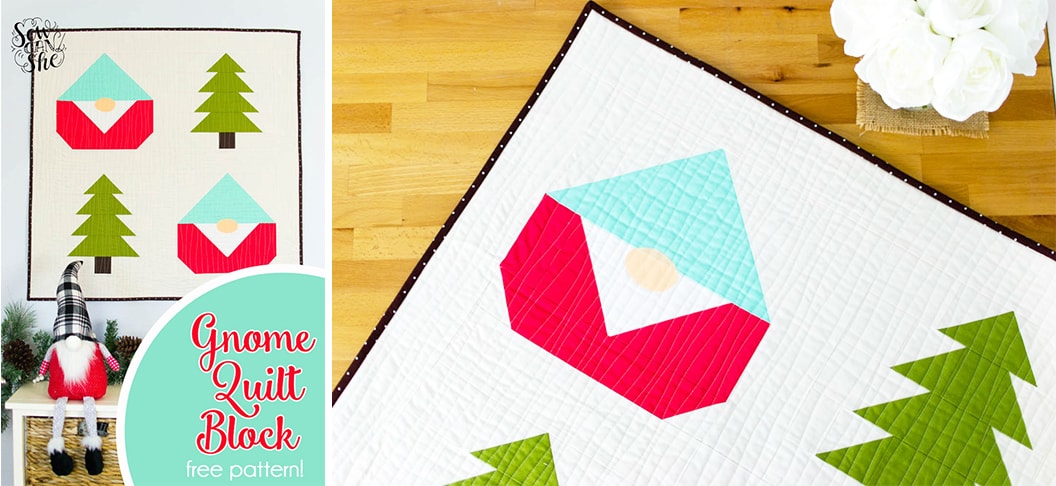 I love gnomes. I'm not sure when it happened, but the Scandinavian Christmas gnome has made it's way into Christmas pop-culture (is that a thing? It is now!) in the last few years and I'm very happy about that. You'll see a few more gnomes on my list, but let's start with this adorable quilt block! It's not too complex, but very appealing, and with the tree block it's pictured with (also free on the Sew Can She site) you could make a very cute festive, but not too festive and therefore appropriate year-round, quilt!
HOME DECOR PROJECTS
---
https://createbakemake.com/2015/11/10/how-to-make-a-santa-sack/
Growing up, I had a Christmas stocking for the little things, but each year the big presents would always go in a big Santa sack! This is a cute, simple to follow little project, that you can whip up very quickly with some nice Christmassy fabric. It's also a very accessible project for the beginner sewer, so one kids could have a go at, too!
https://www.craftingcheerfully.com/polar-bear-pillow/
This is another craft project that is quick and easy, but oh so cute! And another project that could be attempted by a beginner or child! It would make a lovely little gift, or just one of those charming touches to bring a festive air to all corners of your home! 
Christmas Garland/Bunting
https://www.sewingpartsonline.com/blog/christmas-fabric-garland-bunting-tutorial/
I love decorating the walls during any festive occasion, and this pretty bunting would add something really special! You could give it a very different feel by changing the fabrics, too, making it a very versatile pattern.
https://www.sewcanshe.com/blog/christmas-gnome-free-sewing-pattern
Just look at this little gnome! Ugh, so cute! I don't know what it is about these bearded little chaps, but they're fabulous. The only must-have fabric is some faux fur (a way to use those tiny scraps!) and the rest you can use whatever you want, to make an entire village of unique little gnome friends!
Heating Pad for Shoulders and Neck
https://www.sewcanshe.com/blog/2014/12/16/diy-heating-pad-for-shoulders-and-neck
I hurt my back last Saturday and do you think I can find my heating pad? Nope! This isn't quite home decore, but it's a home item, so eh. What I love about this one is that the little pockets prevent all the insides from bunching up in one end. These would make great gifts, and could be festive fabric or any theme, really.
WEARABLE PROJECTS
https://www.fleecefun.com/santa-hat-how-to/
Ahh, the ubiquitous Santa Hat. Why wear a store-bought one when you can make a bespoke one just for you and your loved ones! I want to go find some long-pile velvet to make these out of for my family. Of course, here in Australia it's usually pretty warm by the end of December, but it's Christmas so let's do it anyway!
https://thestitchingscientist.com/2015/02/how-to-make-a-simple-twirly-dress.html
This dress isn't specifically a Christmas dress, but what I adore about these (I've been making something similar for myself for years!) is the versatility! They are SO FAST to whip up (I just overlock the hems and that's it! Shhh) that with a little Christmas fabric and a simple little top you have an adorable and pretty dress in no time! Also, when you make one for yourself (I attach the skirt under the bust as that works better on my body), there's usually enough cabbage (off-cuts) that you can make a little one for the tiny human in your life! My daughter and I have two matching ones of these.  We accidentally wore them on the same day once. I felt weird, but people kept telling us it was cute. 
https://sewlikemymom.com/peasant-dress/
This dress isn't specifically a Christmas dress, either, but in the right fabrics it would be the cutest little holiday dress! Again, if you figure your sizing out, you could scale this up for any age, too! Children's chest measurement doesn't grow anywhere near as fast as their length measurements, so they'll be able to wear them as a tunic or top before fully growing out of them. I can't wait to make a few of these for my daughter! 
http://mayamade.blogspot.com/2009/01/elf-slippers-tutorial.html?m=1
These check a lot of boxes for me – cute, festive, wearable outside of holiday times too, upclying and therefore ecofriendly, and so very customisable! I cannot wait to try these! You could also draw on the bottoms with some fabric paint to make them less slippery for feet that like to go fast.
https://thisblogisnotforyou.com/patterns-2/
Oh I do love a good cape! This one isn't specifically for Christmas, but often when you have a nice frock for the season, you don't want to plonk on any ol' outerwear, and a lovely cape could be just the thing! I've made and worn many a cape over the years, and my issue with the hooded ones was always the drag down the back, and therefore on your throat. But this pattern very cleverly makes it double breasted, and buttoned all the way down, which would balance out the weight! Genius! I have two metres of green wool that I've been intending to make a cape from for quite some time and now I have the pattern I'm going to use!

FELT PROJECTS
Sequin Snowflake Ornaments
https://americanfeltandcraft.wordpress.com/2014/11/09/sequin-snowflakes-felt-christmas-ornament-pattern/
Let it snow, let it snow, let it snow! I love snow! I've seen it… on the ground… four times? Living in Australia, I don't get to play in the snow during Christmas time, or, like, ever. But now I can make my own pretty snowflakes! Last year I did paper ones and stuck them to our dark wood panelled walls, which looks super pretty, but this year I can take it further! More snowflakes! Though I would personally bead these instead of sequin them, maybe embroidery, too! 
https://tinycraftworld.com/2018/12/11/christmas-felt-reindeer/
Oh I love reindeer! They're so beautiful and majestic, with just a little chonk to them, and I love their antlers! So of course at least one reindeer would have to be on this list, and this one is such a cutie patootie! I want to make a whole garland of these! 
http://otakucrafts.blogspot.com/2015/12/make-your-own-felt-calcifer-ornament.html?m=1
So, I'm a big ol' geek, and I love geeky things. I also like subtly including my geekery all around me, and this ornament is perfect for that. I'm a huge Totoro and by extension Studio Ghibli fan, and this little guy is from Howl's Moving Castle. What I love is that you could see him hanging on the tree and just think 'hey that's a cute little anthropomorphic fire ornament' but if you're in the know, you'd think 'hey neat, it's Calcifer!'
Felt Flora and Merry Little Ornaments
http://stumblesandstitches.blogspot.com/2011/07/christmas-in-july-felt-flora-and-merry.html?m=1
Oh these are so pretty! These ornaments are just delightful, and you could pick a few colours and mix and match and have a whole colour coordinated tree! There's nothing quite like a well dressed tree.
https://cutesycrafts.com/2013/12/felt-gingerbread-house-ornament.html
My daughter and I are going to make a gingerbread house this year! I learned recently from Christine McConnell (you should check out her MASSIVE Winchester gingerbread house!) that when you bake gingerbread for a house (and not for monching on), you actually overcook it till just before burning to give the greatest structural integrity to your house because it's so hard! So, it seems fitting to my mind that this is another cute gingerbread house that you can't eat! But it's so cute! And this one you can hang on your tree! 

CHILD CRAFTABLE PROJECTS
https://www.redtedart.com/sewing-for-kids-button-star-ornaments/
With not only Christmas coming up, but the school holidays, I am aware that many sewers out there are thinking about ways to keep their kids happily entertained during their freedom from school. This very cute little ornament is simple enough that even the teeniest of budding sewers can have a go at it, with adult supervision, of course. 
Christmas Tree Decoration
https://nurturestore.co.uk/simple-sewing-for-kids-christmas-tree-decoration
Making use of the same sorts of materials as the previous entry, this cute little tree is another adorable ornament that teeny tiny fingers should be able to accomplish, and you get to use up some of those buttons that you don't have enough of to use on a garment!
https://www.colouredbuttons.com/2016/12/penguin-softie-kids-can-make.html
Penguins are somewhat synonymous with Christmas these days, often pictured with Santa (though penguins only natively live in the Southern Hemisphere, but that's fine) and my daughter has one named Waddle that she loves, so I think she's going to flip out for this little softie! I think this is a great one for kids because they get to keep it after they make it and can play with it, rather than hanging it on the tree where they don't get to enjoy their work in quite the same way. 
Scandinavian Christmas Gnome
http://www.makefilmplay.com/uncategorized/scandinavian-christmas-gnome/
Did you think you were getting through this list without encountering another gnome? Ha, no chance! This little cutie would look great anywhere in your house, and little sewers will have a great time making them! It's challenging enough to keep slightly older children interested, and introduces kids to thinking about their materials in new ways, like un-plying their yarn for a bushier beard!
http://gracesfavours.blogspot.com/2016/12/christmas-craft-tutorial-how-to-make.html?m=1
Lastly we have this adorable little robin softie! Sparrows are my favourite, but the robin is more Christmassy, and this little chap is festive indeed. He's also the first of the children's crafts that has the seaming on the inside, so that's a fun new challenge for budding sewing enthusiasts!