Every sewist will tell you that one of the most necessary tools of our beloved hobby is a good pair of scissors, but is one really enough? There are so many types of scissors, snips, and shears out there that it can be a little overwhelming to know which you really need, but fear not, friends, for I am here to help you cut through the confusion!
Firstly, what makes a good pair of scissors? Quality, durability, and comfort and the most important factors when purchasing a new pair of snippy-snips. You want them made of a good steal that will hold an edge for a long time. You want them to be able to be sharpened (by a professional, never, EVER, sharpen your own sewing scissors!) when they inevitably become dulled. You also, very importantly, want them to be easy on your hands! Your hands are the one tool used for your hobby that you can never replace, so it's the one that you need to treat with the greatest care. Arthritis runs in my family, like many others, and I will do everything I can to ensure that even when I'm a tiny little old lady, I can still sew! All the scissors listed below are my suggestions and all are friendly for right or left-handed people.
This post contains affiliate links. If you purchase after clicking these links, The Mother Huddle may receive a small commission, at no cost to you.
---
SEWING SHEARS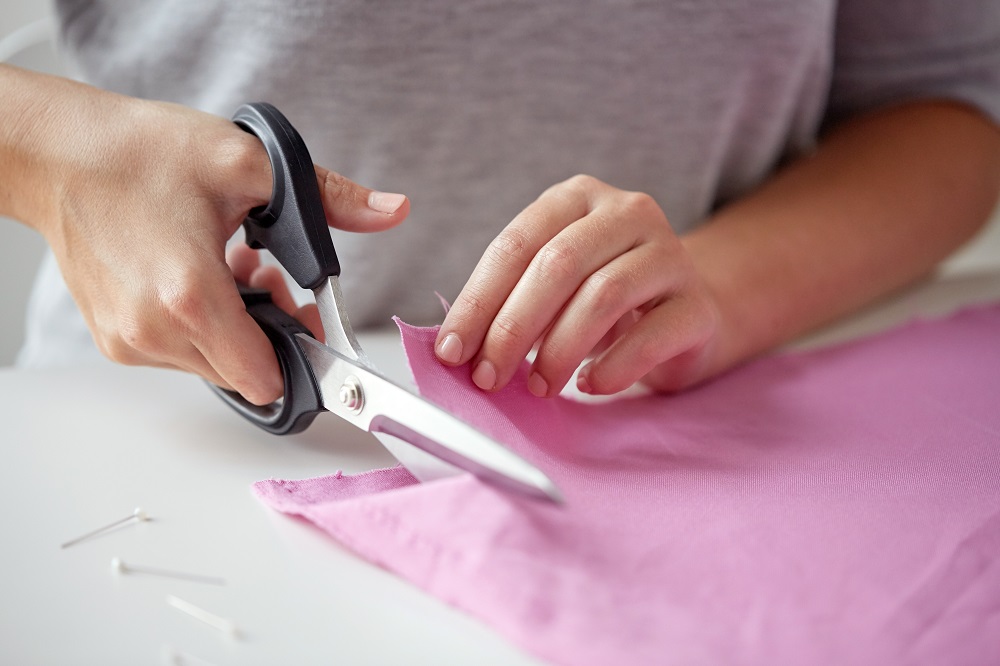 The first cab off the rank is going to be your sewing shears. These are the ones you will use to cut fabric and nothing but fabric! These are the shears I use and it's genuinely pleasurable to cut fabric with them. It's honestly like a hot knife through butter! These shears have micro serrations so they grip the fabric as they're cutting so it doesn't slip, so you're cutting where you mean to be cutting. They're nice and weighty so you can feel the quality, but not too heavy, and the rubber grip means that you're not actually holding cold metal when you're cutting, which is really important in the long-term protection of your hands. Because the blades are so sharp, I never feel like I have to squeeze hard, even when cutting thick fabrics or four or more layers of fabric.
---
SECONDARY SEWING SHEARS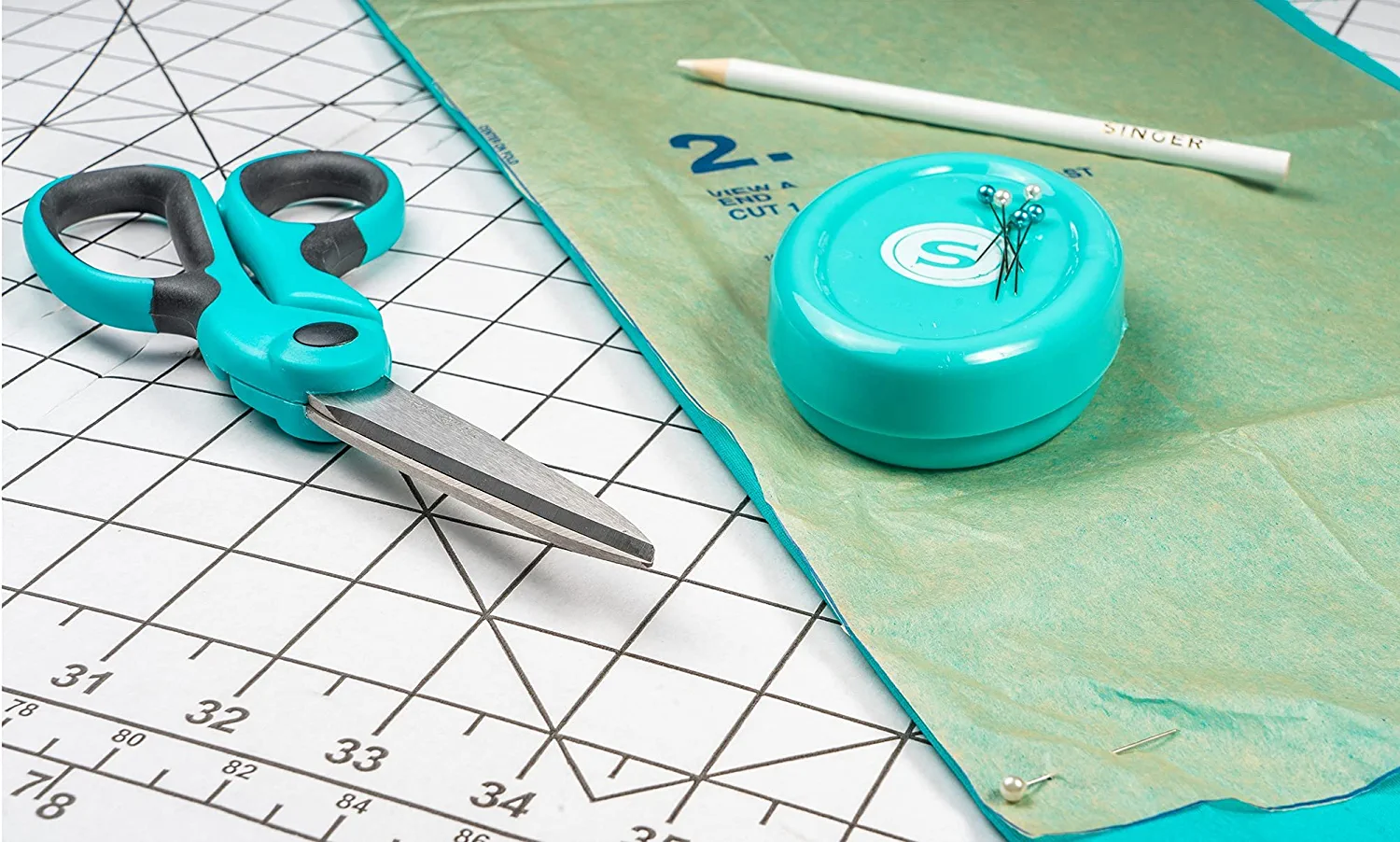 Why the second pair of sewing shears you ask? These are not fancy, but they'll get the job done, and that job is cutting fabrics that would damage your good sewing shears. Think, things with sequins, beading, metallic threads, or anything of that nature. These shears have a plastic handle so no cold steel in the hand, and come with a nice sharp blade. They are inexpensive so if they are damaged from cutting you can easily replace them.
---
EMBROIDERY SCISSORS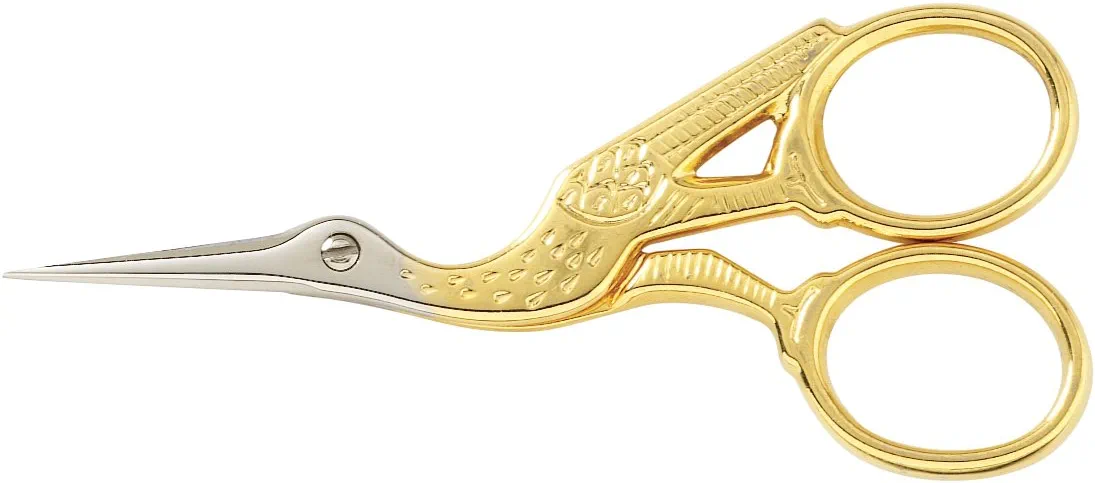 A little pair of embroidery scissors is also a necessity. They're not just thread snips they're also great for cutting very fine details when sewing, or for fussy cutting lace, or snipping stitches you wish to unpick instead of using a quick-unpick or seam-ripper. These darling little scissors are shaped like a stork, a nod to the clamps used by Victorian midwives who would often do needlework whilst waiting for a labor to progress. Cute and historical!
---
PINKING SHEARS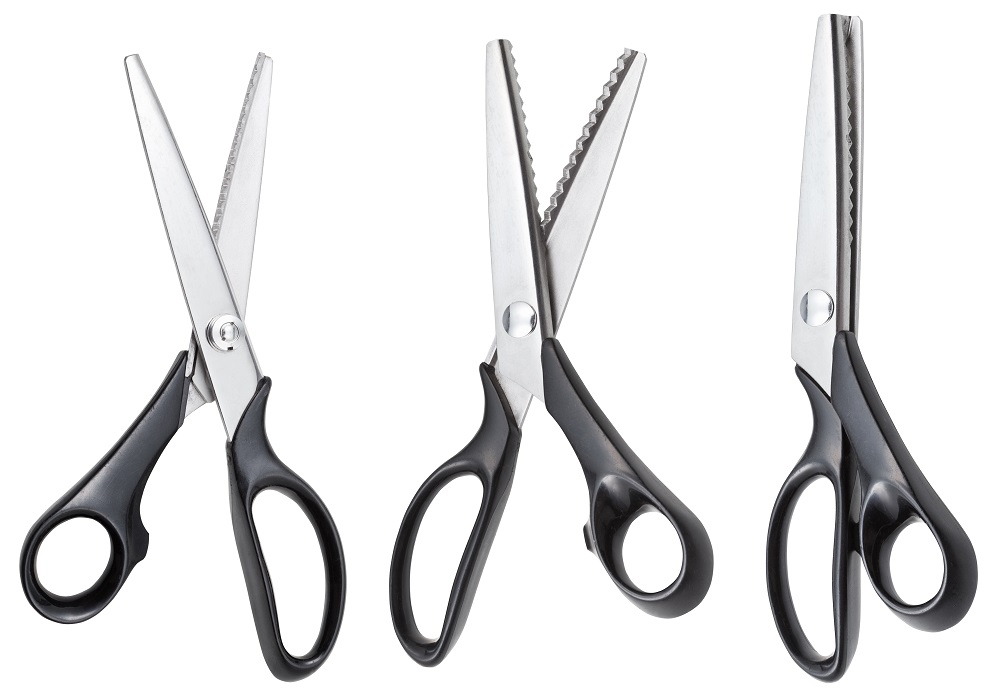 For many who aren't familiar with pinking shears, you could be forgiven for thinking they're just big zig-zag craft scissors. What they actually are for is cutting the seam allowances and edges of fabrics so that they don't fray. How frustrating is it to make a lovely new garment, only to have the seams fall apart because the fabric has frayed? The zig-zag pattern prevents this from happening and can also be used as a decorative edge instead of hemming. These have a nice rubber lining in the grips making them very hand-friendly.
---
CRAFT SCISSORS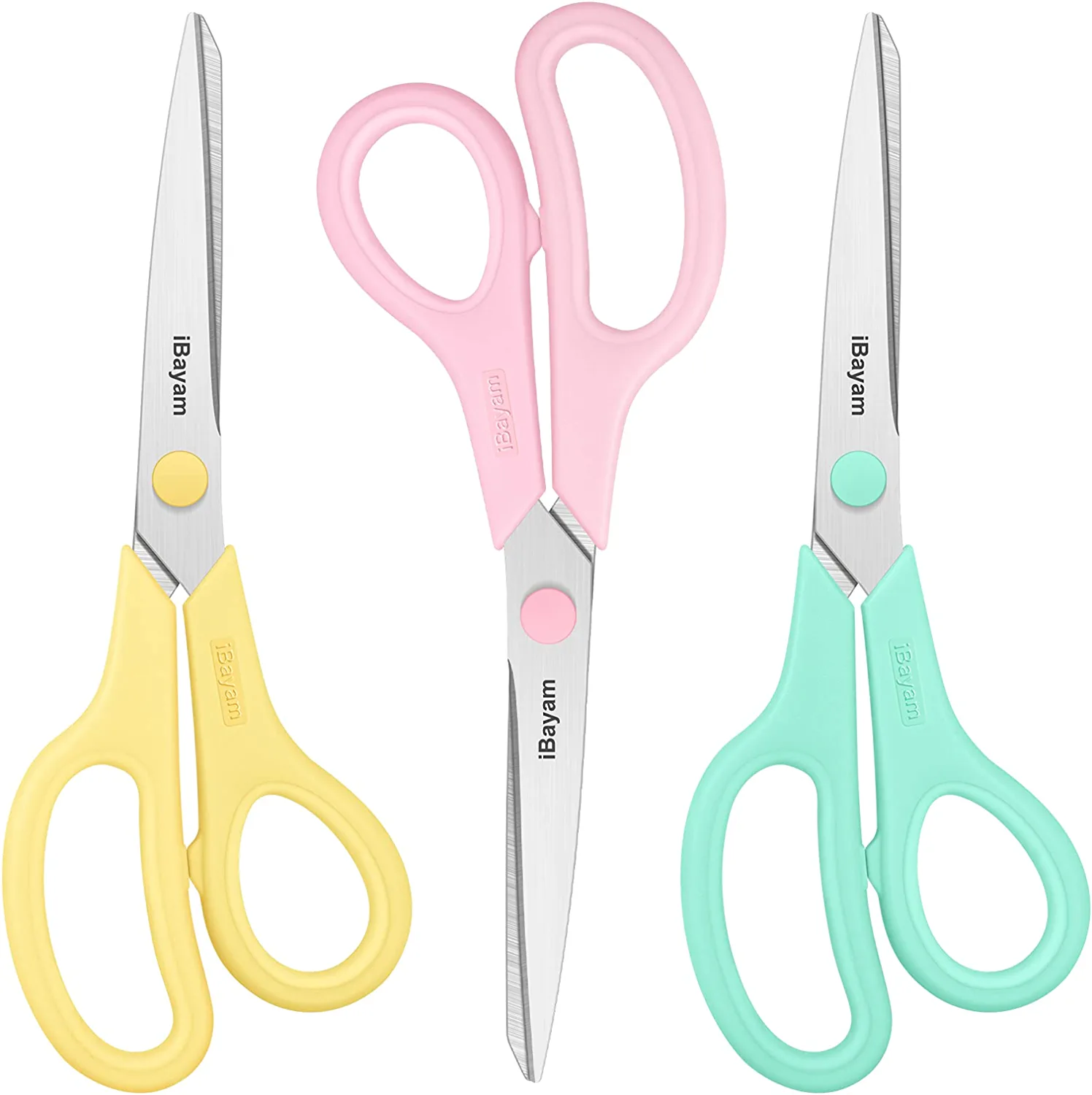 Here are the scissors you use for everything else. Craft scissors are used for paper, plastic, and non-fabric crafting bits and bobs. This cute little three-pack means you can have some in the kitchen, some in the office, and some in that drawer that's full of the random accouterment that seems necessary to life but doesn't have anywhere else to live.
That's the set, those five pairs of scissors will get you through any sewing project with style and ease! If you do have hand issues, however, I recommend the following two pairs of spring-loaded scissors.
---
ARTHRITIS-FRIENDLY SEWING SHEARS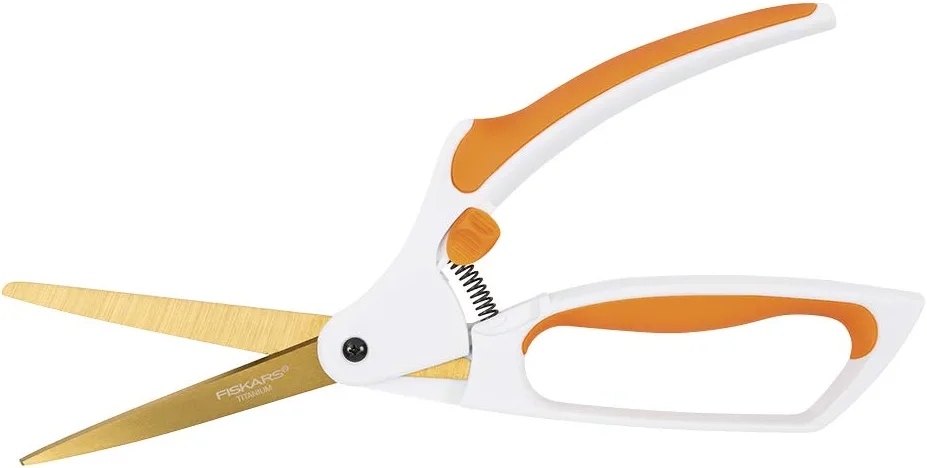 These spring-loaded scissors are great for those with arthritis or reduced hand strength because they pop back open after you've pressed them so there's less strain on your hands. They even have the American Arthritis Foundation's 'Ease-of-Use' award!
---
ARTHRITIS-FRIENDLY SEWING SNIPS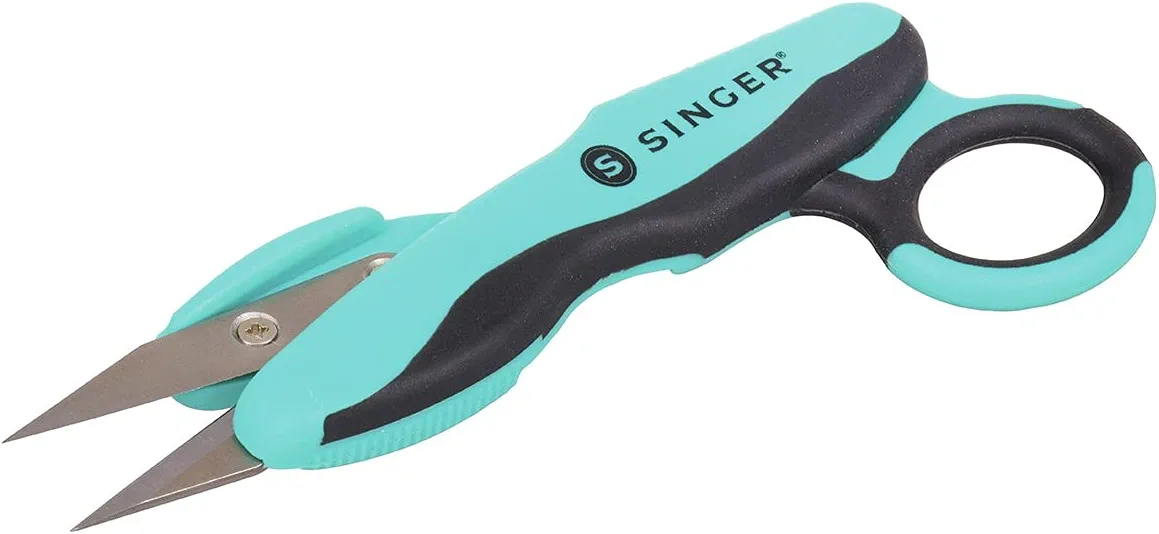 These little snips are also spring-loaded, and mean that you don't have to get your fingers into the little rings of a pair of embroidery scissors to just snip the end of your thread! Very friendly for hands that aren't cooperating like they once did!