Whether you're just starting out as a new sewing hobbyist or a seasoned quilter; sharp sewing scissors is the most important tool sewers of all skill levels need. Your scissors need to be sharp and last awhile to make your investment worth it. There's nothing better than a pair of sewing scissors that cut right the first time and are comfortable to use even hours later.
So with many sewing scissors out there, how do you know which pair to choose? To help you figure it out, we've put together the best scissors for sewing of 2021,  with all the ins and outs in this new guide.
This post contains affiliate links. If you purchase after clicking these links, The Mother Huddle may receive a small commission, at no cost to you.
---
Best General Sewing Scissors
Sewing scissors come in different sizes, shapes and blade lengths. The most important part is choosing a pair of scissors that not only fits the type of cut you'll be making, but also one you're comfortable using too. For this reason alone, many sewing hobbyists have a whole collection of sewing scissors at their disposal. Here are some of the most popular sewing scissors out there that can be used in most sewing projects.
---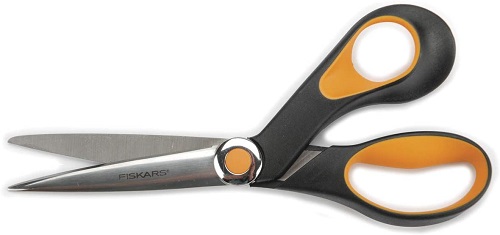 $19.49 | (was $28.99, now 33% off)
These Fiskar scissors have eight inch hardened stainless steel blades with an ergonomic plastic handle making them easy to manipulate and comfortable to use. Great for cutting heavy fabrics like denim, leather and multiple layers of fabric and they come with a lifetime warranty.
---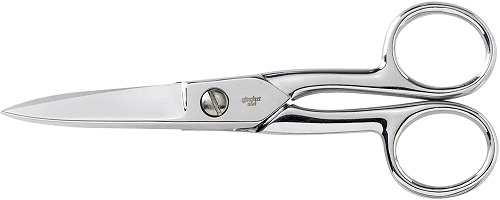 $24.98 | (was $26.98, now 7% off)
These Gingher craft scissors have thicker five inch blades made of double plated chrome over nickel sharp all the way to the tip. They're great for quilters, sewing hobbyists and general crafters for precision cutting and fabric of shorter lengths. They come with a lifetime warranty and a protective leather sheath.
---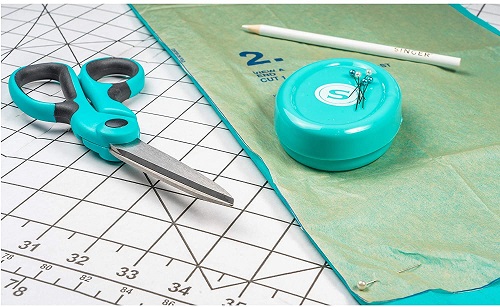 $10.19 | (was $14.99, now 32% off)
These heavy duty professional dressmaker shears by Singer have eight and a half inch tempered blades with a rubberized gripped handle for comfortable cutting. These scissors are great for cutting fabric up to 15 layers thick. The tempered blades make your new scissors sharper and last longer than an ordinary pair of fabric scissors. Your investment is safe with these sewing scissors because they come with a lifetime guarantee.
---

$5.18 | (was , now off)
These Singer fabric scissors have eight and a half inch blades made of stainless steel with a plastic comfort grip. They're great for sewing hobbyists and are perfect to use on a variety of sewing projects. These Singer fabric scissors are made sharp and can cut through three layers of fabric without catching or any fraying.
---
Best Dressmakers Shears – 7 to 10 Inch Sewing Scissors
Dressmakers shears are used for long, smooth cuts in single or multiple layers of fabrics in any weight within a single cut. Even though they're called dressmaker shears, you don't have to be a dressmaker or clothes designer to use them. They're also great for large quilting patterns and home decor projects. They're the most popular sewing scissors amongst sewing hobbyists for their versatility and ability to cut long straight lines with ease every time.
---

$29.25 | (was $31.34, now 7% off)
These dressmaker sheers by Gingher have eight inch cardbon knife-edge blades with a bent handle for more accurate tabletop cutting. They are perfect for cutting multiple layers, larger patterns, trimming seams or longer swaths of fabric. Gingher will always sharpen, repair and restore your new scissors to their original functional condition for a small fee.
---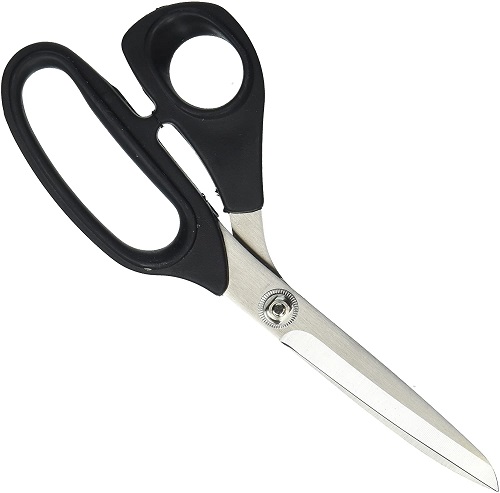 $14.17 | (was $22.99, now 38% off)
These Kai dressmaking shears have eight inch blades made of hardened stainless steel and ergonomically soft handles for fatigue free cutting. They're lightweight, easy to hold and the blades are extremely sharp to the tip. Kai dressmaking shears are perfect for dressmakers, tailors and general sewing hobbyists.
---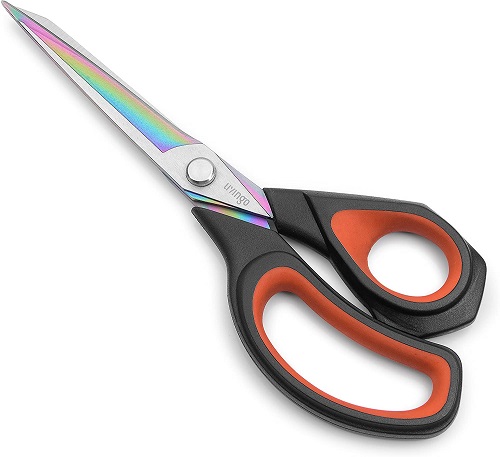 $13.99 | (was $19.99, now 30% off)
These LIVINGO premium dressmaking scissors have nine and half inch stainless steel blades and an ergonomic soft grip handle. LIVINGO dressmaking sheers are popular with quilters, dressmakers, tailors and sewing hobbyists. They can cut more than sixteen layers of fabrics and are ideal for cutting patterns, alternations, dressmaking and general sewing projects.
---
Best Thread Clippers
Thread clippers are small scissors solely used for the clipping of excess thread and frayed fabric ends. Snipping access thread and frayed fabric throughout your project will save you time and headaches later by being proactive about avoiding tangled messes. It's also a good idea to keep a small box nearby to place the access thread you've trimmed off if you have pets. If they were to get a hold of it, the access thread can cause many costly and life threatening health problems for your beloved family pet.
---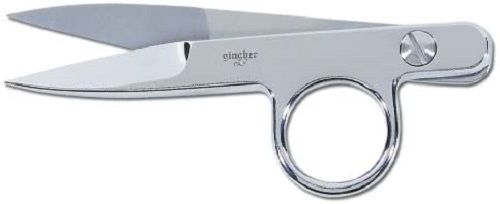 $22.49 | (was $40.99, now 45% off)
These Gingher knife edge thread snippers have spring action blades that pop back open after each cut. They're great for snipping sewing threat, heavy yarn, fabrics and more.
---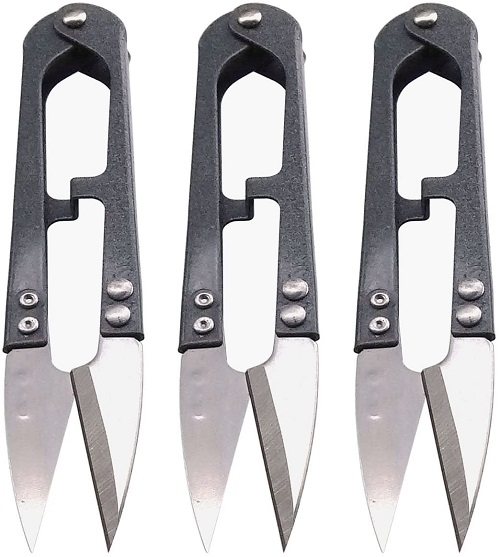 $6.09 | (was $6.96, now 12% off)
These Penta Angel sewing thread nippers are great for cutting sewing thread and snipping frayed fabrics. They're used by sewing hobbyists and as a household tool for other home tasks like pruning pants for fishing line. They're sold by the three pack so your thread snippers can stay just snippers.
---

$6.69 | (was , now off)
These Singer thread snips are made with a rubberized comfort grip handle and come with a lifetime guarantee. They're perfect for cutting thread and snipping frays away.
---
What Features To Look For In Your New Sewing Scissors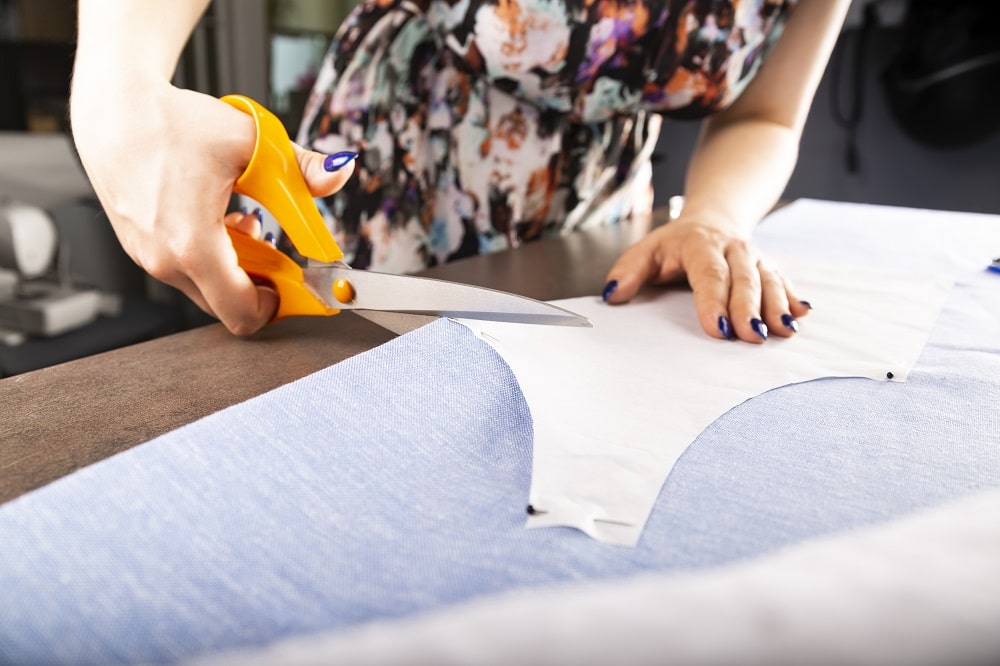 Buying a new pair of sewing scissors is the most important tool any quilter, seamstress or sewing hobbyist has in their craft room. Sewing scissors are different from ordinary paper or crafting scissors because they're created to be razor sharp and be able to cut through multiple layers of fabrics at the same time. To make your crafting less labor intensive and go more smoothly it's imperative that you pick out the right pair of sewing scissors for you. To help you on this endeavor, here's some tips on what features you should look for in your next pair of sewing scissors.
Comfortable ergonomic handles – Depending on what project you're working on and the quality of fabric, you may find yourself squeezing and cutting tighter and longer than usual. This is where having a comfortable handle makes or cuts your crafting time short.

Quality metal blades – Quality blades make for sharper and more durable sewing scissors. Choose stainless steel or carbon for the best cut, most time in between sharpening and a longer lasting pair of sewing scissors.

Appropriate blade length for your project – You'll want to choose an appropriate blade length that makes your project easier. For longer fabrics like quilting, you'll want a longer blade. For shorter more intricate cuts, a shorter blade will be easier to navigate.

Comfortable weight for you – Some sewing scissors come with metal handles and others with plastic handles. Choosing the most comfortable weight for you will ensure you can work on your project for hours and not hurt your hands or wrists.

Included protected cover – Using a protective cover protects your new sewing scissors from damage and protects you from accidental cuts. They're extraordinarily sharp so don't underestimate them and keep the cover on while not in use.

Included service warranty – Most sewing scissors come with a service warranty that you can use if your new pair of sewing scissors fall apart.
---
How To Maintain Your Sewing Scissors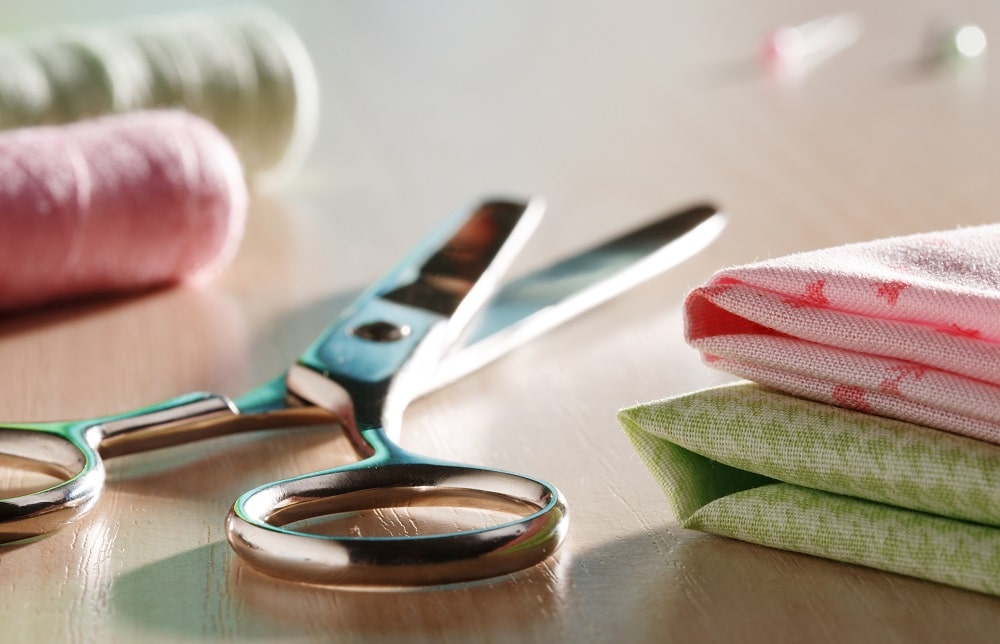 Although most sewing scissors are not expensive, it's still important to protect your investment. Dull scissors are dangerous and won't cut your fabric properly. You wouldn't want to ruin a beautiful piece of fabric over a pair of scissors that aren't sharp, so keep them in the best shape possible by taking a couple extra steps that'll seem like second nature in no time. Here's some tips to keep them working like new for as long as possible:
Wipe the blades – Keep them clean and lubricated by wiping the blades with a soft but dry cloth to keep them in good working order.

Use a protective cover when not in use – It will keep your sewing scissors and your hands protected.

Keep them sharp – Plan on having your sewing scissors sharpened and serviced regularly by a professional. Attempting this yourself can void any warranties you have on them.

Keep them safe – Dropping your sewing scissors can damage them and misalign your blades that'll make it next to impossible to cut straight lines with until you can get them repaired.

Avoid moisture – Don't cut damp fabrics and keep your sewing scissors far away from your steamer.

Watch out for sewing pins – You could accidentally damage your sewing scissors by cutting through a sewing pin

Only use them to cut fabric – Mixing in other mediums will dull your fabric scissors much faster.