Shopping for gifts isn't always an easy task, but for friends and family members who love to bake, a new baking tool is always a well appreciated gift. Even the most skilled and seasoned bakers enjoy new and upgraded tools for their kitchen. Whether you decide on gifting a new spatula set, professional mixer or a collapsible cooling rack, baking tools make great gifts that'll see plenty of use.
If you're on the search for the perfect bakers gift, consider this guide your ultimate gift buying checklist this holiday season. Since there are so many baking tools out there, we've divided it into four categories: the most essential baking tools needed for any kitchen, purely convenience baking tools to make baking easier, ultimate wishlist items and wearable gifts. Everything on this list will keep a baker's kitchen well stocked and well prepared for even the most ambitious baking weekend.
This post contains affiliate links. If you purchase after clicking these links, The Mother Huddle may receive a small commission, at no cost to you.
Give a gift that you know will be put to good use. These gifts are essential for bakers of every skill level. Whether you're gifting utensils to a baker just starting off or a seasoned professional; these gifts will not just sit unopened.
---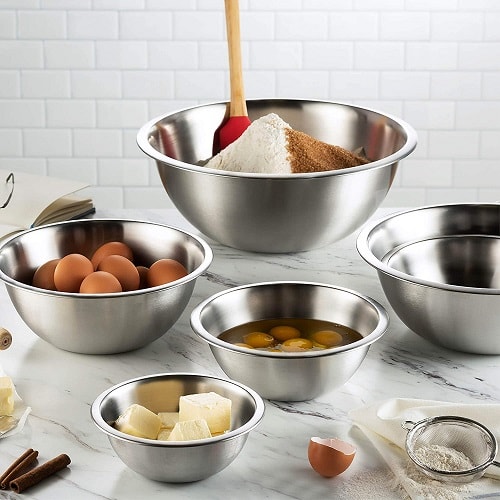 $32.99 | (was $38.99, now 15% off)
Mixing bowls are a must have in baking. This particular mixing bowl set is great because it's durable, lightweight and is designed to nest into one another for easy storage. Stainless steel mixing bowls in particular are a baker's favorite because they are naturally wide enough to be able to knead dough inside of the bowl, keep dough cool and are easy to wash no matter what has been mixed inside of them.
---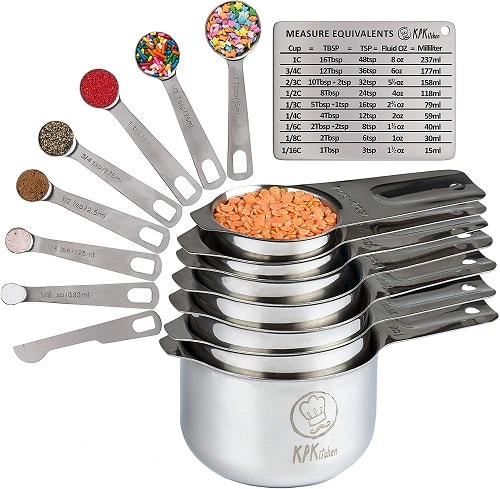 $32.99 | (was $44.99, now 27% off)
Measuring ingredients properly is the foundation to baking. Getting the baker in your life measuring tools will send them well on their way to baking the most scrumptious baked goods you've ever tasted. These measuring cups and spoons come in all sizes they'll need, paired with a leveling spoon and measure equivalents chart that's helpful to all bakers. Measurements are stamped into the stainless steel so they'll never rub off and nest into one another for easy storage.
---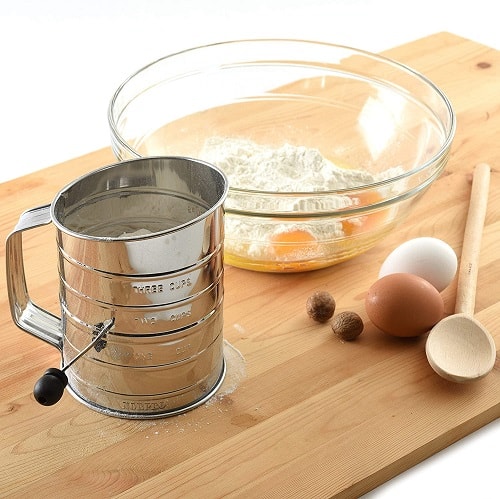 $13.23 | (was , now off)
Not everyone has a flour sifter, but bakers always do and more than one can be helpful! They're essential to mixing dry ingredients together more evenly before being mixed in with the wet ingredients. When ingredients get mixed together unevenly, it completely ruins the cake batter or dough. Gifting a flour sifter ensures your loved ones batter or dough comes out beautifully every time.
---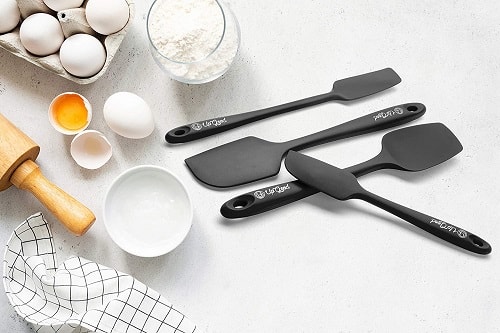 $19.98 | (was , now off)
Silicone spatulas are a very basic gift, but you can never have too many. Spatulas made of silicone like in this set are best for scraping bowls, mixing dough and stirring ingredients together. We love this set in particular because they are made of professional grade heat resistant silicone that won't warp, melt or chip away with heavy use.
---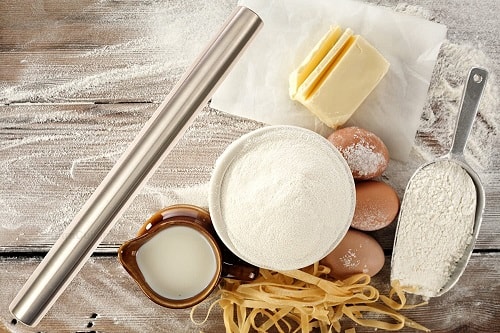 $16.99 | (was , now off)
Rolling pins are always needed in a bakers kitchen to roll out their dough evenly. This French rolling pin is different from the traditional wooden rolling pin most home chefs are used to. French rolling pins do not have handles, but instead have tapered ends making it easier to maneuver the pin when rolling the dough. Plus this one is made with stainless steel, making it stick free and easy to clean.
---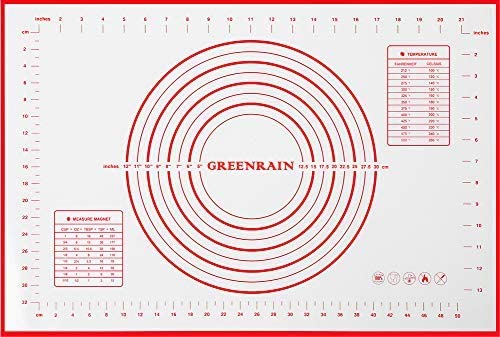 $9.98 | (was , now off)
Looking for a more versatile gift? Consider a pastry mat! Pastry mats have a food safe non stick surface with measurement markings for precise measurements. They can be used to knead dough or measure and cut pasta. This pastry mat won't slip all over the counter or fade and it folds up neatly to conserve kitchen space when not in use.
---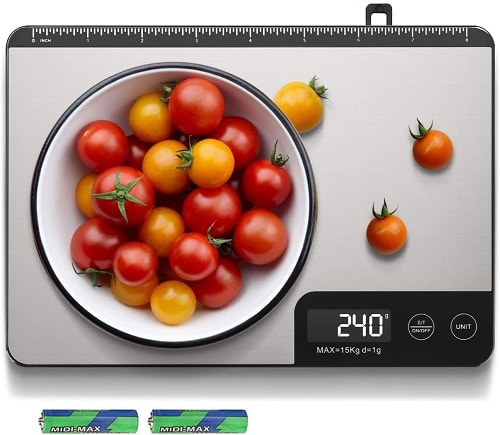 $25.99 | (was , now off)
Since measuring is so important to baking, what about gifting an extra durable food scale? This easy to read digital food scale can measure nearly all ingredients required for home recipes up to 33 pounds.
---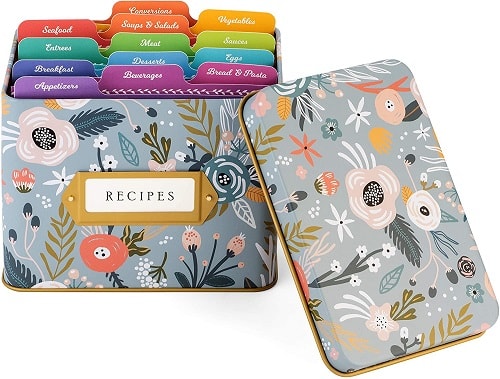 $32.99 | (was , now off)
Bakers can't have too many recipe boxes! Many bakers have stacks of recipes passed down from generation to generation from family and their own handwritten recipes. This sturdy tin box protects those precious family recipes from spills, stains and getting lost when not in use. Gift this recipe box as a ready to fill or pre fill it with your favorite family recipes.
---
---
Nice To Have Baking Tools
---
These nice to have baking tools are gifts of convenience. They may not be needed, but they are super helpful at getting the job done easier, faster and sometimes even safer. Baking can be very time consuming, so why not give a gift that will be greatly appreciated?
---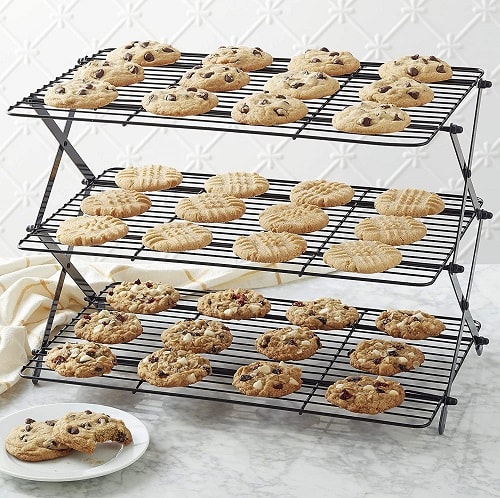 Price not available | (was , now off)
Cooling racks are essential, but can be frustrating to use for bakers without a ton of counter space. This cooling rack remedies that problem with 3 tiers of cooling racks in one that can fit up to 3 dozen cookies on it at the same time. Then when it's ready to be put away, it easily collapses into one tier for easy storage.
---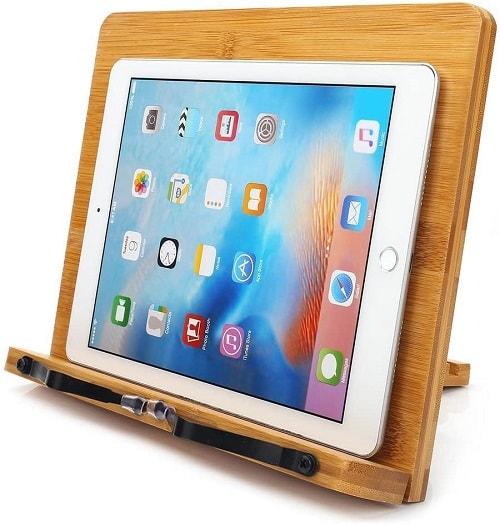 $16.99 | (was , now off)
Don't let family and friends strain their neck by constantly looking down to read their recipe book with this bamboo cookbook stand. It's sturdy enough where it won't tip over and it can hold just about any size cookbook at an angle that's perfect for reading recipes while cooking or baking.
---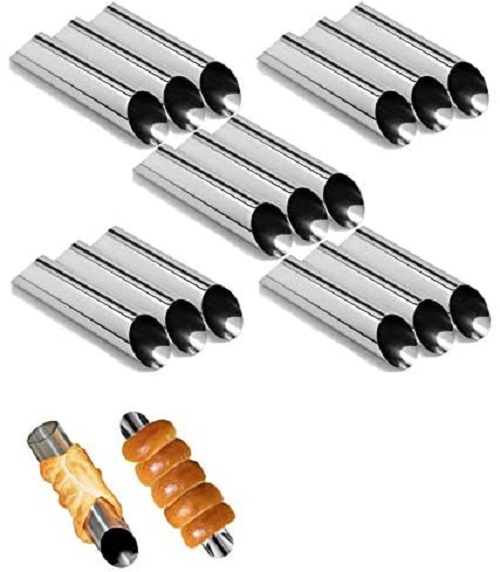 $8.99 | (was $9.99, now 10% off)
These stainless steel cannoli tubes are an inexpensive gift that's easy to use and are frustration-free cleanable. It's wrap around design makes it so the cannoli shells will not stick onto the tubes or in the seams like other cannoli tubes do. If you're worried that your gift will spend too much time on the shelf or in the box, don't fret. Cannoli tubes can be used to make other pastries as well like danish pastries, croissants and cream rolls.
---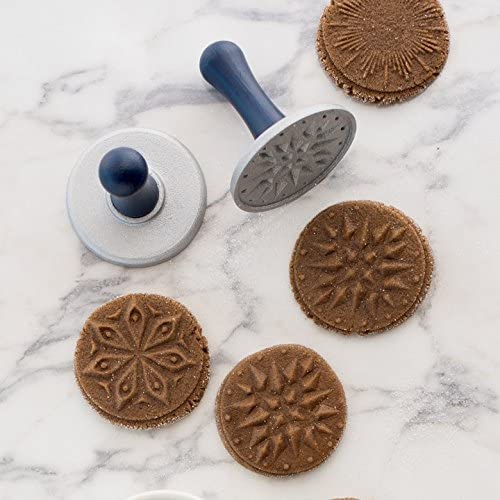 $29.18 | (was , now off)
Give a gift that turns ordinary cookie cutouts into festive holiday cookies! This three piece set has 3 different ornate star patterns that are easy to use. Just roll out the cookie dough, cut into shapes and press your favorite starry night cookie stamp onto the dough. To clean them, just hand wash with warm soapy water.
---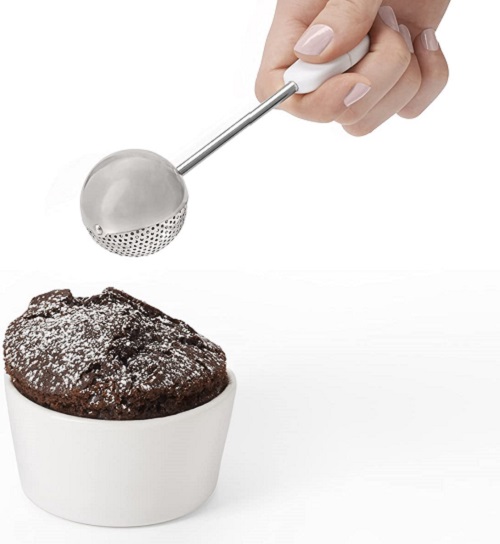 $12.00 | (was , now off)
Commercial bakery sugar dusters tend to be oversized for home use and can over dust pastries with just a slip of the hand. Now there's a proper home solution; the handheld dusting wand! It's perfect for lightly dusting baked goods with cinnamon or powdered sugar. You can also lightly flour baking pans with this dusting wand in a pinch.
---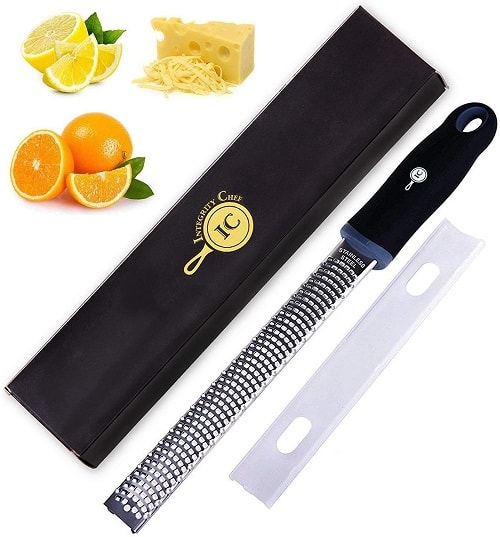 $9.97 | (was , now off)
Wow your secret santa this holiday season with this professional grade zester! Zest fresh citrus for cakes, cookies, lemon bars and more. Using a zester is one of the easiest ways to infuse fresh lemon, orange or lime into baked goods. Sure, they could use a grater or a vegetable peeler, but a zester is much safer to use.
---
---
Put Your Baked Goods On Display
---
Friends don't let friends bake beautiful pastries to just hide them away. They've worked hard on them, so give them something that can put their fine work on display at home! From elegant cake stands to functional bread boxes; these are gifts that the whole family can appreciate.
---
---
Ultimate Wish list Items For Aspiring Bakers
---
Every aspiring baker and hobbyist has a kitchen wishlist. If you're close with who is receiving your gift you might already know what's on their wishlist. If not, here are a few highlights from our own personal wishlist here at the Mother Huddle.
---
---
Wearable Gifts Just For Bakers
---
Holiday gifts for baking hobbyists don't always have to be useful tools in the kitchen. Consider getting them something wearable that allows them to show off their hobby like a cute apron or a sassy pair of oven mitts. If you're unsure of what to buy or what they might already have, a wearable gift can avoid getting your loved one something they already have.
---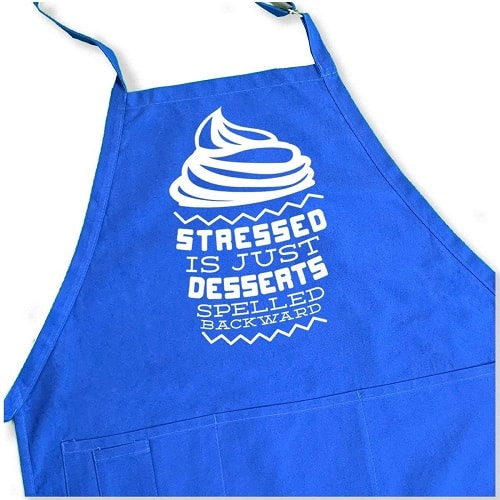 Price not available | (was , now off)
A baker can't have too many aprons in the kitchen! This super cute "Stressed is just desserts spelled backward" with a cupcake graphic is a clever play on words that any baker would enjoy. It's one size fits all and has extra pockets too!
---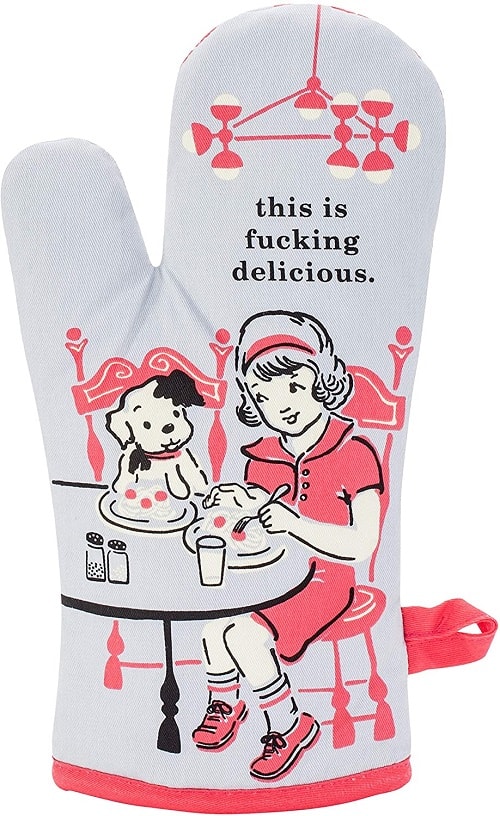 $16.99 | (was , now off)
These oven mitts are not for the light hearted or easily offended. This adult language oven mitt with throwback 1930's art on it is made of all cotton with quilted insulation to keep their hands safe from harm. Think of this as a fun but functional gift for your loved ones who enjoy using colorful language.
---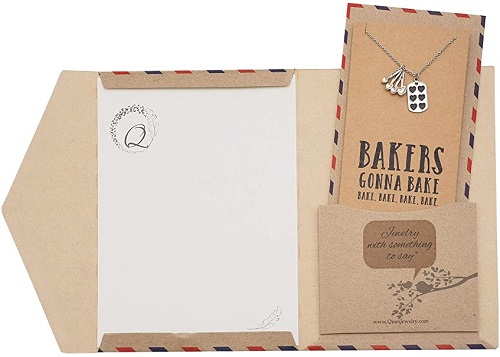 $30.93 | (was , now off)
Necklaces are always a sweet gift especially when they feature something so near and dear to their heart like this one. This inexpensive near ready gift includes a necklace, card and space to add a heartfelt note with an envelope to place the gift inside. The necklace has a set of heart measuring spoons and cupcake pan that doesn't rust or tarnish easily.
---