Plenty of kids start to show an interest in arts and crafts, including sewing, from a young age. If your child loves working on projects and has started to learn to sew, buying them a sewing machine of their own can help take their skills to the next level. The best sewing machines for kids aren't toys. They're often machines that adults can use, too.
If you're ready to get your child a sewing machine, check out our picks and get some tips on choosing and caring for your kid's sewing machine.
Best Sewing Machines for Kids
Sewing machines that are ideal for kids often have safety features that keep them from stitching over their fingers or otherwise getting hurt while they use the machine. Some sewing machines are more "kid-friendly" than others and come in fun colors or with cute patterns. If you want a machine that will grow with your child, it can be worthwhile to pick a model that has a neutral color and that doesn't have patterns or designs your kid might decide are too babyish as they get older.
This post contains affiliate links. If you purchase after clicking these links, The Mother Huddle may receive a small commission, at no cost to you.
---
---
---
---
---
---
Features to Look for in a Sewing Machine for Kids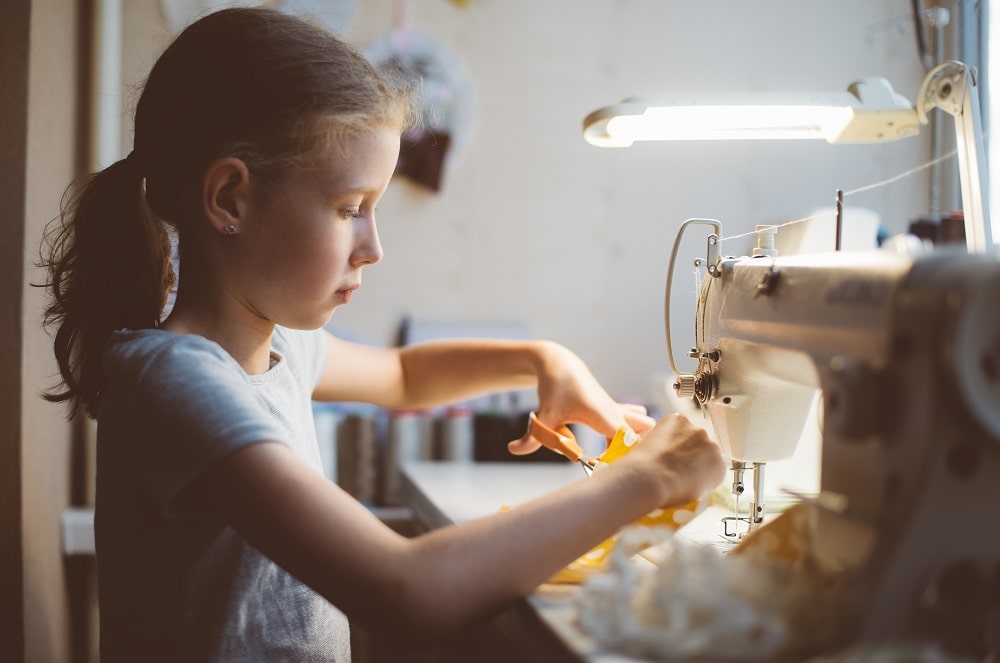 The easier your child's sewing machine is to use, the more likely they are to use it. It's also important that the machine be reliable, as a kid is likely to get discouraged if they have to work with a machine that constantly jams or that tangles the thread. Keep an eye out for the following features when choosing a sewing machine for kids.
Bobbin Insertion
The thread around the bobbin creates the bottom part of the stitch on a sewing machine. Before using the machine, a child needs to wind the bobbin and properly insert it. This can be easier in some machines than in others. To keep frustration to a minimum, it's a good idea to pick a machine that has an easy-to-load bobbin. The Brother machines usually have a drop-in bobbin feature, which makes it a snap for kids to insert or change their bobbin thread.
Stitch Options
More isn't always better when it comes to stitch options. In fact, for the youngest or most novice of sewers, more options can prove to be confusing. It might be better to err on the side of too few stitches when choosing a machine for your kids. Unless they plan on creating magnificent quilts or machine embroidery, most kids will get by perfectly fine with the most basic stitch options. Straight stitch and zigzag are likely all your child needs at first.
Included Accessories
Some sewing machines come with the works while others only have a few accessories. Ideally, the machine you choose will at least come with a lint brush, an extra bobbin or two, needles, and sewing or presser feet. You can buy presser or sewing feet separately, such as a zipper foot or buttonhole foot, so it's not the end of the world if the machine you pick doesn't have them.
Dials and Controls
The best sewing machines for kids have controls that a small child can easily adjust. A machine with a big dial will be easier for a kid to figure out than one with lots of different controls or buttons. That said, if you end up picking out a computerized machine, you will most likely end up with a sewing machine that has a lot of buttons. If your child is older and is relatively comfortable using computerized devices, they'll likely figure out a computerized sewing machine more quickly than you.
Speed
Most sewing machines are operated with a foot pedal, and it can be tricky for a child to figure out how much pressure to put on the pedal. If they really "step on the gas," the sewing machine is going to go too quickly, leading to crooked stitches or a tangled mess. If your child is hesitant and doesn't push down on the foot pedal enough, the machine will barely operate.
For that reason, it's best to look for a sewing machine with a speed control dial. You can set the dial to a certain number of stitches per minute. No matter how much pressure your kid puts on the pedal, the sewing machine won't go above the designated speed.
Safety Features
Talk to any novice sewer, child or adult, and one fear you hear constantly is that they'll run over their fingers with the machine. While that's not likely, there is a chance that someone could pinch a finger while stitching. To keep that from happening, some models include a finger guard around the presser or sewing foot. If the machine you're most interested in doesn't have a finger guard, don't worry. You can usually buy them separately.
How to Maintain a Child's Sewing Machine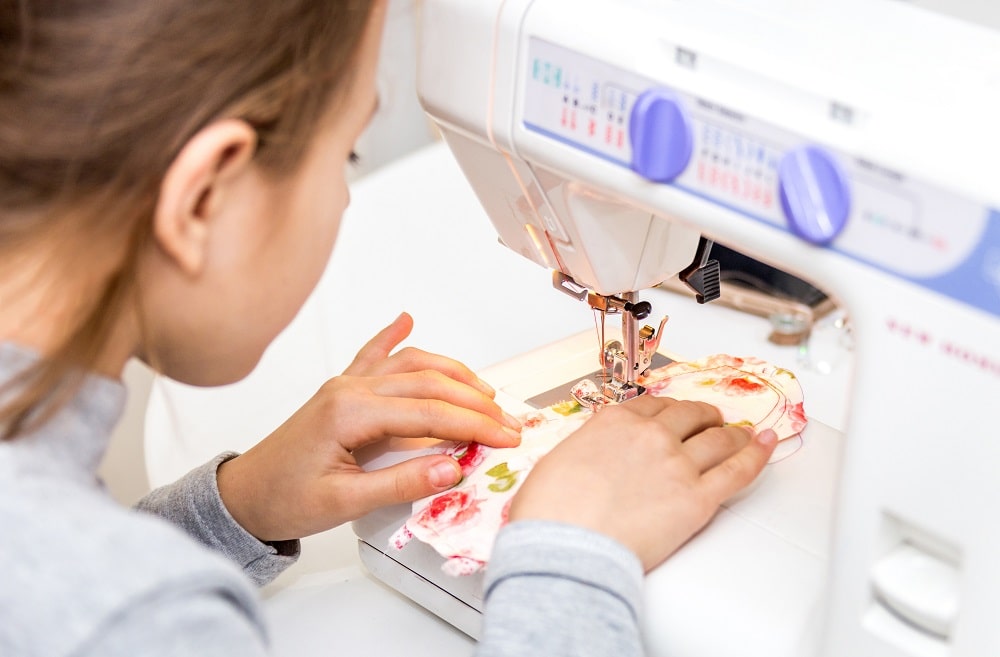 Taking care of your child's sewing machine should be relatively straightforward. Most modern sewing machine models don't require regular oiling, so you don't need to worry about keeping a stash of oil on hand. The main thing you should focus on when it comes to caring for your child's sewing machine is keeping lint and dust under control. The sewing machine will most likely come with a tiny lint brush you can use to sweep the dust away from the feed dogs, bobbin case, and anywhere else lint builds up. Although you might see compressed air marketed as a sewing machine cleaning tool, using it on your child's machine can push the dust and lint further into the machine.
Your child's sewing machine will operate best if everything is installed correctly. Teach your child how to insert the bobbin and install the needle. Also, teach them some sewing machine best practices, such as always starting with the needle inserted into the fabric and the presser foot lowered.
It's a good idea to replace the needle often, as the tip gets dull. A dull need is more likely to bend or snap than a sharp one.
If the machine doesn't come with its own cover, buy one separately and keep the sewing machine under cover when your child isn't using it. Covering the machine protects it from dust.
Why Teach Your Child to Sew?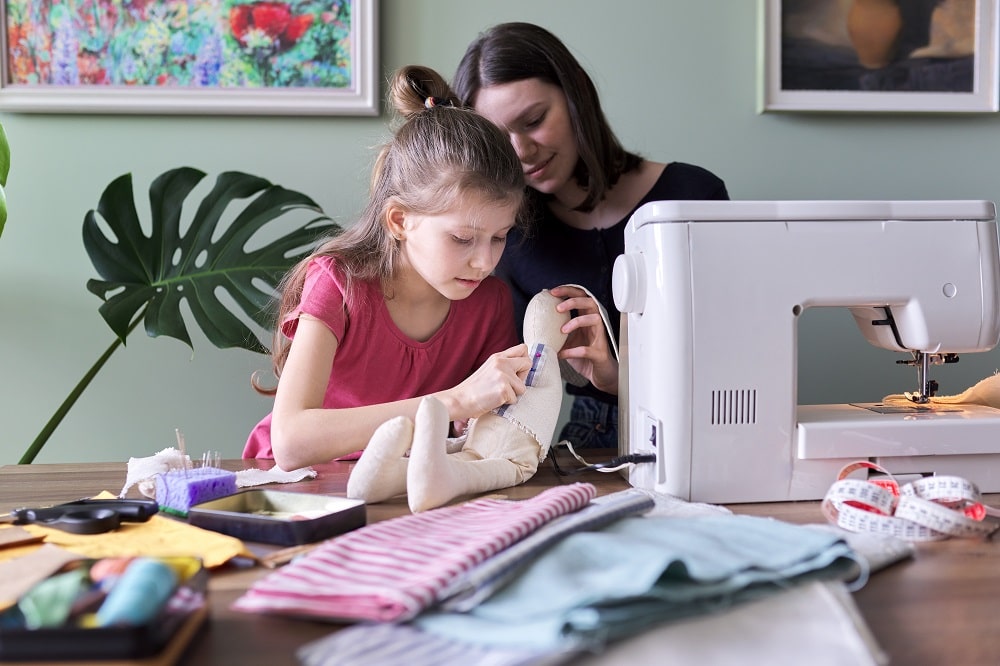 There are so many reasons to encourage your child's interest in sewing. Learning to sew helps them develop fine motor skills and enhances their problem-solving skills. Sewing also helps to spark your child's creativity. They can brainstorm projects and figure out how to make objects, such as clothing or accessories. After learning to sew, you might notice your child is more confident and proud of their work.
Whether your child has expressed an interest in learning to sew or already knows the basics, getting them their own sewing machine can help them become confident, coordinated, and creative.