Many kids start to show an interest in arts and crafts, including sewing, from a young age. If your child loves working on projects and has started to learn to sew, buying them a sewing machine of their own can help them take their skills to the next level. The best sewing machines for kids aren't toys. They're often machines that adults can use and do use every day.
Do you remember your first sewing machine? Maybe you haven't sewed since home economics class in grade school, but they weren't toys. They were very real sewing machines for beginners. Like home economics, many beginner sewing machines are suitable for kids to use too but they're not designed with kids in mind. They are designed for adults, cluttered with advanced stitching features, heavy and complicated. But we've done the research and know which sewing machines are best for kids.
If you're ready to get your child a sewing machine, check out our picks below and get them set on the right foot in their new hobby. 
This post contains affiliate links. If you purchase after clicking these links, The Mother Huddle may receive a small commission, at no cost to you.
---
How We Ranked The Sewing Machines
If you've ever been shopping for a sewing machine before, you already know there's a ton on the market. But how do you know which sewing machine is good for your child? Unfortunately, you don't unless you put in a lot of time in effort to research them inside and out; and who has the time for all that? Luckily we do and we've done the work. We have come up with our own criteria that would make a sewing machine best for kids. Before we dive into the machines that have made the cut, these are our main 5 criteria we used to rank our handpicked sewing machines:
Age Appropriate Features & Functionalities

Safety Considerations & Child Friendly Designs

 Ease Of Use & Simplicity

Durability & Build Quality

Availability Of Beginner Friendly Accessories & Attachments
1. Age-Appropriate Features And Functionalities
We scoured through sewing machines to find age appropriate features and functionalities that truly mattered. Through our research we have found that fewer features and machines that are easier to operate are best for younger kids. Meanwhile computerized sewing machines can be useful to older and more experienced kids.
2. Safety Considerations And Child-Friendly Designs
Remember to always think safety first! We handpicked sewing machines that were safe for little hands and minds to use. These machines are lightweight and have adjustable speeds. All sewing machines that had a safety concern pop up were immediately removed from consideration.
3. Ease Of Use And Simplicity
As with any new activity, you'll need to be there to guide them while they learn. However, ease of use and simplicity is a really important factor to us. It's important for your child so they can do their projects more independently as their skills grow and for you as the parent. If you're both frustrated with their new sewing machine, not much learning will get done.
4. Durability And Build Quality
Sewing machines are an investment and let's face it, kids are rough with their things. We've handpicked sewing machines that can stand up to heavy not so nice wear and tear.
5. Availability Of Beginner-Friendly Accessories And Attachments
A lot of sewing machines come with accessories and attachments in the box. We tried to pick machines that came with them so you'd spend less on your child's new hobby. However, which accessories and attachments to use will still be up to you as the parent. You know what your child can and cannot use safely best.
---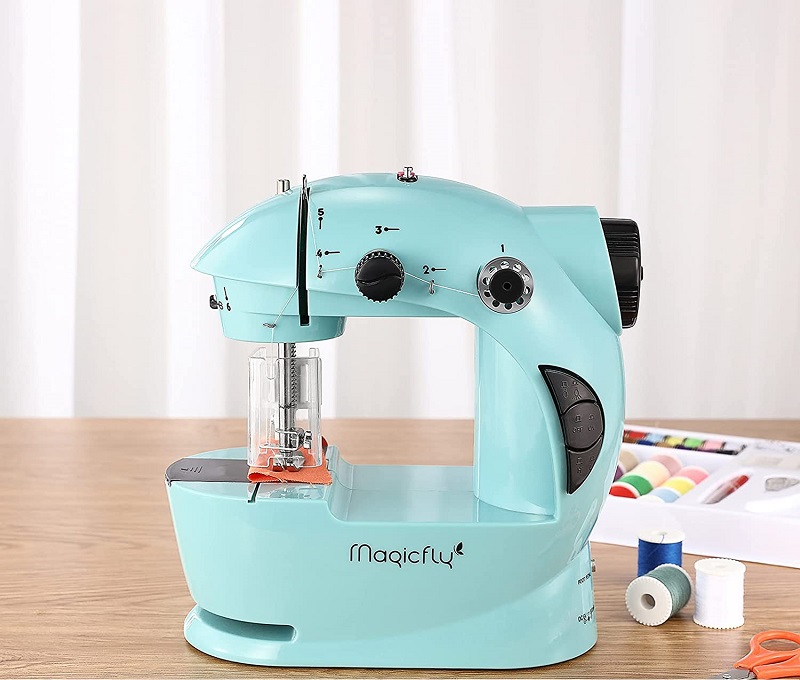 $39.99 | (was , now off)
How cute is this machine!? Commonly used as a travel machine because of its compact size and lightweight, it also doubles perfectly as a starter machine for kids. It might be tiny and adorable, but it also provides all the features your beginner sewer will need. An extension table for more working room, a foot pedal, the ability to go fully battery power (we love this function), a machine bag, and even a starter sewing kit with scissors, needles, measuring tape, thread, and bobbins.
This is the perfect machine that won't break the bank but will set your child up with everything they need to break into the world of sewing.
---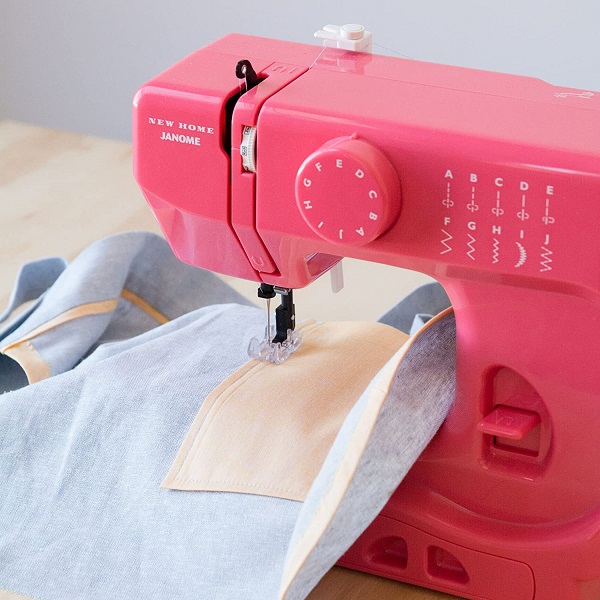 Price not available | (was , now off)
Available in a rainbow of fun colors, such as "Pink Lightning" and "Mint Green," the Janome Basic sewing machine has a look that appeals to kids and a price that appeals to adults. The machine clocks in at just 5 pounds, making it easy for young kids to tote around. It has fewer bells and whistles than the Singer or Brother models, offering just 14 stitch options. It comes with just one sewing foot, which has a finger guard to keep your kid's fingers safe. A built-in accessory drawer provides a place to store extra bobbins, seam rippers, and needles.
---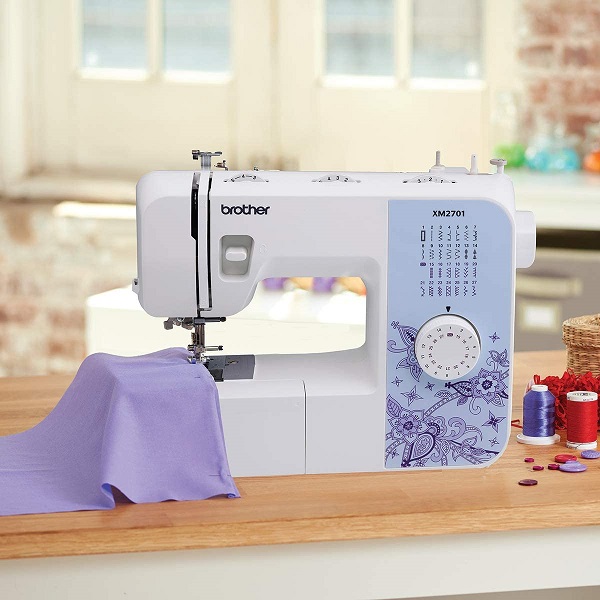 $129.99 | (was , now off)
Brother is one of the biggest manufacturers of sewing machines. Its XM2701 sewing machine features a drop-in bobbin and an automatic needle threader. Those two features are particularly useful for kids, who might get frustrated trying to install a bobbin or having the bobbin thread get tangled. The automatic needle threader is helpful for kids who might have difficulty getting their thread to line up with the eye of the needle. The sewing machine comes with an instructional DVD and six sewing or presser feet, which might be more than a beginning sewer needs. The machine is lightweight and has a big dial that makes it easy for kids to choose their stitches.
---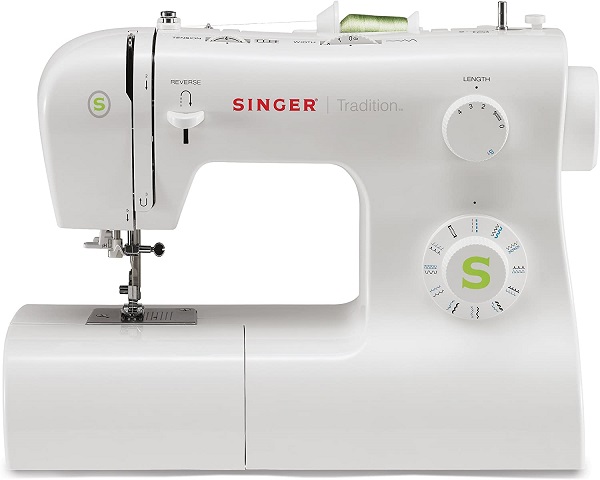 $130.01 | (was $149.99, now 13% off)
When many people think of sewing machines, they think of Singer, and for good reason, as the company made the first sewing machines for home use. Today, Singer continues to make easy-to-use machines, some of which are perfect for kids. The Tradition 2277 sewing machine is designed for beginning sewers. It has an automatic needle threader and automatic buttonhole maker. The machine allows for up to 97 different stitch applications, far more than your child is likely to need.
---
$205.99 | (was , now off)
Sometimes, basic is best. The Singer Start 1304 sewing machine comes in white and has a single, big dial your kid can use to choose their preferred stitch and stitch length. The machine has a simple automatic bobbin winding feature and a large reverse button. It also has three sewing feet, so your child can easily learn to sew zippers or buttonholes.
---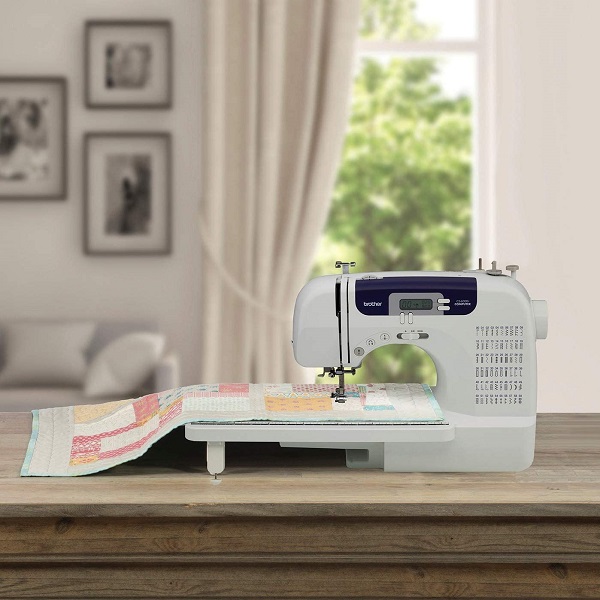 $469.99 | (was , now off)
A computerized sewing machine can do lots more than a basic mechanical model. If your child is older or has been sewing for years, the Brother CS6000i sewing machine could be just right for them. Computerized sewing machines create precise stitches and are often easier to adjust than mechanical models since the adjustments are computerized. The machine also automatically regulates the sewing speed, which can be particularly useful for kids who struggle to put the right amount of pressure on the pedal. A drawback of the CS6000i is that it does require more maintenance and cleaning than mechanical sewing machines. The price tag is also higher than the other sewing machines on our list.
---
Features to Look for in a Sewing Machine for Kids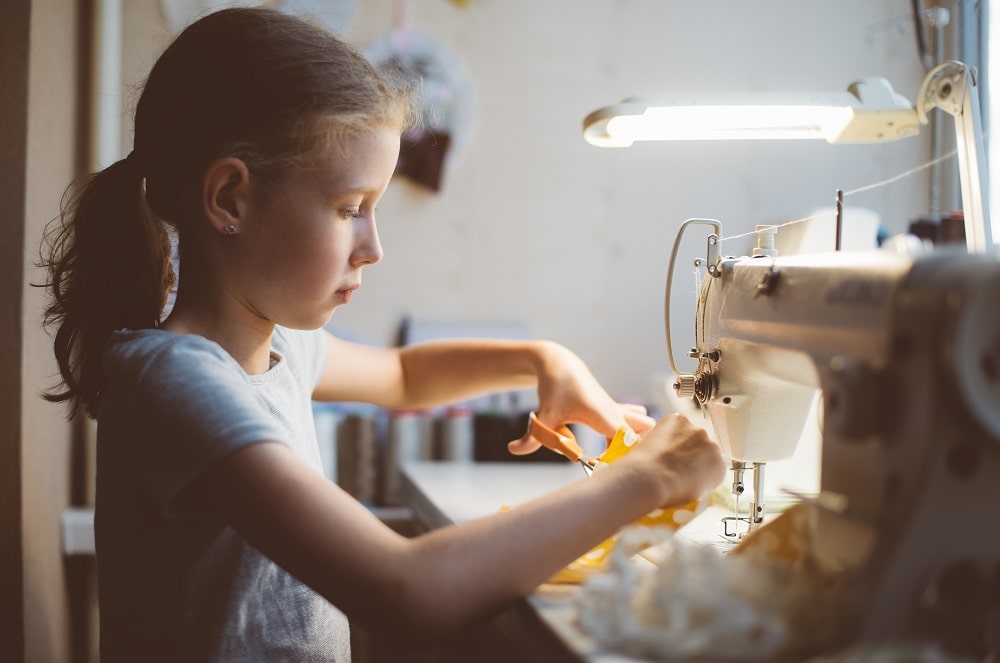 The easier your child's sewing machine is to use, the more likely they are to use it. It's also important that the machine be reliable, as a kid is likely to get discouraged if they have to work with a machine that constantly jams or that tangles the thread. Keep an eye out for the following features when choosing a sewing machine for kids.
Bobbin Insertion
The thread around the bobbin creates the bottom part of the stitch on a sewing machine. Before using the machine, a child needs to wind the bobbin and properly insert it. This can be easier in some machines than in others. To keep frustration to a minimum, it's a good idea to pick a machine that has an easy-to-load bobbin. The Brother machines usually have a drop-in bobbin feature, which makes it a snap for kids to insert or change their bobbin thread.
Stitch Options
More isn't always better when it comes to stitch options. In fact, for the youngest or most novice of sewers, more options can prove to be confusing. It might be better to err on the side of too few stitches when choosing a machine for your kids. Unless they plan on creating magnificent quilts or machine embroidery, most kids will get by perfectly fine with the most basic stitch options. Straight stitch and zigzag are likely all your child needs at first.
Included Accessories
Some sewing machines come with the works while others only have a few accessories. Ideally, the machine you choose will at least come with a lint brush, an extra bobbin or two, needles, and sewing or presser feet. You can buy presser or sewing feet separately, such as a zipper foot or buttonhole foot, so it's not the end of the world if the machine you pick doesn't have them.
Dials and Controls
The best sewing machines for kids have controls that a small child can easily adjust. A machine with a big dial will be easier for a kid to figure out than one with lots of different controls or buttons. That said, if you end up picking out a computerized machine, you will most likely end up with a sewing machine that has a lot of buttons. If your child is older and is relatively comfortable using computerized devices, they'll likely figure out a computerized sewing machine more quickly than you.
Speed
Most sewing machines are operated with a foot pedal, and it can be tricky for a child to figure out how much pressure to put on the pedal. If they really "step on the gas," the sewing machine is going to go too quickly, leading to crooked stitches or a tangled mess. If your child is hesitant and doesn't push down on the foot pedal enough, the machine will barely operate.
For that reason, it's best to look for a sewing machine with a speed control dial. You can set the dial to a certain number of stitches per minute. No matter how much pressure your kid puts on the pedal, the sewing machine won't go above the designated speed.
Safety Features
Talk to any novice sewer, child or adult, and one fear you hear constantly is that they'll run over their fingers with the machine. While that's not likely, there is a chance that someone could pinch a finger while stitching. To keep that from happening, some models include a finger guard around the presser or sewing foot. If the machine you're most interested in doesn't have a finger guard, don't worry. You can usually buy them separately.
---
How to Maintain a Child's Sewing Machine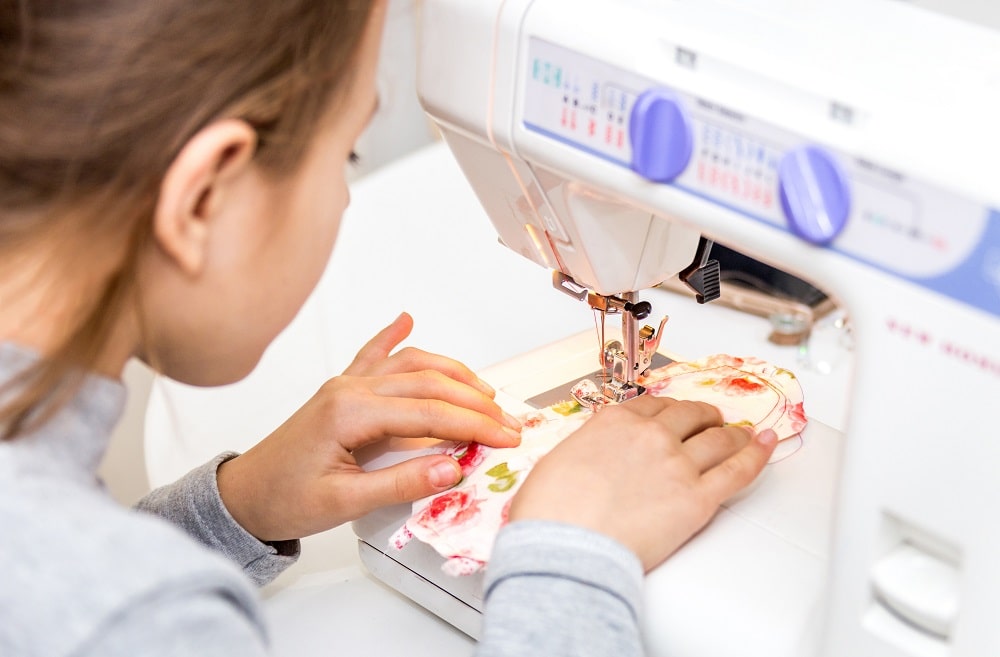 Taking care of your child's sewing machine should be relatively straightforward. Most modern sewing machine models don't require regular oiling, so you don't need to worry about keeping a stash of oil on hand. The main thing you should focus on when it comes to caring for your child's sewing machine is keeping lint and dust under control. The sewing machine will most likely come with a tiny lint brush you can use to sweep the dust away from the feed dogs, bobbin case, and anywhere else lint builds up. Although you might see compressed air marketed as a sewing machine cleaning tool, using it on your child's machine can push the dust and lint further into the machine.
Your child's sewing machine will operate best if everything is installed correctly. Teach your child how to insert the bobbin and install the needle. Also, teach them some sewing machine best practices, such as always starting with the needle inserted into the fabric and the presser foot lowered.
It's a good idea to replace the needle often, as the tip gets dull. A dull need is more likely to bend or snap than a sharp one.
If the machine doesn't come with its own cover, buy one separately and keep the sewing machine under cover when your child isn't using it. Covering the machine protects it from dust.
---
Why Teach Your Child to Sew?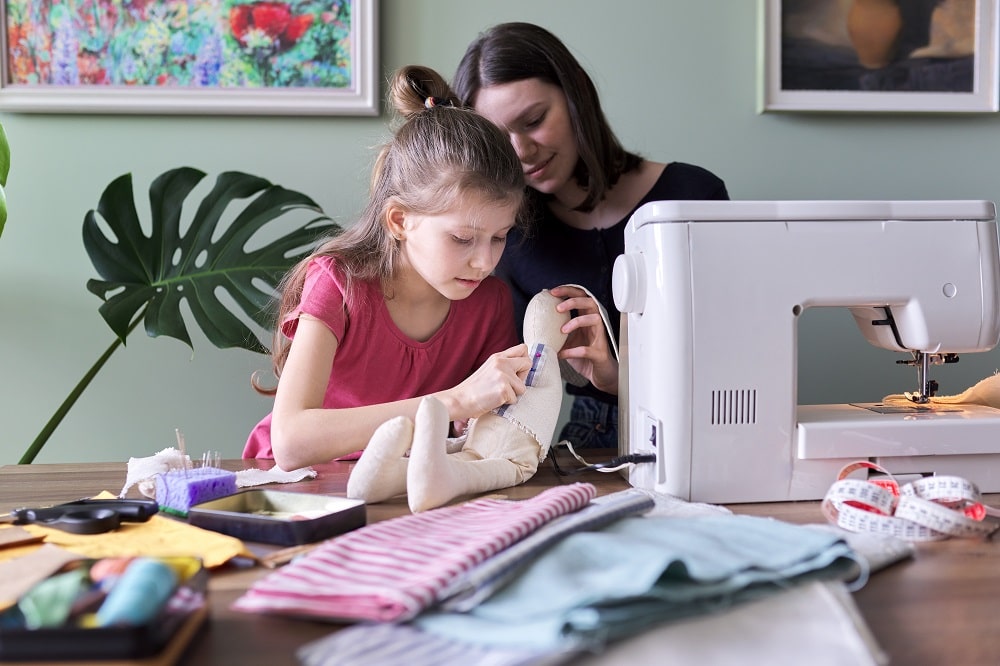 There are so many reasons to encourage your child's interest in sewing. Learning to sew helps them develop fine motor skills and enhances their problem-solving skills. Sewing also helps to spark your child's creativity. They can brainstorm projects and figure out how to make objects, such as clothing or accessories. After learning to sew, you might notice your child is more confident and proud of their work.
Whether your child has expressed an interest in learning to sew or already knows the basics, getting them their own sewing machine can help them become confident, coordinated, and creative.
---
Tips On How To Teach Your Child To Sew
Your child showing interest in sewing is exciting! If all goes well, you could share a hobby. This is why it's essential to be actively supportive and engaging while they learn the basics of sewing. Here are some tips on how to teach your child to sew: 
Start Learning Early!
There isn't a set age when you should introduce your child to hobbies. They'll let you know when they're ready and if your child is showing interest in your sewing projects, it's time to get them started! Introducing sewing in small bites while keeping safety first is a great start for them before moving onto specific projects. 
Let Them Use A Real Sewing Machine When They're Ready
Toy sewing machines are great, but they're still just toys. If you want them to learn how to sew and complete real projects, they'll need to use a real sewing machine at some point. Don't be scared to let them use a real sewing machine when they express interest and seem ready. You'll be there to keep them safe and guide them through their projects.
Be Hands On With Their Learning
Sewing is hard. Your child will need your help, confidence and reassurance while learning how to sew. Be as hands on with their learning as you can be and as much as they need. There will be a day where they don't need you as much to complete their project. Be there today while they still welcome your help.
Let Them Choose Their Fabric
As the experienced sewer, you'll need to choose which projects your child completes for a while. But you don't have to and shouldn't make all the decisions about their sewing project. It's important to get your kids involved from the very beginning by letting them choose fabric they like. Pick the type of fabric that's easiest to work with, but let your child pick the colors and patterns they like. This will make them more excited to do the project with you. 
Practice Makes Perfect
Learning how to sew will take a lot of practice and it's totally okay to repeat the same projects over and over. If your child is having fun and loves a particular project, there's no harm in repeating it! It'll strengthen their newly learned skills and give them the confidence they'll need to keep learning.
Draw The Sewing Lines On For Them
Most kids have a hard time holding a straight line, but you could assist with them without doing the project for them. By drawing the sewing lines on the fabric, this will help them correct their lines as they waiver. 
Keep Sewing Fun
This is by far the most important tip of them all – keep sewing fun. Kids can be frustrating. They don't listen, they get frustrated easily and may try to give up. But keeping sewing fun, makes the hobby fun for them too and will make sewing a positive experience instead of a negative one. If you get upset, they may decide that they don't like sewing afterall.
---
Sewing Projects For Kids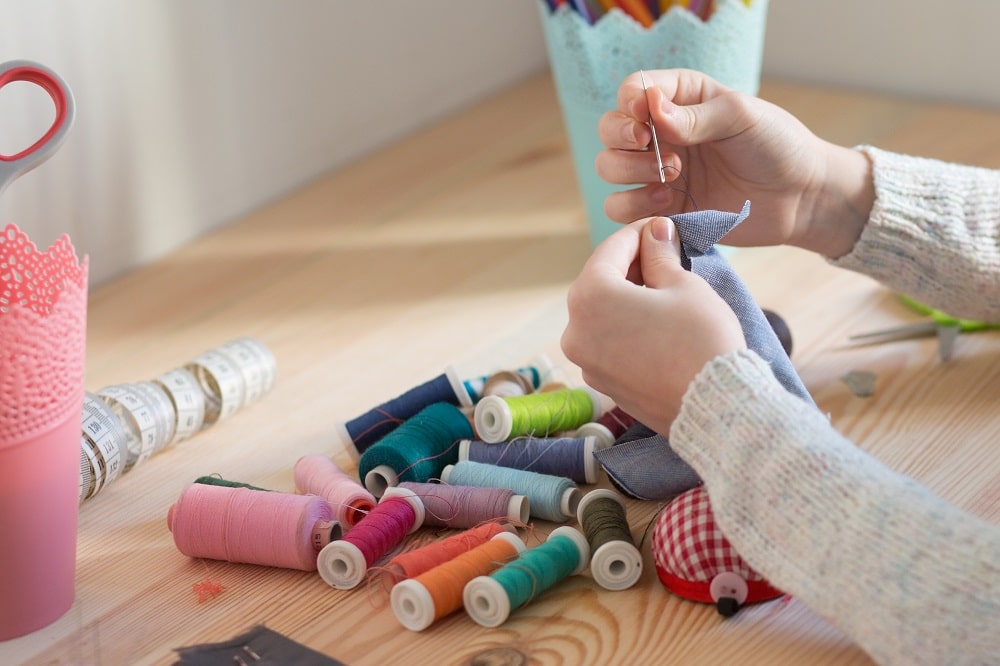 So it's time to pick a sewing project! Here are a handful of easy projects your newest sewer in the family can do:
Throw Pillows

Pillow Cases

Bookmarks

Cat Toys

Fabric Book Covers

Headbands

Super Hero Cape

Small Throw Quilts
---
Sewing Machine Books For Kids & New Sewing Hobbyists
There's something different about cracking open your first sewing book.
You're not glued to a TV or phone trying to watch a tutorial you cant keep up with or understand.  Its just you, your sewing machine, and your book moving at any pace you desire. Sewing books are perfect for both kids and beginners while teaching the fundamentals but still giving you the flexibility to be creative.  Below you'll find some of our favorites!
My First Sewing Machine Book – By Emma Hardy
https://www.amazon.com/gp/product/1782491015
Teach your kids how to sew through any one of the 35 projects presented in this book. There's projects for scarves, skirts, bags and cases. Preteens and teenagers will be excited to start any one of these projects and there's a project for every experience level.
My First Sewing Machine Book – By Emma Hardy
My First Sewing Machine Book: Learn To Sew – By Alison McNicol
https://www.amazon.com/My-First-Sewing-Machine-Book/dp/1453858687/
Kids love books, so why not get a book to kick off their newly found hobby; sewing! It's written and presented through clear illustrations they can understand with your guidance. It teaches basic sewing skills like how to thread their machine, measure fabric and complete kid friendly projects. Patterns and templates are included.
Sew Me! Sewing Basics: Simple Techniques and Projects for First-Time Sewers – By Choly Knight
https://www.amazon.com/dp/1574214233/
---
Kids Sewing Machine FAQs
What is the best childs sewing machine?
The best sewing machine on the market right now is the SINGER Start 1304 Sewing Machine. We love this machine for kids because it's moderately priced and has additional features your child can really grow into as their enthusiasm and skill for sewing grows.
What sewing machine can kids use?
Kids can use a sewing machine that is designed for them to use. They're equipped with more cautious safety features like slower speed settings, easy to use controls and finger guards. We recommend trying the Magicfly Mini Sewing Machine. It's their size and a small investment just in case your child loses interest.
What age can a child use a sewing machine?
As the parent you know best, but generally speaking kids can learn how to sew as early as age 4. However, we really don't recommend introducing a sewing machine until age 6; when your child has the attention span and interest to sit down and learn. Like any other project, you'll need to be super hands on teaching the basics.
What can a 6 year old sew?
At 6 years old, your child will need to learn the basics of sewing with their new machine. Stitching, back-tacks, and pivots will all take some time to learn. You'll need patience as these skills will need to be repeatedly taught and practiced before they come out well.
We recommend small projects that don't take precise skill to complete like pillows, pillowcases, bookmarks, headbands, sleeping bags, plushies and more!
---
This is a true learning workbook! A new skill is taught and then a quick practice exercise is given to master that new skill. From binding edges, to gathering fabric, and installing zippers; your kids will have a good handle on their new hobby before its conclusion. In addition to those exercises, this book comes with 15 sewing projects designed to help your child master essential sewing skills.