Here at The Mother Huddle, we love sewing and quilting! It's one of our favorite hobbies! Whether you're making a family quilt or designing a new dress for a client, you'll need a quality iron to smooth stubborn wrinkles out of your precious fabrics and press seams.
Experienced sewers and quilters already know that your iron is an essential tool to completing any sewing project successfully with precise detail and ease. If you're in the market for a new sewing or quilting iron, you're in luck. We've compared all of the top sewing and quilting irons on the market today and here are our top ten picks below.
This post contains affiliate links. If you purchase after clicking these links, The Mother Huddle may receive a small commission, at no cost to you.
Best Irons For Sewing & Quilting
These top ten sewing and quilting irons will save you time, money, frustration and ultimately help you make your next sewing or quilting project beautiful. Choose an iron you know will fit your specific needs and last through many projects for years to come. Let's dig in!
---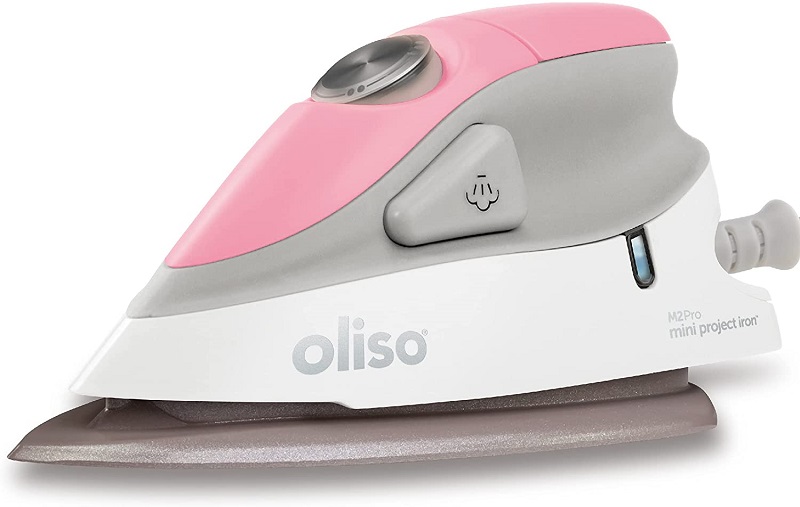 Price not available | (was , now off)
If you're looking for a portable sewing or quilting iron that you can take from room to room or use on small projects; Oliso M2 may be the iron for you. This iron is small enough to fit in the palm of your hand and stores nicely in your sewing area.
Important features of the Oliso M2 Mini Project Steam Iron:
Ultra-portable for travel and small projects
Pivot cord for left and right-handed use
Temperature selector by fabric type
Ceramic soleplate
Precision tip to create tight creases where needed
---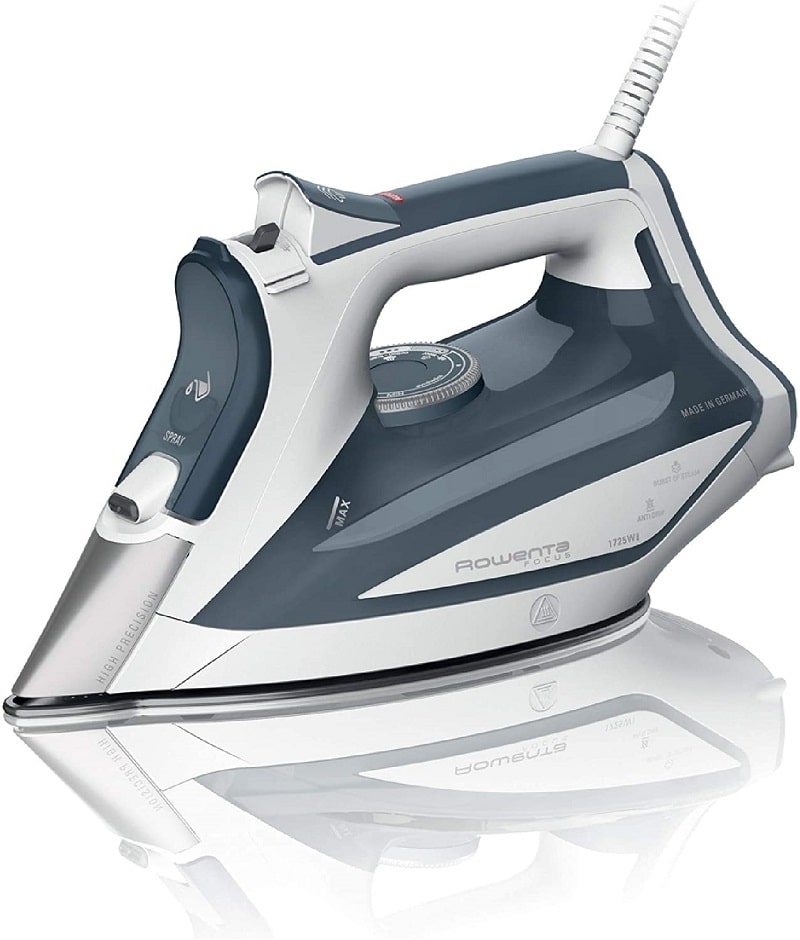 $79.99 | (was , now off)
Want an iron for everyday use in the laundry room that can also be used for sewing and quilting projects? We recommend the Rowenta DW5280 to do just that. It allows for a powerful yet effortless vertical steam while you finish up your more delicate projects but can also handle larger items around the house like blankets and curtains. Plus, the Rowenta DW5280 uses plain tap water and has an auto off function to keep you and your family safe.
Important features of the Rowenta Professional DW5280 Steam Iron:
Auto off function to save energy and risk of burning
Anti drip system to protect your fabrics
Angled precision tip for hard to reach areas
Transparent water tank window
Self cleaning function
---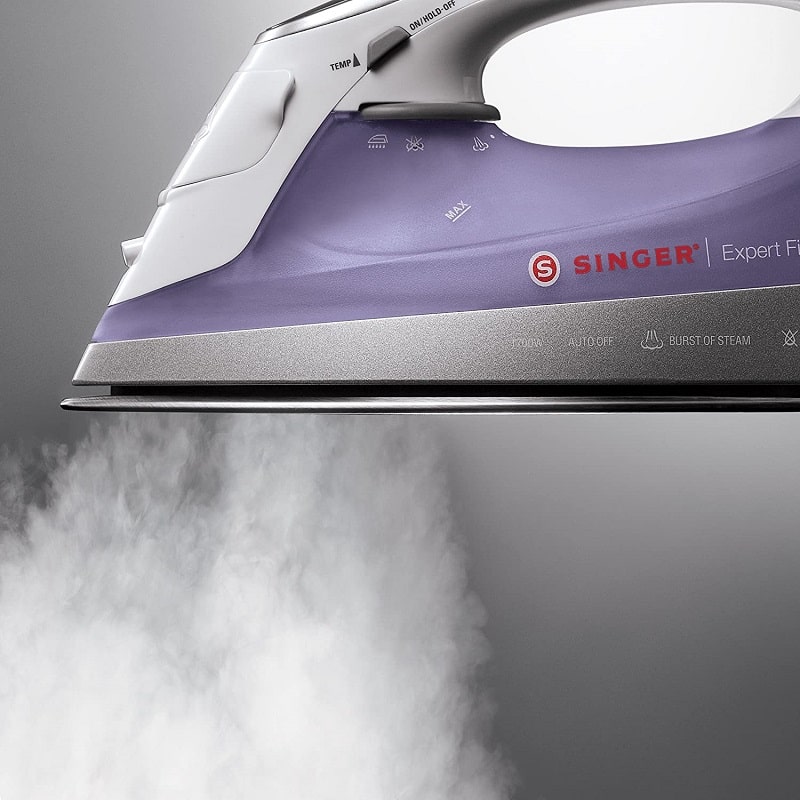 Price not available | (was , now off)
Professional and hobbyist sewers and quilters alike will enjoy the SINGER Expert Finish Steam Iron for its user-friendly features that make your projects easier to complete. One of our favorite features is the nine advanced temperature settings. They are displayed on an easy-to-read LCD screen and dings when your iron is ready for use.
Important features of the SINGER Expert Finish Steam Iron:
Electronic temperature display and alerts when your desired temperature is reached
Concentrated burst of steam setting to help remove the most stubborn of wrinkles
360 degree swivel cord for right or left handed use
Smart auto off that turns iron off to keep everyone safe
9 temperature settings and sound alerts when your desired temperature is reached
---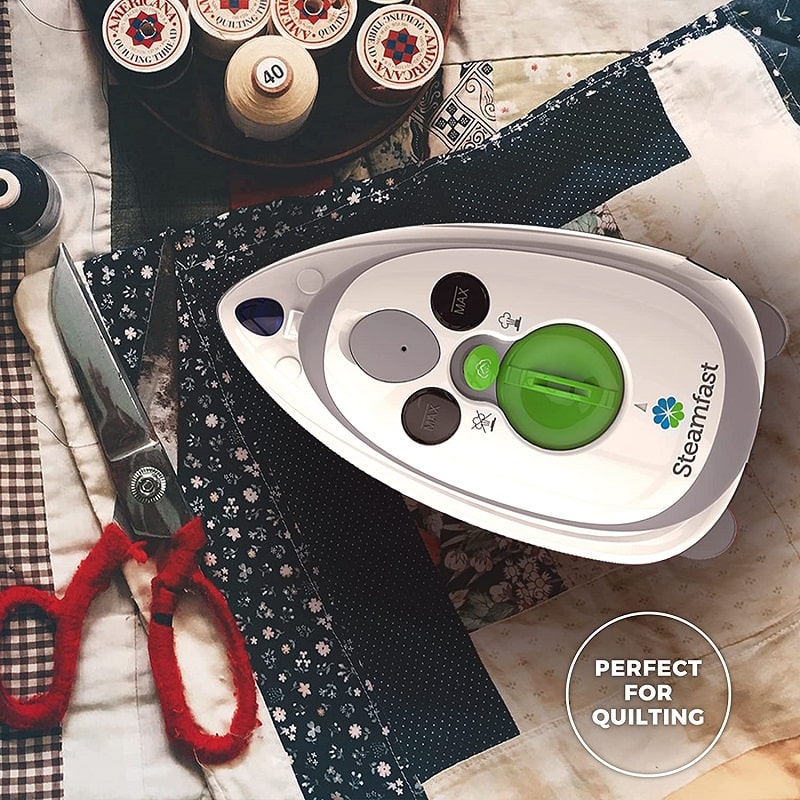 No products found. | (was No products found., now No products found. off)
This small but mighty steam iron, the Steamfast SF-717 can handle everything from small sewing repairs to large quilting projects and be there for everyday use. It's one of our favorites for its lightweight and compact design making it even easier to put the final touches on projects. Plus if you're in a hurry or only have a limited amount of time to get some work done while the kids are asleep, the Steamfast SF-717 heats up in just under 15 seconds.
Important features of the Steamfast SF-717 Mini Steam Iron:
Lightweight and travel-sized to complete your projects anywhere
Quick heat-up time within 15 seconds
Three easy temperature settings
Non-stick soleplate
One-touch steam control function
---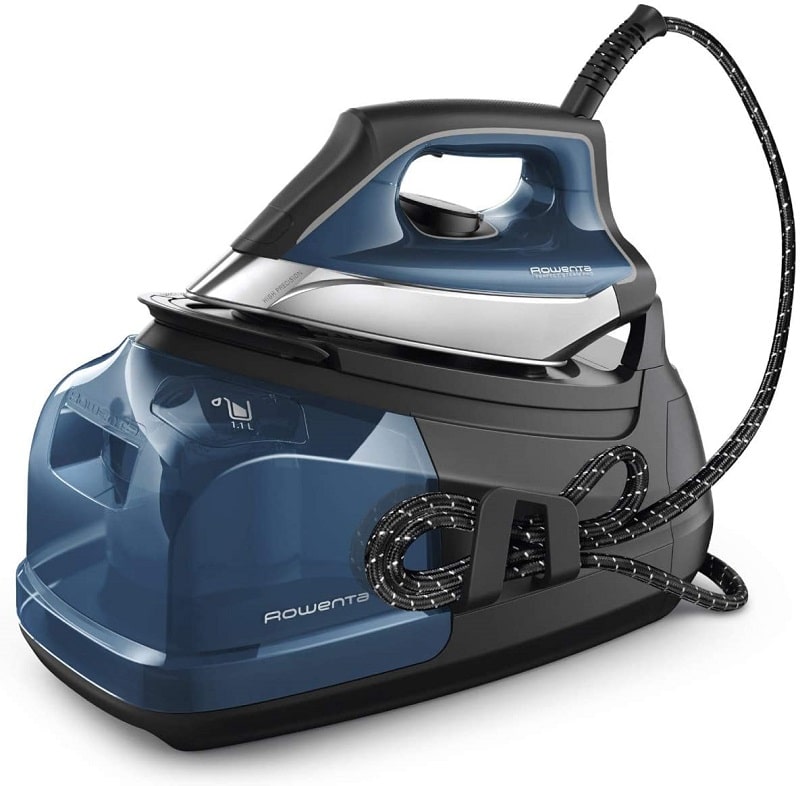 $249.00 | (was $299.99, now 17% off)
The Rowenta DG8624U1 is great for sewers and quilters who get to work for hours. We love it for its relatively light weight design combined with a substantially large water tank that heats up in minutes. Rest assured you won't have to keep pausing work on your quilt to refill and reheat the tank. At 1800 watts of power, this iron removes wrinkles in half the time than other irons and has meticulous stream control protecting any type of fabric you're using.
Important features of the Rowenta DG862U1 Perfect Pro Station:
Stainless steel soleplate
Extra large removable water tank
Adjustable steam output
Safety lock to keep iron in place
Calcium collector to ensure a longer life of your new iron
---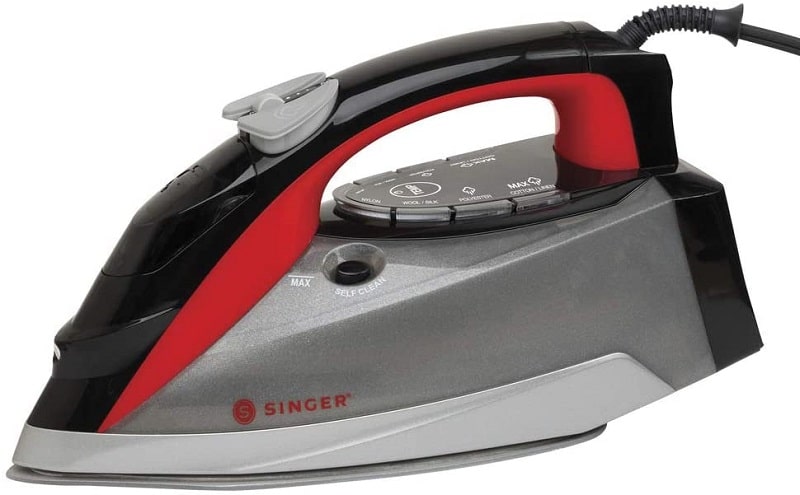 $69.99 | (was , now off)
Avid sewers and quilters of all skill levels will absolutely love the SINGER SteamLogic Plus 7070. This iron is capable of high levels of steam power and comes with an efficient micro steam pattern to ditch wrinkles fast all while being tap water safe. It's truly an iron that can truly grow with your skill level.
Important features of the SINGER SteamLogic Plus Iron:
Fast heat-up times
Microstream nonstick soleplate for easy gliding
360 degree swivel power cord
Large water tank
Automatic shut off when vertical for 30 minutes to keep everyone safe
---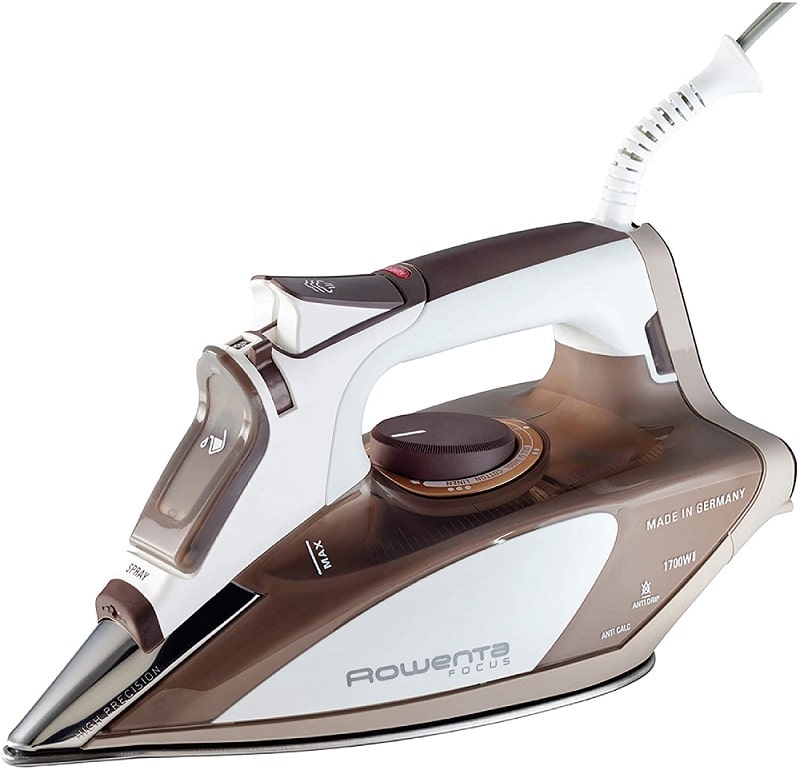 $123.15 | (was , now off)
Do you prefer to have one quality iron in the house? Then look no further than the Rowenta DW5080 steam iron. This iron is great for everyone! From basic home ironing to advanced quilters, seamstresses, and sewing hobbyists; this iron makes your tasks or projects easy to complete. We love it for its precision tip that allowed us to get to hard-to-reach areas like around buttons and collars. Most of all we appreciated how easy it was to use right out of the box.
Important features of the Rowenta DW5080 1700-Watt Micro Steam Iron:
Microstream stainless steel soleplate
Angled precision tip for hard to reach areas
Thermostat knob
Automatic off safety system
Anti drip system allowing lower temperatures without dripping water
---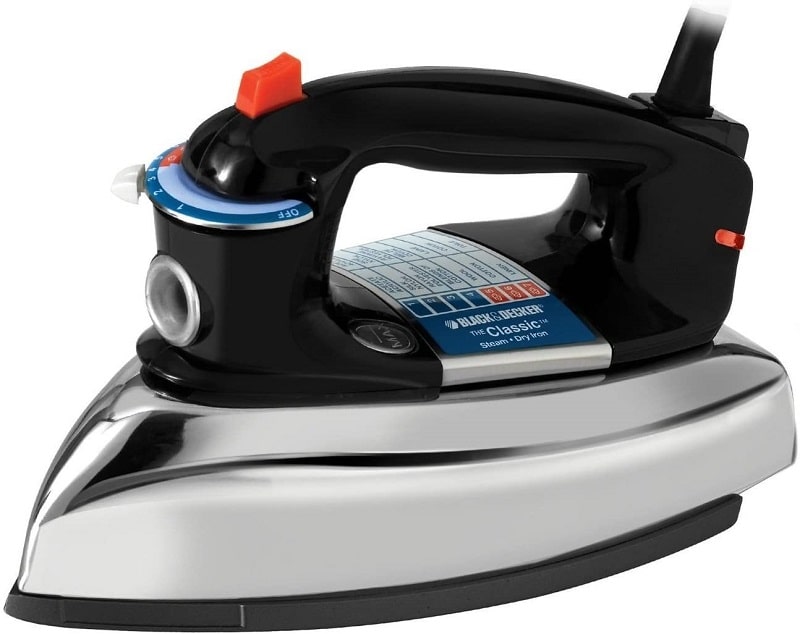 $25.49 | (was $29.99, now 15% off)
The BLACK+DECKER Classic steam iron is great for beginner sewing and quilting hobbyists alike. We like it for its classic design, simple features, and heavier weight making it excellent for pressing seams with minimal effort. The wattage is a bit lower than other steam irons out there, but it does the trick for most projects.
Important features of the BLACK+DECKER Classic Steam Iron:
Quick to heat up
7 temperature settings on dial complete with fabric guide
Built to prevent dripping water
Automatic shutoff for safety and peace of mind
Easy guide aluminum soleplate
---
$34.00 | (was $39.99, now 15% off)
Looking for a new sewing or quilting iron, but on a budget? The Sunbeam Steammaster steam iron is a low-cost, high-quality option with a precision-designed pointed tip for detailed pleating and pressing. It also has many desired safety features like a retractable cord and an auto-off feature to keep you and your family safe after putting in long hours on your projects.
Important features of the Sunbeam Steammaster Steam Iron:
8-foot retractable cord
Auto-off safety function
Smooth gliding stainless steel soleplate
Precision pointed tip for pleating and detailed pressing
Smooth out wrinkles with a shot of steam
---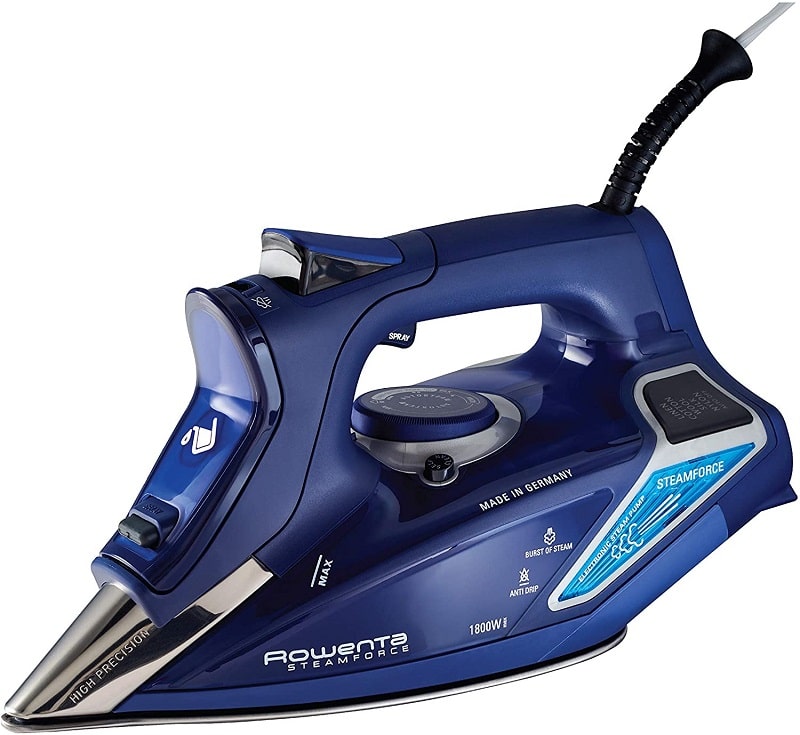 $99.99 | (was $149.99, now 33% off)
If you're looking for an iron that delivers high heat and has an advanced steam hole system; Rowenta DW9280 may be the iron you've been looking for. With 400+ active steam holes and powerful steam bursts, you'll smooth out the most stubborn of wrinkles in no time at all. Just fill the extra large water tank, turn it on and get ready to iron.
Important features of the Rowenta DW9280 Digital Display Steam Iron:
Perfected steam distribution system
Stainless steel soleplate with 400+ active steam holes
Steam burst function to smooth stubborn wrinkles
Extra-large water tank capacity
LCD temperature display
---
5 Important Iron Features To Consider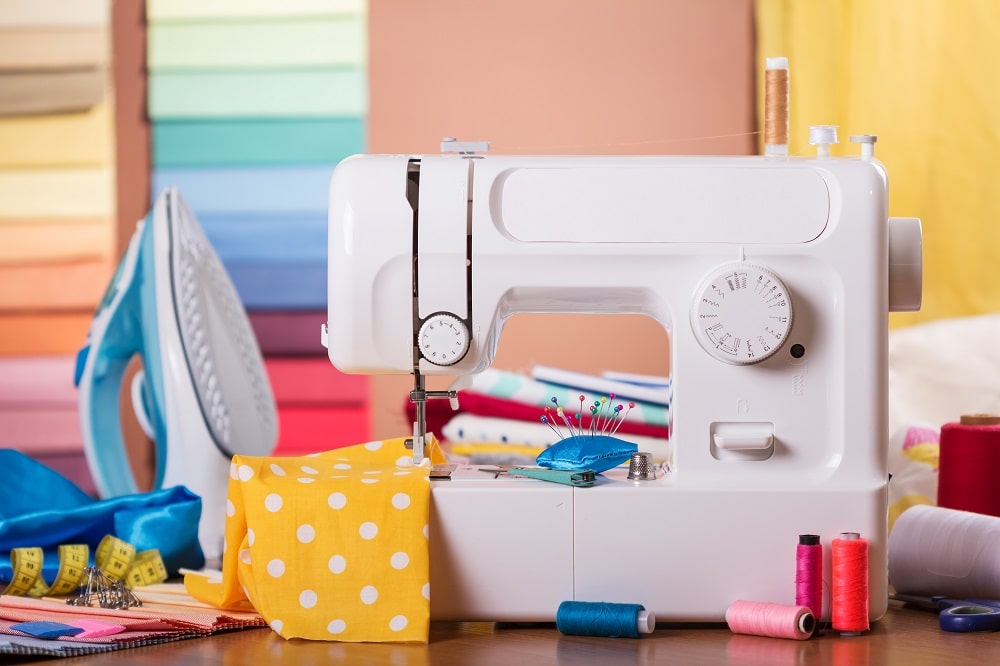 Whether you're setting seams, pressing out ceases, folds or wrinkles from fabric before cutting it; you'll need a great iron to help you complete the job. From the cord to sole plates, here are five important iron features to consider before buying your next iron.
The Cord
Iron cords might all seem the same, but they're actually not. Some iron manufacturers make irons with cords that are specifically made for right- or left-handed users to make their iron more comfortable for that type of user. There are more modern irons that have retractable cords that can be really useful when working on your sewing or quilting project.
A Heavier Weight
Modern irons are created to be light and easily portable, but you'll want to choose an iron that is heavier. A heavier iron will give you some power behind your ironing or pressing without putting unnecessary pressure and strain on your wrists.
Steady Flow of Steam Power
As with any sewing or quilting project, your iron's ability to deliver the steadiest flow of steam will give you the best and most consistent ironing or pressing results.
Ceramic or Stainless Steel Sole Plates
Ceramic and stainless-steel sole plates are both good options to choose from. They will glide easily on fabric without much effort from you and that will not wear out your arm prematurely before your project really begins.
Adjustable Heat Settings
Whether you're ironing out deep wrinkles or pressing fresh seams, numeric temperature controls are the best choice. Some irons have heat settings that are labeled by fabric types rather than specific temperatures making it more difficult to guess what the right temperature is to do the job without scorching your beautiful fabric.