It's a snowy day. Your kids are home from school and they're already bored. They don't want to do homework or chores and you don't want them staring at a screen for the next eight hours.
What can you do? Break out a sewing kit and get their creative juices flowing. Sewing helps your kids develop their fine motor skills and learn patience. Plus, they end up with something to treasure once they're finished, whether it's a new stuffed animal or something to hang in their room.
If you want to build up your crafty stockpile so you have stuff ready to go the next time the kids are stuck at home indoors, check out our picks for the best sewing kits for kids.
Best Sewing Kits For Kids
When you're picking out a sewing kit, keep your kid's age and interests in mind. Some kits are definitely better suited for older kids, who can tackle independent projects. Others are good for the littlest ones, who might just be coming to grips with how to hold a needle and thread. We don't recommend trying to give a sewing kit to a child under the age of four or five.
While a kit that makes one or two projects can be a great way to burn through a few hours on a snowy or rainy day, a kit that gives you more options will grow with your child and provide much more use.
This post contains affiliate links. If you purchase after clicking these links, The Mother Huddle may receive a small commission, at no cost to you.
---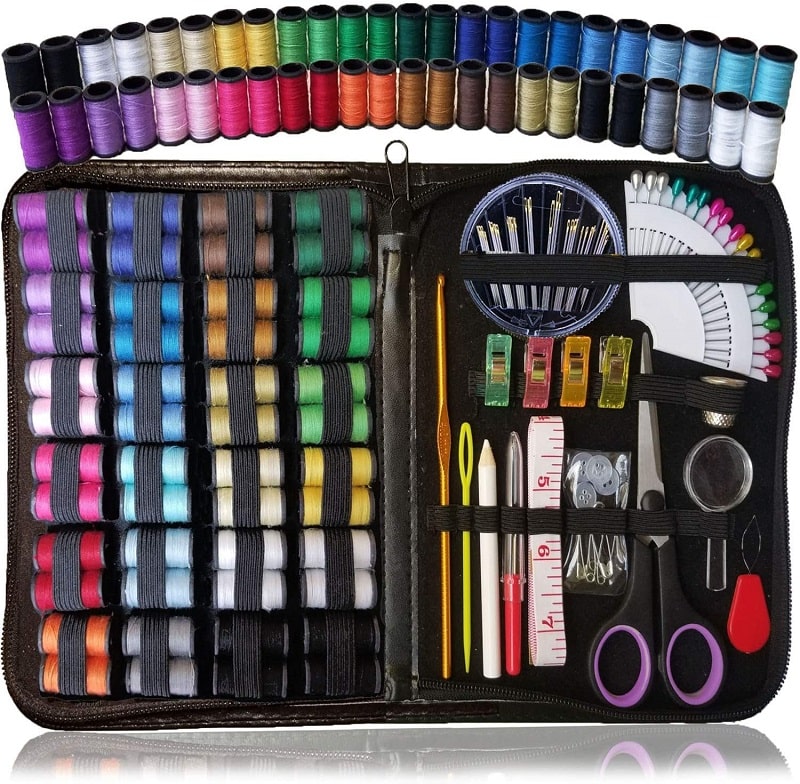 $7.99 | (was , now off)
The ARTIKA Sewing Kit comes in two sizes, large and travel. Either option gives your child everything they need to tackle sewing projects, from fixing a hole in a sock to sewing a tote bag or shirt. The large kit includes 48 spools of thread, 30 needles, and 18 pearl-tipped long pins. The travel-sized kit has 12 spools of thread and 30 needles. Both options come with a sturdy needle-threader, a thimble, and a pair of scissors. The ARTIKA sewing kit is perfect for kids over the age of eight, who want to learn the basics of sewing and who need the supplies to get started.
---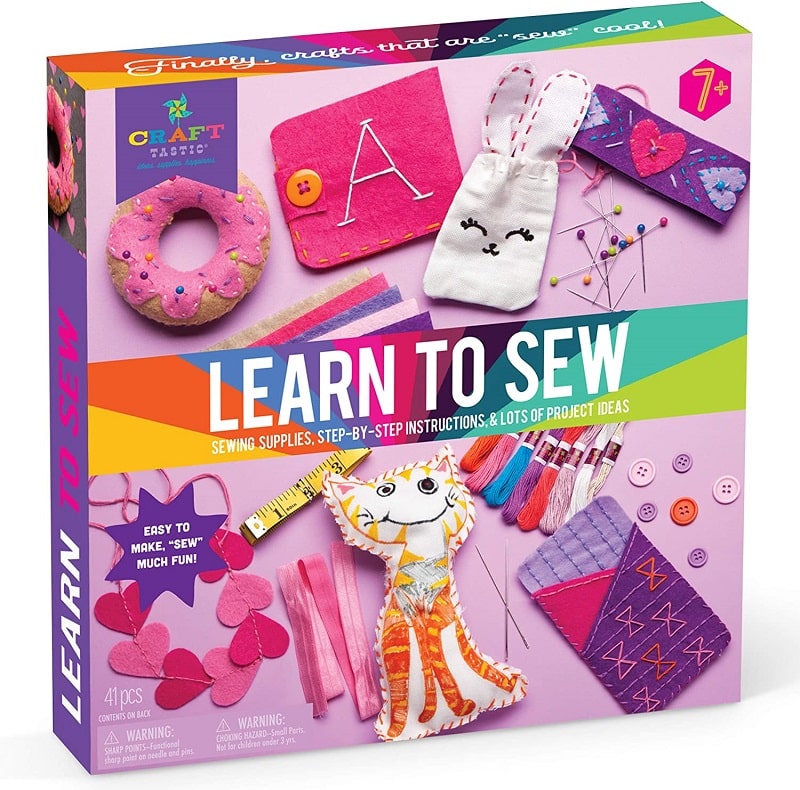 $7.99 | (was , now off)
Craft-tastic's Learn-to-Sew kit is designed for younger sewers who want to learn the basics. The suggested age range on the kit is six to 15 years, but honestly, we can't see a 15-year-old having much fun with this one. The projects it makes are best for kids under the age of 12. Those projects include a cute stuffed cat, a headband made from hearts, a donut-shaped pincushion, a bunny-shaped pouch, a fabric phone case, and a wallet. Making the projects in the kit helps your kid learn basic stitches and techniques, such as running stitch and blanket stitch. Once they've made the projects, your kid can use the included tools to create their own designs.
---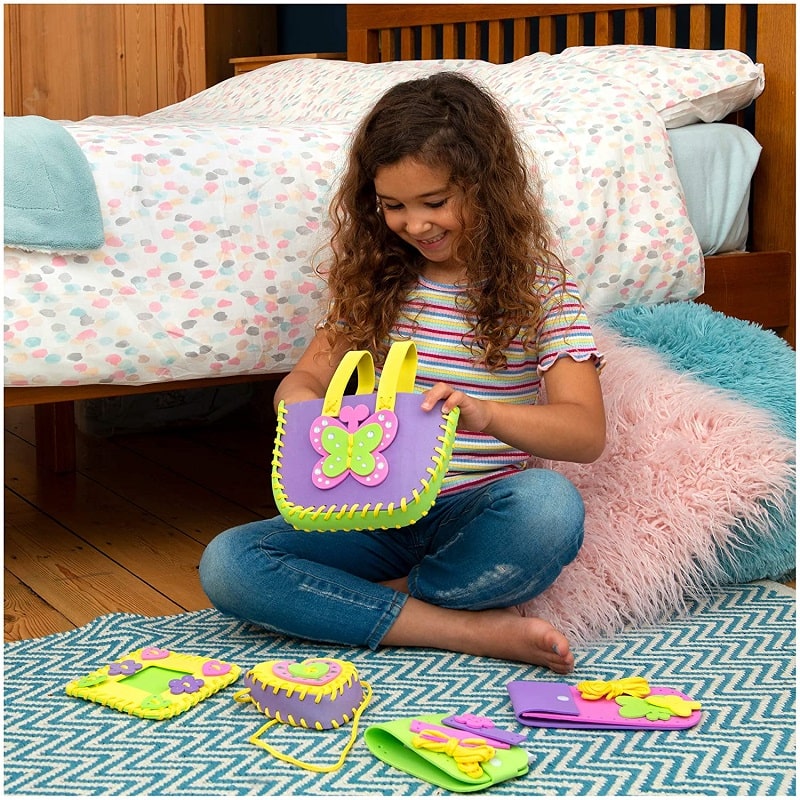 $16.35 | (was , now off)
Maybe you don't want your 6-year-old running around with real needles just yet. We hear you. The First Sewing Kit is great for the youngest of sewers, as it includes plastic bodkins instead of metal needles. A bodkin has a large eye and a blunt tip so your kid won't poke themselves (or their siblings). The kit also swaps out fabric, which can be tough for little hands to work with, for foam shapes. The foam has pre-punched holes, too, making it easier for your little one to thread the bodkin through. Using the kit, your kid can make a butterfly handbag, a purse necklace, a picture frame, a notepad case, and a pencil case.
---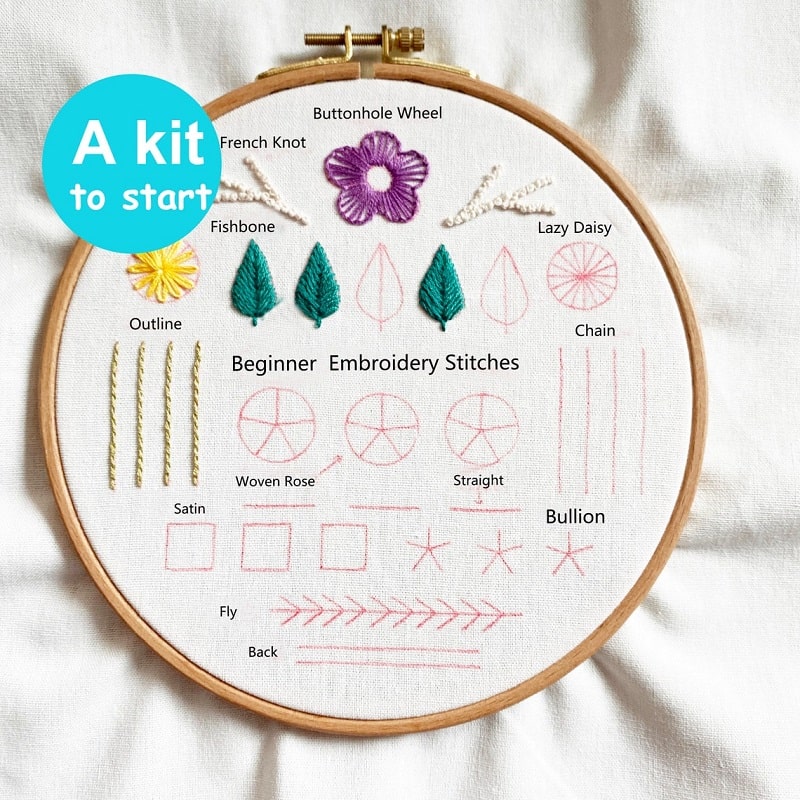 $18.55
While some kids love to sew clothing and accessories, others are more interested in learning to embroider to make pretty works of art. A beginner embroider kit can teach your child how to do some of the most basic and commonly used embroidery stitches, including chain stitch, satin stitch, French knots, and backstitch. Get the kit with the illustrated instruction guide if your child hasn't ever done embroidery before. Following the instructions, they can trace the patterns on the fabric to create a small stitch sampler. Since it uses real needles and requires your kid to thread those needles, we recommend this kit for kids over the age of 10, with adult supervision.
---
The Rainbow Sewing Kit for Kids is a great mommy and me project. It's perfect for the youngest sewers, starting around age 4, as long as you work on it with them. The kit includes a wooden board with pre-drilled holes, rainbow-colored yarn, a plastic needle, and printed instructions. If you learn better by watching someone else do it, you can ask the seller to send you a video tutorial, too. The kit teaches your kid to make the most basic of stitches, the running stitch. Since the holes are pre-drilled, you don't have to worry about the stitches being wonky or uneven. Once your child is finished with the kit, they can hang the rainbow on their wall. They can also pull out and replace the yarn with new colors later on.
---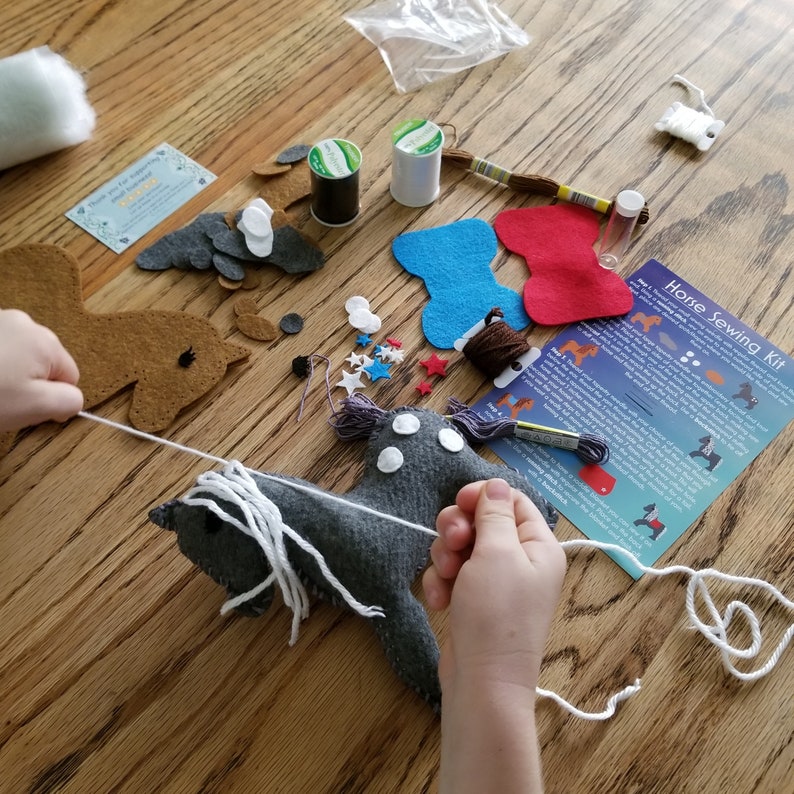 $17.99
With the Horse Sewing Kit, you can combine two of your kid's favorites, horses and sewing, into one project. The kit lets your child make two little horse friends, one in gray and the other brown. It comes with pre-cut horse shapes, stuffing, yarn for the horse's hair, two needles, and thread. It also has pre-cut felt shapes to decorate the felt horses. Since the kit has real needles, it's recommended for kids over the age of seven. Also, if your kid isn't into horses, the seller has several other kits available.
---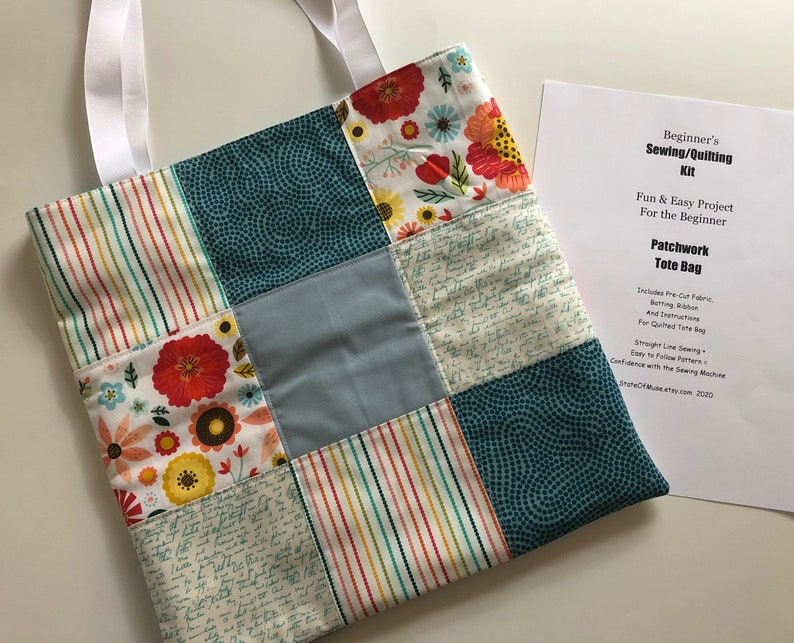 $18.95
Perfect for older kids and teens, the Quilted Tote Bag Sewing Kit includes everything they need to whip up a patchwork tote bag. The kit comes in a variety of patterns and color options, so choose the design that matches your kid's favorites. Unlike the other kits in the line-up, this one only comes with fabric instructions. Your kid will need to have thread, needles, and a sewing machine already. If you're starting from scratch, we recommend pairing this kit with the ARTIKA sewing kit so your kid will have everything they need.
---
What to Look for in a Sewing Kit for Kids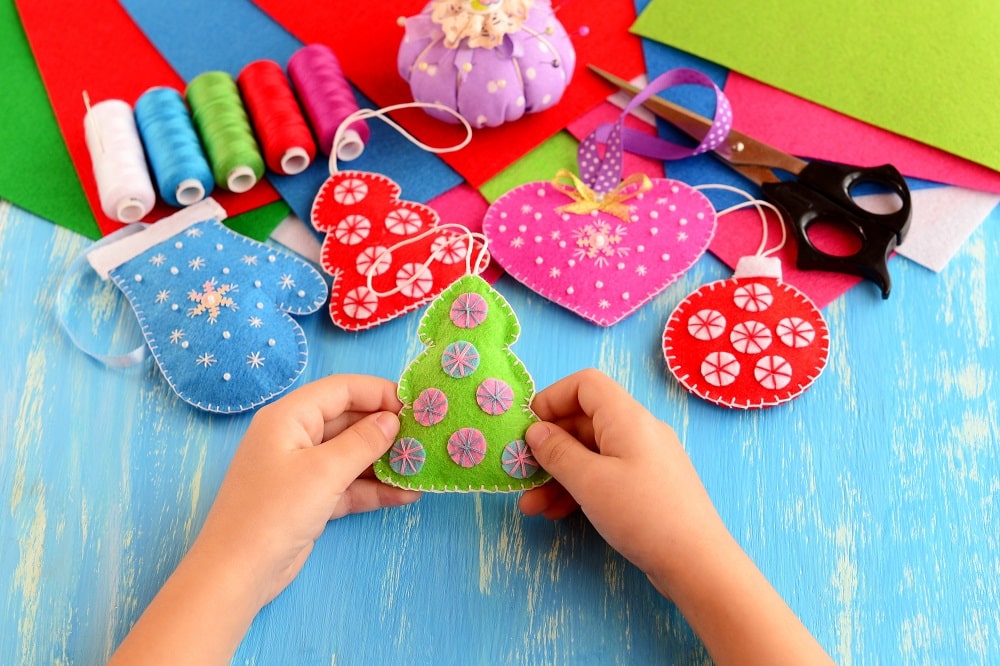 You want your kid to get a lot of use out of the kit you buy them, whether they follow the instructions and make the included projects or pursue their own independent sewing projects. With that in mind, consider the following when you're picking out a kit.
Intended Audience
If you've ever tried to give your kid something that was clearly made for a younger child, you know that no one wants something that's too babyish. Check out the recommended age range for the kit and then think long and hard about your own child's interests before you give it to them.
It's usually best to err on the side of giving your kid something too advanced than a kit that they'll think is too childish. This is especially the case as your kid builds up their sewing skills and starts to take on more advanced projects.
Go ahead and give your 10-year-old a kit made for teens, if they love sewing and have already tackled easier kits. You can always help them with it if needed.
Purpose of the Kit
You have two broad choices when it comes to sewing kits: general-purpose kits and kits that make one or more specific projects. If you're starting from scratch, a kit that makes a specific item, such as a stuffed animal or bag, can be perfect. It gives your child a tangible goal. It's also a good pick if you're not much of a sewer yourself. You can refer to the instructions if any questions come up during the process.
As your child gets more and more into sewing and starts to take on their own projects, a general-purpose sewing kit can be the way to go. It'll provide them with the thread, needles, and other supplies they need to start making their own masterpieces.
Materials Included
Ideally, a kit should include everything you need to make the projects advertised. Otherwise, it can be super frustrating. You don't want to sit down to make a stuffed animal or handbag with your child on a snow day only to realize you don't have the thread or needles needed to put it all together.
Check the materials list before you buy it. If it doesn't come with everything you need for the project, consider picking another option or buying a general-purpose kit for your kid to use, too.
Benefits of Sewing Kits for Kids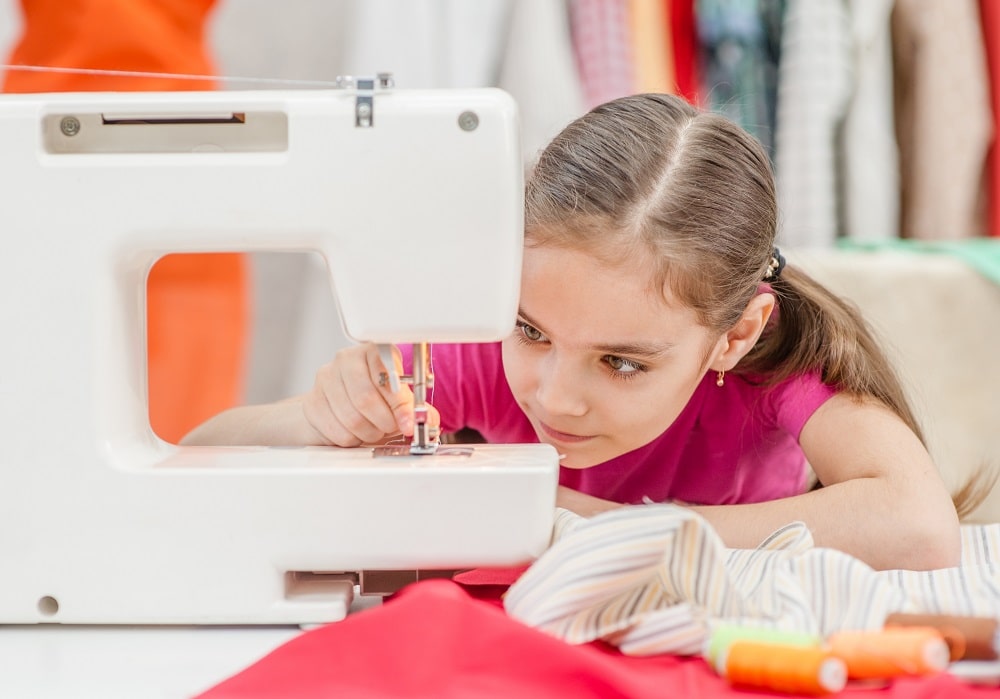 From giving your kid something to do that doesn't involve staring at a screen to helping them feel more confident, there are many benefits to providing your child with a sewing kit.
First of all, having access to a sewing kit helps them learn a useful new skill. Once they know the basics of sewing, they'll be able to stitch up holes in their socks or repair ripped seams in their bookbags.
Using a sewing kit also gives them the feeling of a job well done, especially if the kit helps them make something like a bag or piece of decoration. Your kids are likely to get a bit of a self-esteem boost once they've made something on their own. Every time they cuddle their new stuffed animal, look at their wall hanging or stuff their tote bag full of things, they'll feel a sense of pride and accomplishment.
A sewing kit also helps your kids become more creative. Once they make one thing, they're likely to get inspired and think of more things they can sew. You might find yourself living with a soon-to-be-famous fashion designer.
How to Get Your Kids Interested in a Sewing Kit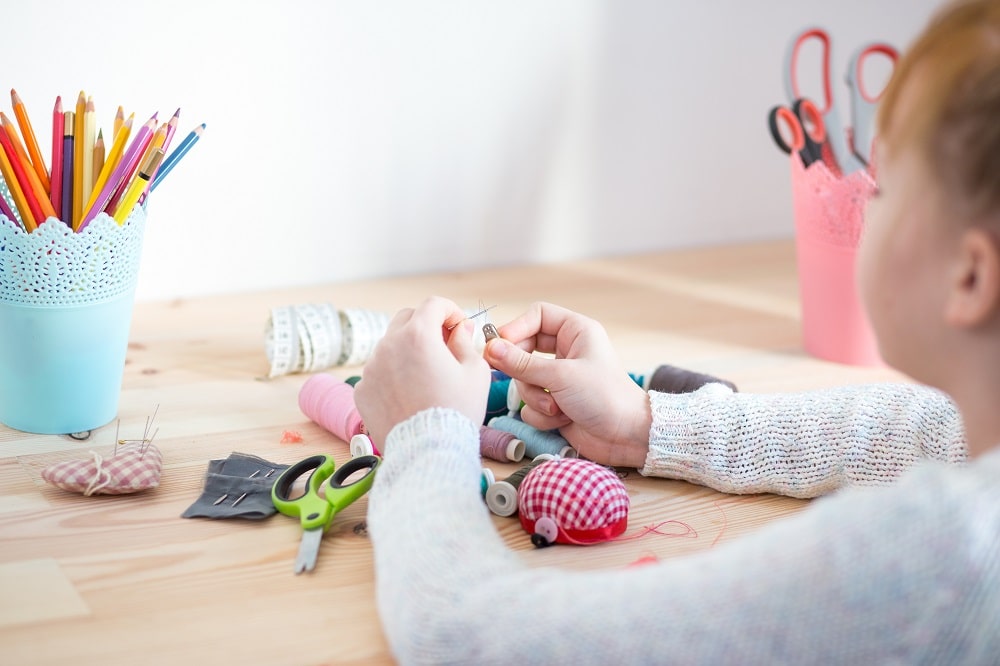 You want your kid to get excited about sewing, but so far, they're not. The trick is not to force a sewing kit on them. Instead, let them discover the right kit themselves.
To do that, focus on their interests. If your child loves a certain animal, ask them if they'd be interested in making their own stuffed animal. Or, if they say they need a new bag or phone cover, ask if they'd like to try and make their own.
It might take some trial and error before you find that Goldilocks of a sewing kit, one that's just right for your child. Don't be afraid to experiment. You can always donate the kits that just don't work for you.