During the pandemic, restrictions have been strictly imposed by restaurants and other venues, leaving people a tad bit sad for not being able to celebrate a special day. However, as creative as human beings naturally are, there had been millions of the world populations who may have enjoyed their birthdays in the confines of their homes. If you're wondering how to make your friend have a cheerful and fabulous birthday, you've landed on the right article.
Despite not being able to physically get together to hold a surprise birthday party for your friend, there are countless other alternatives to do to make still them have the time of their life. Thanks to tech innovations, devices, and systems, you can invite as many friends as you can online and pledge to greet and make your friend especially happy on their big day.
Don't let the pandemic hinder your joyful smiles in celebrating your friend's birthday through the following creative ways:
1. Shower Them With Surprise Gifts
Even if the pandemic does not permit to have many activities, it can't ever limit one activity, which is to send your surprise birthday gifts to your friend! Now's even the best time to support and shop from local stores around you. You'll indeed find something that will make your friend happier than ever. Here are some atypical and all-time favorite birthday gift ideas that your friend will appreciate:
Flower Bouquet
A blooming floral bouquet always puts a smile on others' faces. It's a good idea to send birthday flower arrangements for your friend. What's not to like with these beautiful blooms that come with the contrasting color palette? Whether your friend is a man or    woman, flowers are sweet and thoughtful. They're perfect birthday gifts!
Personalized Tumbler
To give your friend something useful while working and spending time at home, this personalized tumbler will serve its purpose. You can engrave a message or a thoughtful quote on it. You can find various materials such as bamboo, stainless, and plastic. They're reusable, so they're great for the environment too.
Bluetooth Speaker
You can opt for a pricier surprise gift by shopping for the best Bluetooth speaker for your friend. Chances are, they want to listen to their favorite songs while working or lazing around after work. Bluetooth speakers will put a smile on their faces.
2. Create A Special Video Greeting For Them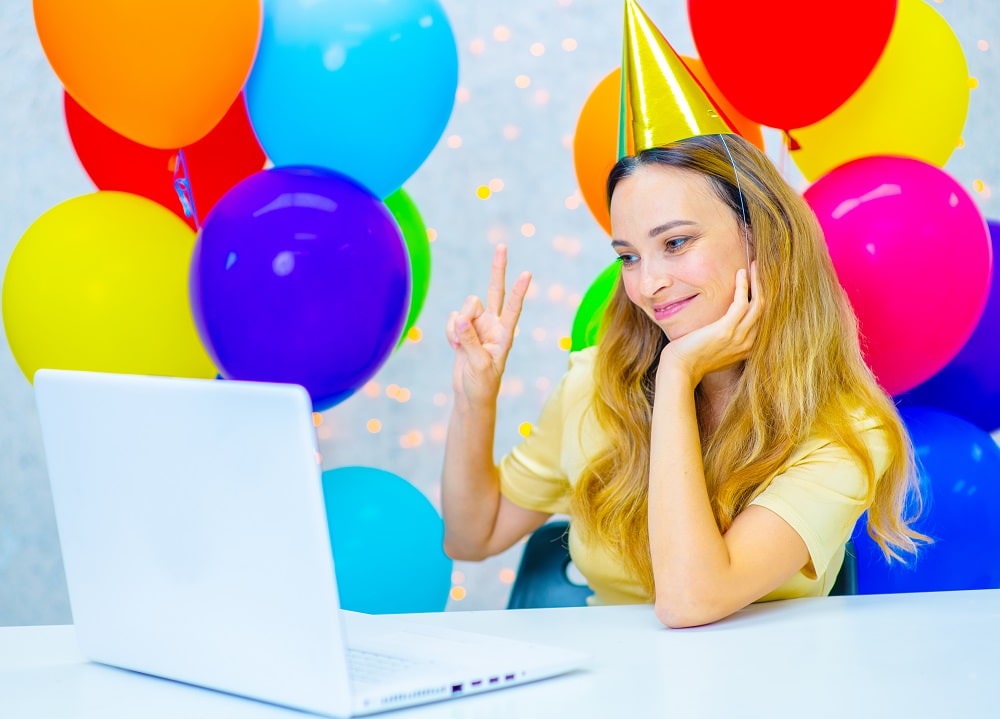 Sending out your usual electronic greeting card is one great surprise for your friend's birthday. A pandemic birthday needs something more unique than them. Go above and beyond this year for your friend's birthday and create a great video greeting for them instead. A personalized video will touch their heart and make them feel loved despite the social distancing regulations in place.
You can collate all your other friends' wishful greetings and edit them all in one video to stir things up. There are templates and special effects that you can incorporate into your birthday greeting video.
3. Send Their Favorite Dessert
If your friend has a sweet tooth, but their favorite cafe has closed due to the pandemic, surprise them by ordering their favorite dessert elsewhere. There might be a different branch or store selling their favorite sweets. They'll understand how much effort you made just to secure their dessert. You can also bake something special and surprise them with your own version of their favorite goodies.
4. Organize A Virtual Birthday Get-Together
Hosting an unforgettable party may seem to be your ultimate goal to be the best friend ever. Unfortunately, the pandemic limits the number of people gathered together. Fortunately, thanks to many video calling apps nowadays, you can now hold a virtual party with your friend's other peers and family members.
You can work with one of these platforms to organize a virtual birthday party for many people. You can ask each party goer to prepare their preferred cocktails and some party foods. You can host the virtual party by holding a program and some activities.
To give you some ideas on what activities to do, consider the following:
Virtual Games
You can prepare games such as Bingo, Never Have I Ever, Trivia, Family Feud, and many other game ideas. Ask other friends so everyone can share their input.
Virtual Karaoke
Some video platform allows you to carry out a karaoke session online. Request everyone to sing a song they want to dedicate for the birthday celebrant. Even people who can't sing love karaoke, so this should be an excellent idea for everyone at the party.
Video Tarot Card
Hold a tarot reading online to experience something new. There are many places to play   this fun game online. Do your research and select the right app for this.
Conclusion
With effort and creative juices, you can transpire a unique and memorable birthday party for your friend. Despite not getting together face to face, you can execute the many viable ideas enclosed in this article and make your friend happy on their special day. Along with their closest family and friends, you can all have fun virtually!