Do you ever go Googling for a recipe, and think you've found what you're looking for, only to have to scroll so far down a page that you think you might have clicked on the wrong link? I don't know what inspires people to put their life-story before the recipe, but don't worry, I got you, here's the recipe and method for amazing chocolate chip cookies, and my thoughts and tips about them are below!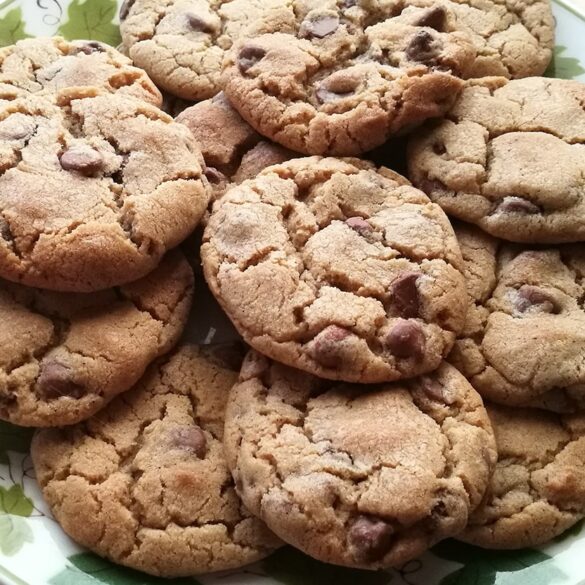 Ingredients
125g/4.4oz Butter

1/2c Brown sugar - firmly packed

1/2c Castor sugar

1 egg

1tsp Vanilla essence

3/4c Plain flour

1/2c Self-raising flour

1tsp Ground ginger

1tsp Cinnamon

1/2tsp Nutmeg

1/4tsp Cloves

200g/7oz Chocolate chips
Instructions
Preheat oven to 355F or 180C.
Step 1 - Cream butter, brown sugar, and castor sugar until fluffy and pale
Step 2 - Add egg and vanilla essence, and mix well
Step 3 - Sift flour, self-raising flour, ground ginger, cinnamon, nutmeg, and cloves and stir in a little at a time.
Step 4 - Add chocolate chips and mix well.
Step 5 - Roll balls of around 1tbs of cookie dough and place on a plate, then chill in the fridge for half an hour
Step 6 - Space evenly on a tray, and cook for around 15 minutes, then cool on tray for 5 minutes, and finally on a wire rack for a further 15 minutes. It will probably take around 3 batches to cook all the dough.
Notes
Pre-heat your over for a while to get a constant temperature, as many ovens heat past the temp-setting very quickly, and then ease back to the desired temperature.
Use unsalted butter, and be sure to use good butter, as poorer butter has higher water content leading to flat, spread-out cookies.
If your cookies are spread-out and crispy, which means they're melting before they're cooking, your oven might not be hot enough. You can also try adding a little extra flour next time you make them, as this can combat the issue.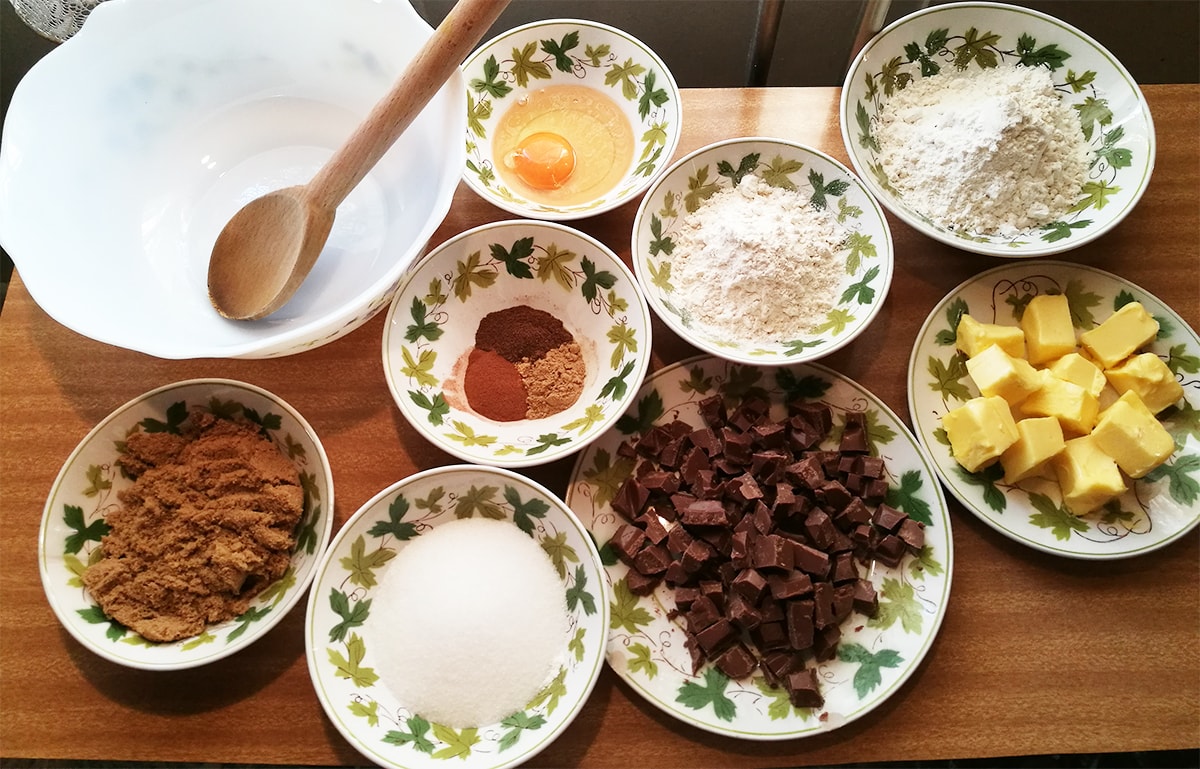 For as long as I can remember my mother had a PWMU cookery book. It was from the 1970's and had a picture of a dessert with apricot halves and glacé cherries in it – at least that's what I think they are, I've never thought to check if it states what recipe the picture goes with. Anyway, over the years my mother had the book, she wrote in a few of her own recipes, and one of them is so obviously well used, with stains from cooking and dog-eared and a crinkly tactility to the page that it's like a very old treasure map. In a way, it is, but this treasure is the best chocolate chip cookies you'll ever set your teeth into!
They're spiced and chewy and very, very moreish. They're also a good starting point to adapt to your own preferences. Today we made two batches, one with chunks – taking a block of cooking chocolate and roughly chopping it – and one with chips, but my mother made it exclusively with chocolate chips. The chips version did turn out better, we found. I also had a friend make a batch with white chocolate chips and different spices, which she said were fantastic. I have also made them without chocolate chips, but instead making small cookies that I then sandwiched with a chocolate filling, which were very tasty, too.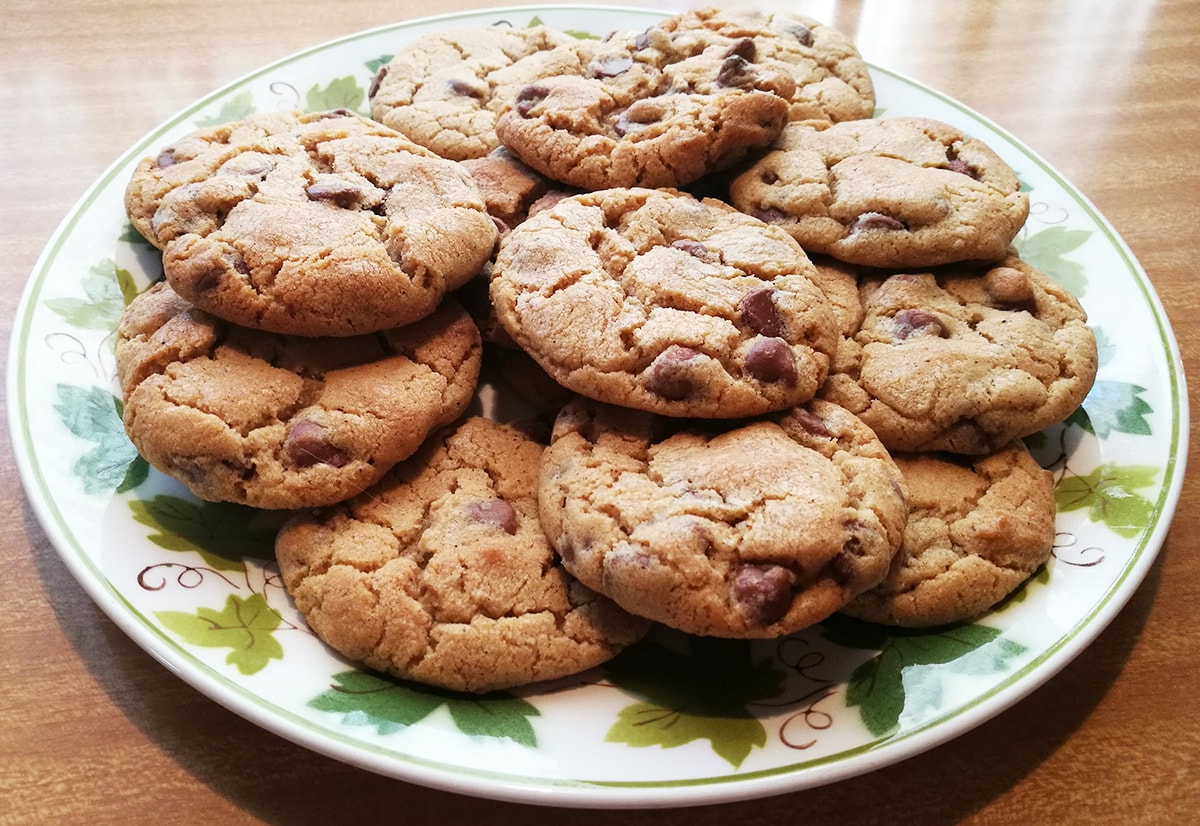 My 5-year-old daughter and I had a blast making these cookies together, and we all enjoyed eating them, after! Of course, it's been so damn hot here that we can only bake a night, but that just means that when you wake up in the morning the house smells blissfully delicious! I hope you enjoy making and eating these, the very best chocolate chip cookies!