Is your daughter's birthday coming up soon? If she's obsessed with princesses, give her and her little guests the royal treatment by throwing her a birthday party fit for a princess!
Whether you're planning a specific Disney princess birthday party or a generic magical princess birthday party there's no need to hire a professional party planner or spend loads of money to make her princess birthday party a reality. 
From invitations to food and decorations; here are some princess-themed bday party ideas to help you get inspired and get your planning started.
Send Out Princess Themed Invitations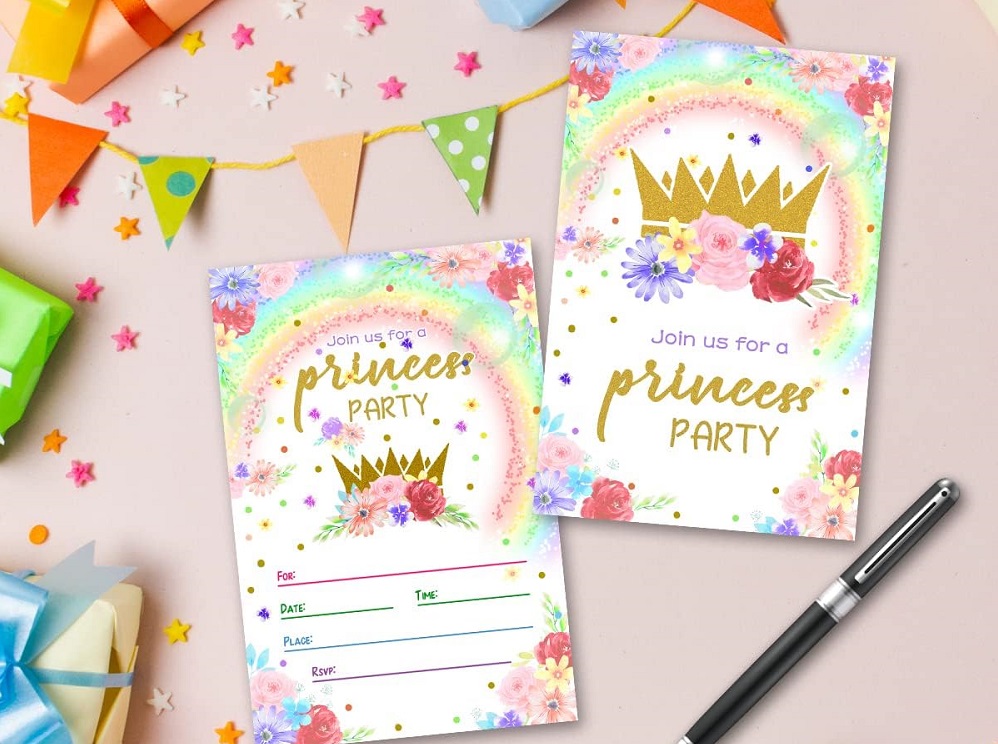 Set the birthday party vibes early with princess themed invitations! There's plenty of options to choose from. We recommend buying invitations to save time, but you can save money by making them yourself on Canva and printing them at home.
Transform The Party Space Into A Magical Forest
Step one to party planning is picking a location. Consider throwing her princess birthday party in your own backyard. It's free and you can easily transform the space into a magical forest! If you have a small yard, consider renting a gazebo at your local park. They're fairly cheap and provide cover during hot and inclement weather.
If you choose to host her magical forest princess party at home, the only caveat is setting it up without your princess finding out, but don't worry. We've already thought up a good distraction – have a family member take her out for a special birthday breakfast while you decorate. You can hang fairy lights and party streamers from the trees. Then stick mushroom garden lights into the ground around the trees and walkway. If it's in your budget, flower arrangements, either live or silk add a nice touch. Your princess will be over the moon when she returns from her special birthday breakfast for the party.
Rent A Castle Bounce House
Everyone loves bounce houses, but did you know you can rent them for a day? The rental fee includes everything. Bounce house rental companies handle the set up and take down of your castle bounce house on party day.
Hire A Professional Princess
Does your daughter have a favorite Disney princess? If so, you could hire a professional actor to be her favorite Disney princess for the day. They'll attend her party all dressed up from head to toe just like her favorite princess.
Princess Themed Table Settings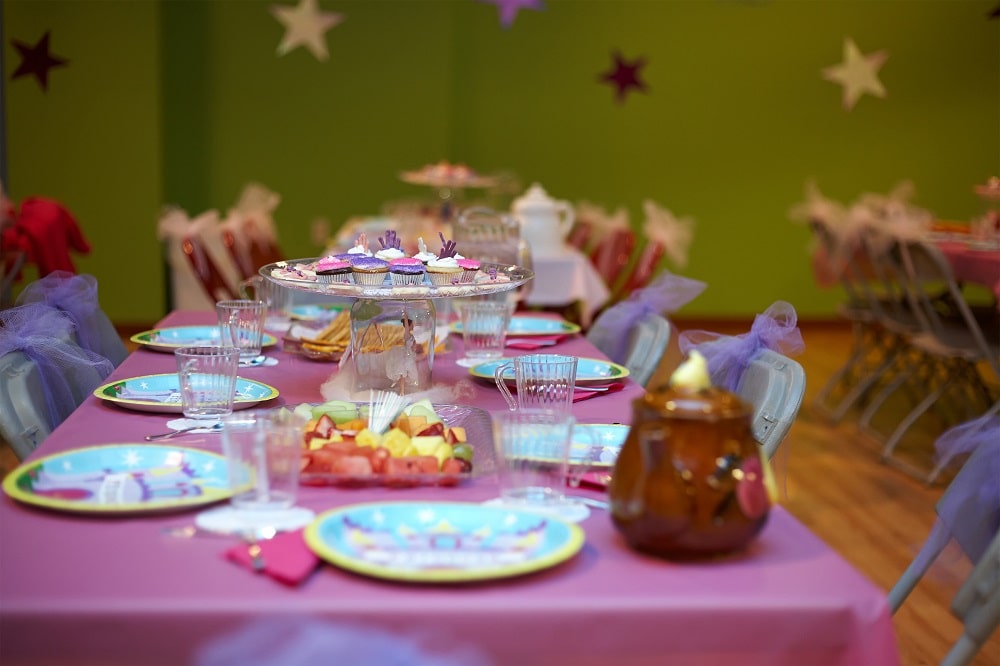 When her little guests come in, they're going to need somewhere to sit and eat. Table settings are an easy way to spruce up the party space and you'll make your princess and her guests feel like royalty. Whether it's inspired by a specific princess movie or not, this is an easy and cost effective way to pull off a memorable princess birthday party. First pick a color scheme and add tons of glitter. Choose table covers and dishware that match and each table can have its own centerpiece. Some centerpiece ideas are pumpkin carriages, glass slippers, teapots, balloons, flowers and it doesn't stop there. The only limits you have is your imagination and what your daughter desires.
Princess Style Party Food & Snacks
Here's an idea for older guests; you could serve princess style party food and snacks. Foods like candy apples for Snow White, beignets or donuts for Tiana, mini sandwiches and finger foods for Belle, empire biscuits for Merida, congee for Mulan, etc could be a big hit for fans. However, kids can be super picky so we don't recommend trying this with younger guests.
Afternoon Tea Time Princess Style
How are you planning to serve food at the party? You could serve it as afternoon tea time princess style. Display food and snacks on fancy platters and serve drinks in teacups. It'll have her little guests feeling like royalty. We recommend getting cheap dishware that are kid safe for this princess birthday party idea.
Princess Birthday Cake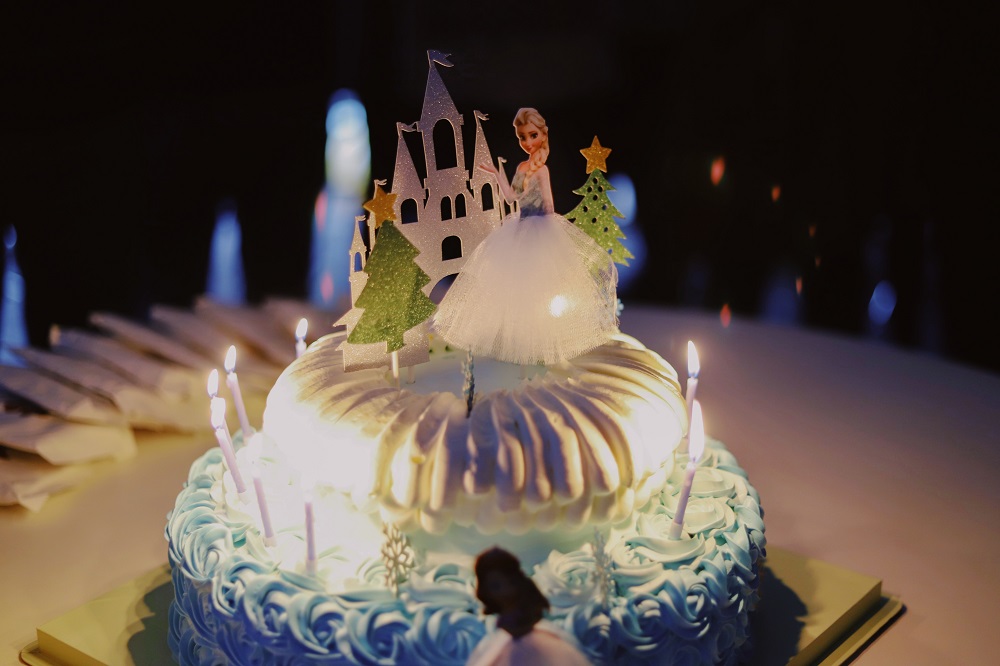 A two or three tiered cake can easily be decorated to a princess theme. Whether you plan on ordering a cake from your local bakery or baking it yourself, the easiest thing you can do is get a nonedible princess tiara topper. It will look elegant on the second or third tier. From there you can decorate it with elegant piping, edible sugar pearls, and fondant bows.
Princess Cupcake Tower
If you don't want to splurge for a birthday cake, cupcakes are a great alternative! They're easy to bake, serve and decorate for a princess theme. You can decorate them with edible sugar pearls, edible glitter dust, brightly colored frosting, edible or nonedible cupcake toppers and fancy printed cupcake liners. You can even take her cupcakes a step further by placing them on a large cupcake tower that will make your princess feel even more special on their big day. 
Princess Crown Making Table
At a princess birthday party, all the little guests get to be princess for the day too! Kick off the party right with a princess crown making table. Pre-cut enough crowns for all the guests so no one has to use scissors. Then, leave all the decorating supplies ready. Glitter, markers, crayons, stickers, sequins and everything pretty are easily found at your local craft store.
Princess Wand Decorating Table
Princesses love wands too! While you're at your local craft store, pick up some more craft supplies for a princess wand decorating table. Wooden stars, lollipop sticks, hot glue, paint, glitter glue and rhinestone stickers are perfect for decorating. Use your hot glue gun to glue the wooden stars to the lollipop sticks the night before her party. They'll be ready for decorating by the time her little guests arrive.
Princess Coloring Table
If you're running out of ideas or would like a bit more hands off activity for the parents to sit back and relax, set up a few coloring tables. Stock them sky high with princess coloring pages, crayons, colored pencils, markers, stickers and more. Kids love to color and it'll keep them occupied while you take a much needed break or get the next activity ready!
Put Together A Princess Closet For A Fashion Show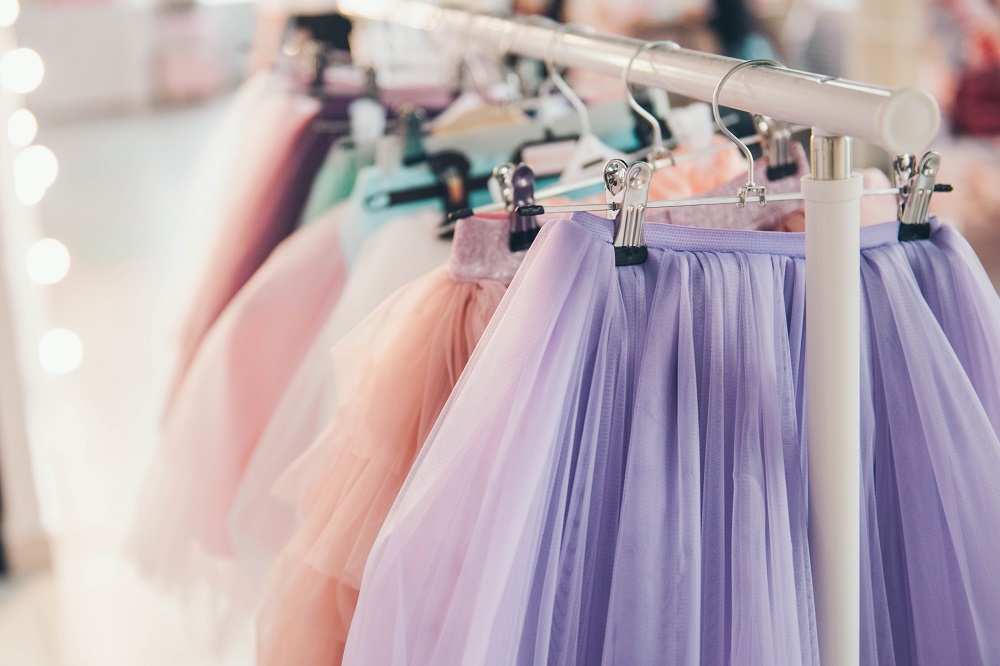 All little kids love to play dress up. You can make her princess birthday party super glamorous by hosting a mini fashion show! To get prepared for this idea, put together a closet full of princess dresses, tiaras, crowns and other thoughtful accessories for her little guests to enjoy. To take this idea one step further, create a catwalk for her little guests to show off their princess styles. Their parents will love this idea too for the picture opportunity and beautiful memories.
While this idea sounds like an investment, it may not be. If your daughter is truly into the princess theme or playing dress up, this closet will get used again in future playdates and sleepovers.
Princess Themed Treasure Hunt
Treasure hunts and scavenger hunts are always fun at any party or get together. You can easily make a treasure hunt princess themed by taking her guests on a little adventure through a princess-like story. You'll have to adjust this party idea to make it age appropriate. If the story is too involved or clues are too difficult, it may frustrate your younger guests.
Pause The Festivities For Storytime!
Birthday parties can be a lot of excitement, especially for the little ones. Why not slow the party down with story time? Borrow from your local library or buy age appropriate fairy tales and princesses fables to read. Have everyone gather around in a quiet area for storytime before moving onto your next party activity.
Princess Dance Party
It'll be a big day of partying. From the crown making, wand decorating, sugary treats and fashion show; they'll need time to dance off all that energy! This is also a party idea you can plan out with your daughter. Sit down together and make a playlist full of songs from her favorite princess movies! She'll have so much fun helping and the dance party will be guaranteed to be hit. All you'll need for this idea is the playlist, a bluetooth speaker, open space for the dancefloor, some fun lights and a small disco ball.
Disney Princess Movie Night Marathon
If her princess birthday party is going to be an overnight party, plan a movie night! Just before bed, throw a mini Disney movie night marathon. Pick a couple of the newer Disney princess movies that you know your daughter and her friends like. You can plan this out ahead of time by adding them to her own watchlist on Disney+.
Party Favor Box With Princess Treats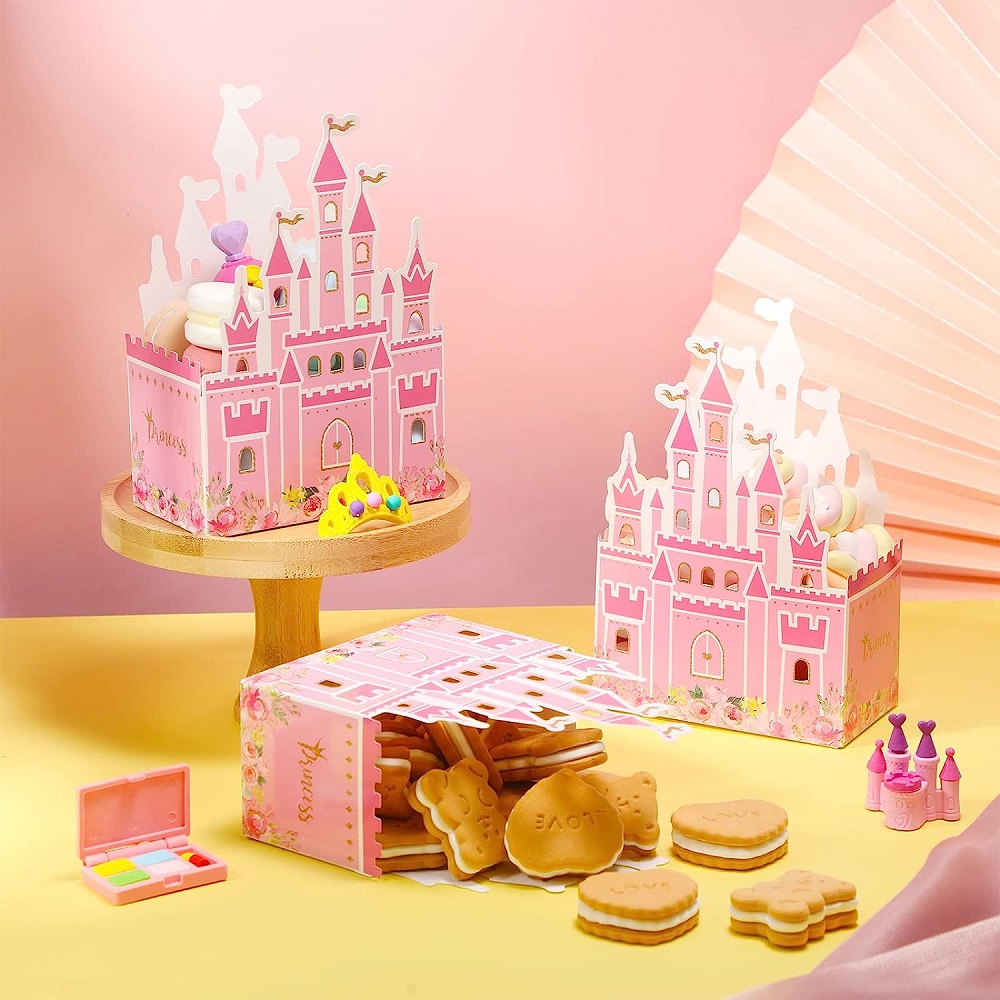 You're putting so much time, energy and love into your daughter's princess birthday party to make it the best night ever. So let's close out the party right and put together princess themed party favors for her little guests to take home with them. You can fill it with tiny treats like lollipops, princess stickers, bubbles, princess mini toys and more.