Our homemade vegan chocolate dip is easy to make and only contains six easy to find ingredients! You can whisk it up in under ten minutes. Dip in fresh strawberries, dress up toast, drizzle over ice cream and more!
This vegan chocolate sauce we make at The Mother Huddle regularly. It's quick, easy and sure to impress family and friends. Everyone loves chocolate and it's better than any store bought chocolate dip we've ever tested!  After some taste testing and tweaking of our own recipe, we're finally ready to share it with our readers. It's truly versatile with any way you wish to serve it and as good hosts this recipe is vegetarian, vegan and major allergen free friendly.
Chocolate Dips Aren't Normally Vegan
Whether you decide to pick up store-bought chocolate dip or make your own from scratch; buyer beware. Not all chocolate dips and sauces on the market are vegan, including its individual ingredients to make it. If you don't frequent the sweets aisle of the grocery store too often or are new to vegan diet, most popular chocolate, chocolate dips and sauces contain palm oil and cow's milk.
Ingredients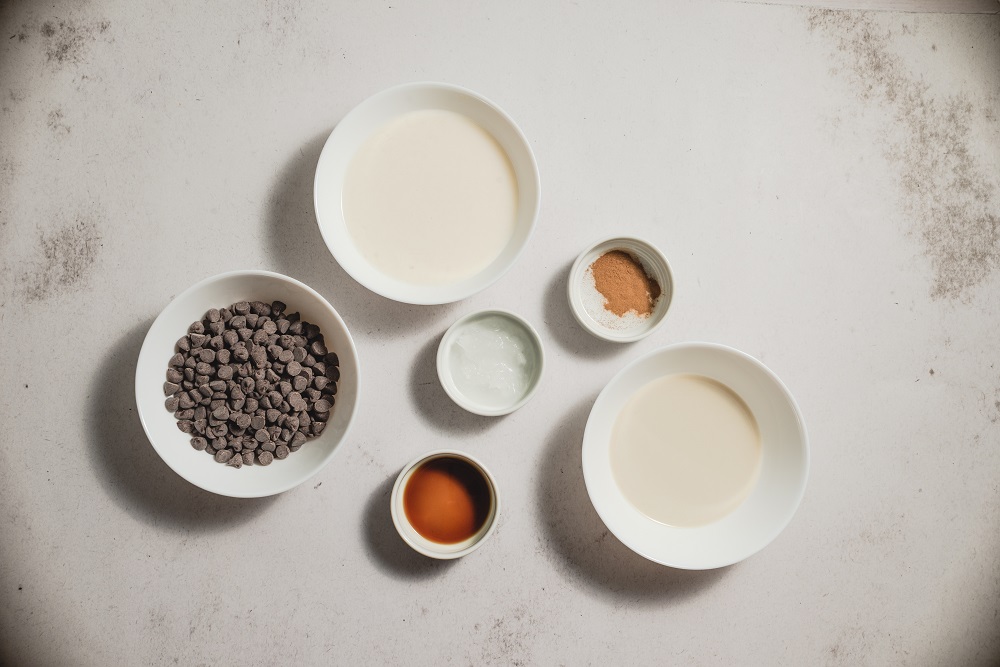 This recipe only calls for six ingredients; some of which you may already have at home in your fridge or pantry!
1 Cup Of Enjoy Life Semi-Sweet Mini Chocolate Chips: We used Enjoy Life, but any vegan semi-sweet chocolate chips will work. We chose this brand because not only is it vegan, but it only contains four ingredients and is guaranteed free of fourteen common allergens including wheat, peanuts and soy.
1 Cup Of Coconut Cream: We used local store-bought organic coconut cream from a can to save time and money, but if you're feeling extra creative, you can easily make coconut cream from scratch. Just keep in mind, if you do plan to make it yourself, coconut cream does have to chill overnight to be used, so you'll have to plan ahead.
1/4 Cup Of Planet Oat Extra Creamy Oat Milk: We used oat milk, but any non-dairy milk will work for this vegan chocolate dip recipe. When choosing a non-dairy milk, we recommend choosing an original unsweetened version over sweetened or vanilla flavored. This choice will be healthier and won't make your chocolate dip overly sweet.
1 Tbsp Of Coconut Oil: Any brand of coconut oil will work for our recipe. If you've been vegan for a little while, you likely already have coconut oil in your pantry!
1 1/2 Tsp Of Vanilla Extract: Any brand of vanilla extract will also work for our recipe. Check your spice rack or cabinet, bakers and vegans likely already have some at home.
1/2 Tsp Of Cinnamon Powder: Check your spice rack or cabinet for cinnamon power too. Cooks of all levels and diets likely already have some on hand.
---
Kitchen Equipment Needed
Our vegan chocolate dip requires minimal kitchen equipment and you already have it at home! Here is all the kitchen supplies you'll need to make our chocolate dip tonight:
Microwave Safe Medium Sized Bowl Or Small Saucepan
Measuring Cup
Measuring Spoons
Can Opener
Whisk
Plastic Wrap Or Tin Foil
Allergen Information For Our Chocolate Dip
Our chocolate dip is vegetarian and vegan friendly. It contains no peanuts, pine nuts, dairy, gluten, palm oil, refined sugar or soy. Some suggested recipe substitutions may contain common allergens so please choose carefully.
---
Recipe Instructions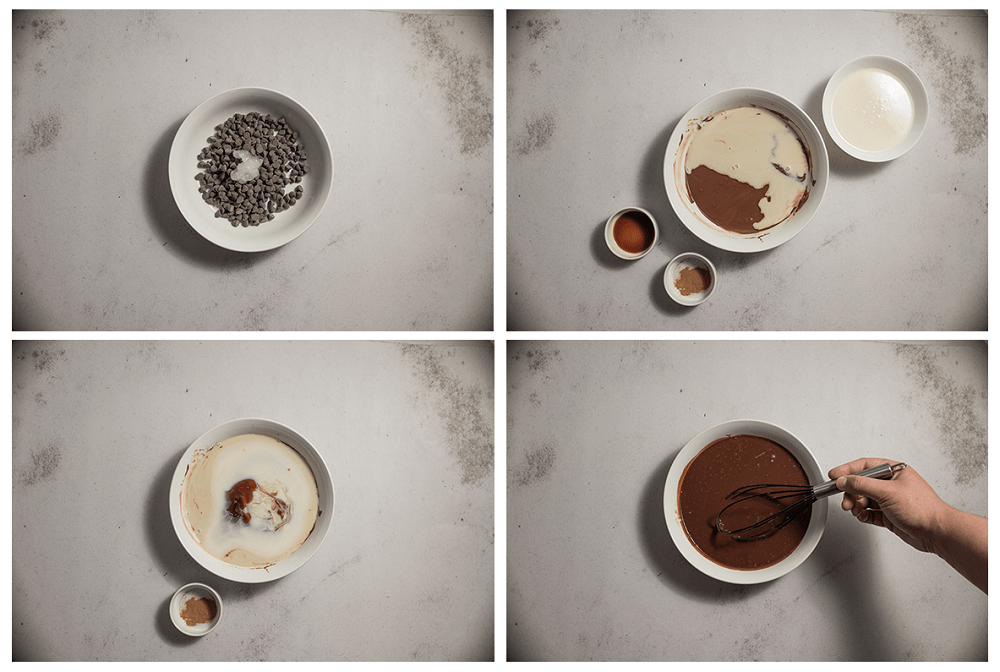 Step 1: Mix Your Chocolate & Oil – In a medium sized microwave safe bowl, mix the vegan semi-sweet chocolate chips and coconut oil.
Step 2: Microwave – Microwave your semi-sweet chips and coconut oil in increments of 30 seconds. Pull the bowl out and stir well in between increments until chocolate is fully melted. This step should take 1-2 minutes.
Step 3: Add Your Other Ingredients – Add your coconut cream, non-dairy milk, vanilla extract, and cinnamon powder. Mix well with a whisk until thoroughly blended.
Step 4: Cool – Cover your bowl with a top, plastic wrap or foil and place in the fridge for 2-3 hours until thickened.
Step 5: Serve & Enjoy – Serve with your favorite foods and enjoy with loved ones!
---
How To Eat Vegan Chocolate Dip & What To Eat With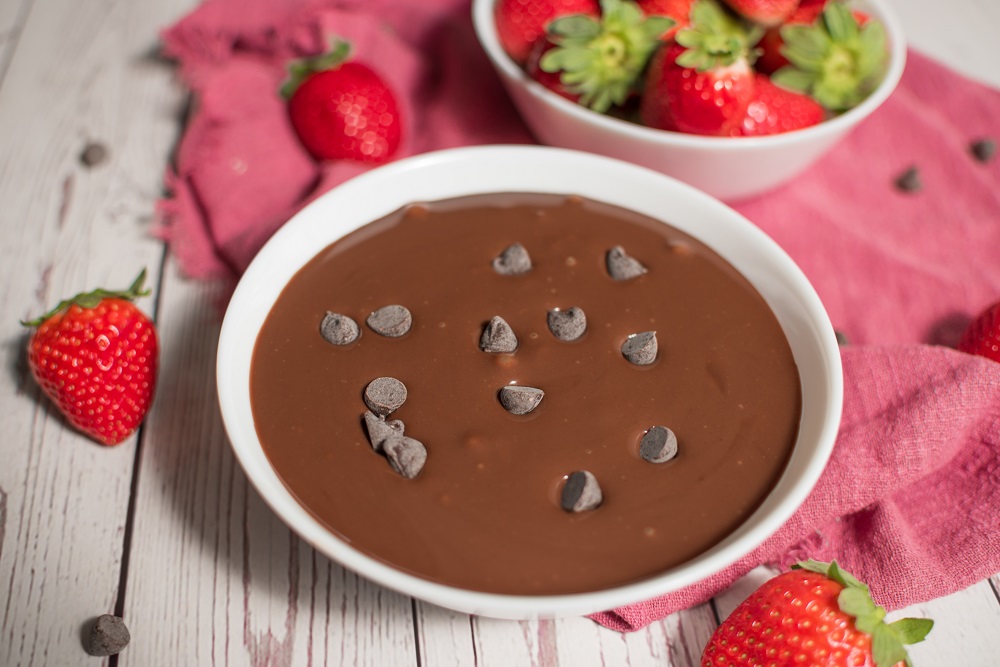 Eat it with a spoon or serve it with your favorite treats. Vegan chocolate dip is easily paired all of these delicious foods:
Fresh Fruit: Vegan Chocolate Strawberries are the most popular, and you should definitely try them, but this chocolate dip goes well with any fresh fruit. From raspberries, to bananas, pineapple and more; they're all tasty!
Smoothie Bowls: Smoothie bowls sound super trendy, but it's picking up popularity at juice and smoothie bars around the country. Make your favorite smoothie, pour it in a bowl, add fruit, oats and drizzle vegan chocolate dip over the top!
Ice Cream: Everyone loves ice cream and can be topped with anything! So why not reach for your freshly made vegan chocolate dip?
Pancakes: Top chocolate on chocolate with chocolate pancakes and this chocolate dip drizzled on top.
Waffles: Waffles are amazing as breakfast and as a dessert. This evening pair waffles with some ice cream and vegan chocolate dip for dessert!
Crepes: This vegan chocolate dip tastes amazing drizzled onto and spread inside homemade crepes!
Cookies: Bake some homemade shortbread cookies and dip half in your fresh chocolate dip or use the dip inside some molten lava cookies.
Brownies: Dunk the top of homemade brownies into your chocolate dip then decorate with nuts, sprinkles or candies for a decadent finishing touch.
Toast: Dress up your plain piece of toast tomorrow morning with some Nutella, fresh fruit and drizzled chocolate dip! You'll never want plain toast and butter ever again.
Hot Chocolate: Take your instant hot chocolate to the next level by incorporating fresh chocolate dip!
Pretzels: Make your own chocolate covered pretzels from home! This way you'll know for sure that they're vegan and always delicious.
---
Recipe Substitutions & Variations
If someone in your home is allergic to coconut or you forgot an ingredient at the store; here's some recipe substitutions. We've also included some fun variations to impress and excite family and house guests.
Allergic To Coconut: Swap coconut cream for tahini or a palatable nut butter. Whipping cream and greek yogurt would also work in place of coconut cream, but your chocolate dip would not be vegan anymore. You'll also need to swap the coconut oil for macadamia nut oil or olive oil.
Can't Find Extra Creamy Oat Milk: You can use ordinary oat milk or swap for almond milk.
Vegan White Chocolate Dip: Just swap regular vegan chocolate for vegan white chocolate.
Vegan Holiday Chocolate Dip: Just add peppermint extract to make a peppermint bark like chocolate dip.
How To Store Our Vegan Chocolate Dip
You can store our vegan chocolate dip in the refrigerator for a few days. We recommend putting it in an airtight container for maximum freshness. To re-serve, you will need to pop it back into the microwave or place in a saucepan for 20 to 30 seconds and whisk it up again to soften the dip enough to use.
---
Recipe Troubleshooting & Questions
Why is my dip so thin?
You likely added too much non-dairy milk or coconut cream. If you prefer your vegan chocolate dip to have a thicker consistency, you can fix your dip by adding additional vegan semi-sweet chocolate chips.
Why is my dip so thick?
If your vegan chocolate dip is too thick, you can slowly thin it out by adding more non-dairy milk 1/8 of a cup or smaller at a time to get the consistency you like.
What kind of chocolate should I use?
To make sure your vegan chocolate dip is actually vegan, be sure to choose a bag of vegan semi-sweet chocolate chips. We use the Enjoy Life brand found at most grocery stores, but there's other brands out there that will work just as well.
What do vegan chocolate chips taste like?
Vegan chocolate chips taste just like any other store bought chips! The only difference is any semi-sweet chips, whether they be vegan or not, will taste closer to what you'd expect from dark chocolate.
Does vegan chocolate chips melt well?
Vegan chocolate chips melt just like any other type of chocolate.
Can you melt vegan chocolate in the microwave?
Yes! Just make sure you place them in a microwave-safe bowl.
How do you melt vegan chocolate on the stove?
Just like you would with conventional chocolate chips; place a pot of water on the stove and set a bigger dishwasher safe bowl on top. As the water in the pot warms up, it will melt your vegan chocolate chips. Stir as needed to fully melt the chips.
What kind of non-daily milk should I use?
We used oat milk for our vegan chocolate dip, but you can use any non-dairy milk. Almond milk is very tasty in our dip as well!
What does this chocolate dip taste like?
It tastes like delicious chocolate sauce! It can taste a bit like dark chocolate if you don't use an extra creamy oat milk in your dip. The vanilla extract also helps to cut down that dark chocolate taste.
Does this chocolate dip taste like coconut?
No, it does not taste like coconut. Coconut cream and oil used in small amounts in any recipe won't overpower your dish. Our chocolate dip tastes like chocolate all the way through without a coconut aftertaste.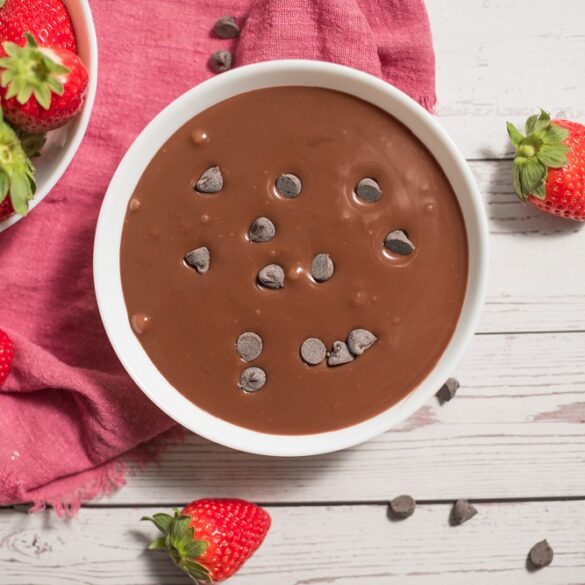 Ingredients
1 cup semi-sweet vegan chocolate chips (I used Enjoy Life chocolate chips)

1 cup coconut cream (only use the white part that has separated from the can)

¼ cup non-dairy milk (I used extra creamy oat milk)

1 tbsp coconut oil

1 ½ tsp vanilla extract

½ tsp cinnamon powder
Instructions
In a medium-size bowl mix the chocolate chips and the coconut oil and mix well. 

Add the bowl to the microwave in increments of 30 seconds and stir every time. Heat for a total of 1-2 minutes until the chocolate is melted.

Then add the coconut cream (only the white separated part, just make sure not to shake or stir your can), milk, vanilla extract and cinnamon powder and whisk until well combined.

Cover up the bowl and place in the fridge for 2-3 hours or until it has hardened a little bit. 

You can serve this with strawberries, pretzels, marshmallows, etc.

Enjoy!