Is there anything more comforting than sitting down to a hearty, piping hot meal at the end of a chilly winter's day? Winter recipes are all about fresh seasonal produce and warm and cosy comfort foods that nourish you and help keep you cosy when temperatures outside may be less than ideal. If you are looking for a couple of new recipes to add to your winter warmer repertoire, you've certainly come to the right place. Whether you are a die-hard meat lover or someone who prefers to keep your meals plant-based, you are guaranteed to find something to suit your taste in today's ultra delicious article.
Stay warm from the inside out with these 3 hearty recipes to keep you cosy this winter.
1. Italian Malfatti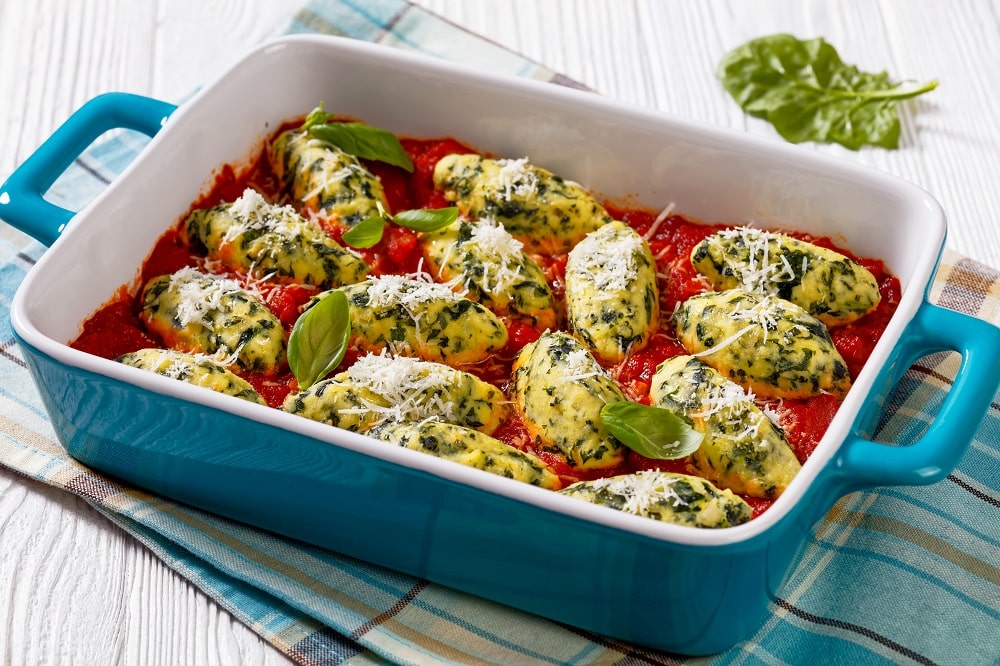 If you're a fan of Gnocchi, we guarantee you'll love these Malfatti. Made with luscious Ricotta cheese and marbled with a generous amount of baby spinach, these dumplings are a perfect weeknight meal that even the kids won't be able to resist. Just like Gnocchi, Malfatti are best served with a delicious napoli or bolognese sauce for an ultra-comforting winter meal.
Tools: Colander, muslin cloth, large skillet and a food processor.
Ingredients:
300g baby spinach
1 tbsp olive oil
2 cloves garlic, minced
1 large shallot, finely chopped (or 1/2 red onion)
500g / 1 lb ricotta, drained overnight in a sieve lined with muslin or cheesecloth
1/4 cup (lightly packed) basil leaves, finely sliced
1 egg + 1 egg yolk
1 cup parmesan, finely grated
1/2 cup plain flour , plain / all-purpose
1/2 tsp salt
1/2 tsp black pepper
Your favourite pasta sauce, to serve
Method:
One night before preparing your malfatti, line a sieve or colander with cheesecloth or muslin. Transfer ricotta cheese to your line sieve and allow to drain overnight in the fridge.
The next day, toss baby spinach with 1/2 tsp salt in a large colander. Leave for 20 minutes.
Roll spinach up in a tea towel and squeeze tightly to remove excess liquid. Roughly chop by hand or in a food processor.
Heat oil in a skillet over medium high heat. Add garlic and shallot, cook for 1 minute until translucent. Add spinach and cook until just wilted. Transfer to a large bowl, allow to cool.
To make malfatti dumplings, add drained ricotta, basil, egg, egg yolk, parmesan, plain flour, pepper and salt into a bowl. Mix well to combine.
The mixture should be too wet to roll with hands without sticking, but still firm enough to shape into dumplings.
Using 2 dessert spoons, scoop up about 1 1/2 tablespoons of mixture then shape into a football (see how to make a quenelle) using the two spoons. Place on a paper-lined tray. You should get about 24-30 malfatti.
Bring a large pot of water to the boil, then carefully put 6 dumplings in. Cook for 2 minutes, or until the dumplings float to the surface.
Remove with a slotted spoon and transfer to a paper towel lined tray. Repeat for remaining Malfatti.
Serve with your favourite pasta sauce and garnish with more chopped basil, parmesan cheese and olive oil.
2. Persian Lamb Tagine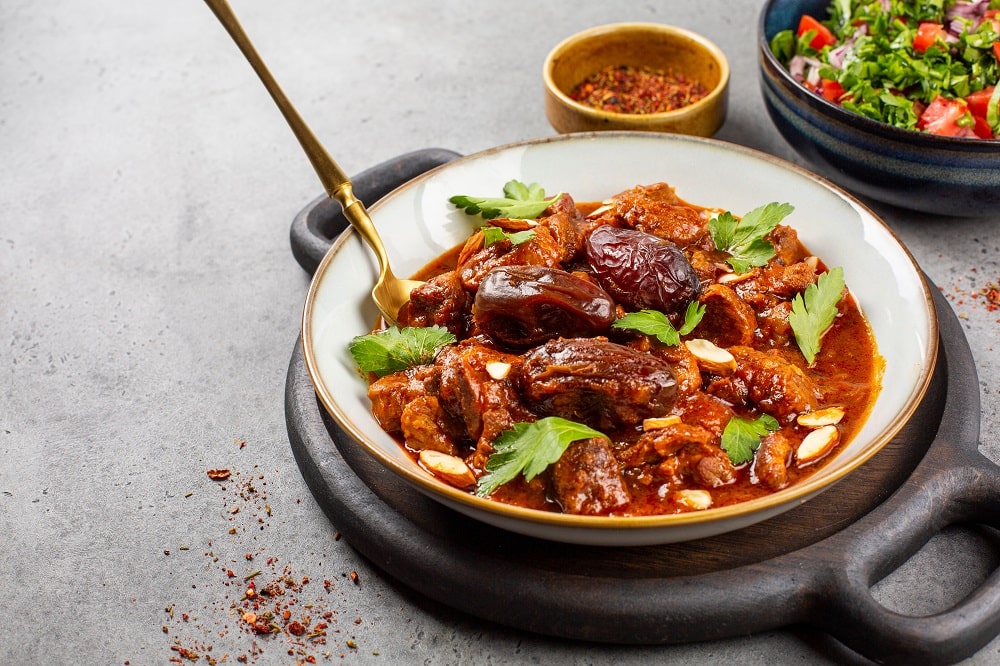 This warming stew is perfumed with cinnamon, cumin and a medley of other aromatics that are guaranteed to keep you warm and satisfied this winter season. Sweetened naturally with dates,  dried apricots and bursting with lamb so tender that you won't even need a knife, this Persian Lamb Tagine pairs perfectly with steamy Rice Pilaf, Pomegranate Couscous or Moroccan Flatbreads.
Tools: Casserole dish, dutch oven or traditional tagine.
Ingredients:
2kg lamb neck fillets
5 tbsp vegetable oil
3 medium onions, cut into thin wedges
4 garlic cloves, minced
4 tsp ground cumin
3 tsp ground coriander
1 tsp cayenne pepper
1 tsp ground turmeric
large pinch of real saffron
2 cinnamon quills
2 preserved lemons, drained and sliced thinly
300g dried apricot
250g pitted dates
100g shelled pistachios
2 tsp rosewater
3 tbsp cold water
25g cornstarch
Chopped coriander, to serve
Method:
Heat oven to 180C. Trim the lamb of any hard or excess fat, cut into bite sized chunks and season all over with salt and pepper.
Heat 1 tbsp of oil in a large oven safe casserole dish and brown the lamb in 3-4 batches over a high heat for 1-2 mins until lightly golden.
Add 1tbsp more oil between each batch and transfer to a bowl each time a batch is browned.
Heat the remaining oil in the same dish over a medium heat and gently fry the onions for 5 mins or until softened and just starting to colour.
Stir in the garlic, cumin, coriander, chilli powder, turmeric, 1 tsp ground black pepper and 1 tsp flaked sea salt. Cook for 1 minute, stirring frequently.
Return the lamb to the dish and add 1.5 litres of water, the saffron, cinnamon and preserved lemons. Bring to a simmer, stirring a, cover with a lid and transfer to the oven. Cook for approximately 1 hour.
Carefully remove the dish from the oven and stir in the apricots, dates and half the pistachios, then cover once more and return to the oven. Cook for a further 30 mins.
Transfer the dish to the stove and adjust the seasoning to taste.
Mix the cornflour with the rosewater and 3 tbsp cold water, then stir into the tagine. Cook over a medium heat for 1-2 mins or until the sauce thickens.
When ready to serve, roughly chop the remaining nuts and sprinkle over the top. Garnish with coriander and serve with couscous or rice.
3. Lentil & Potato Moussaka Bake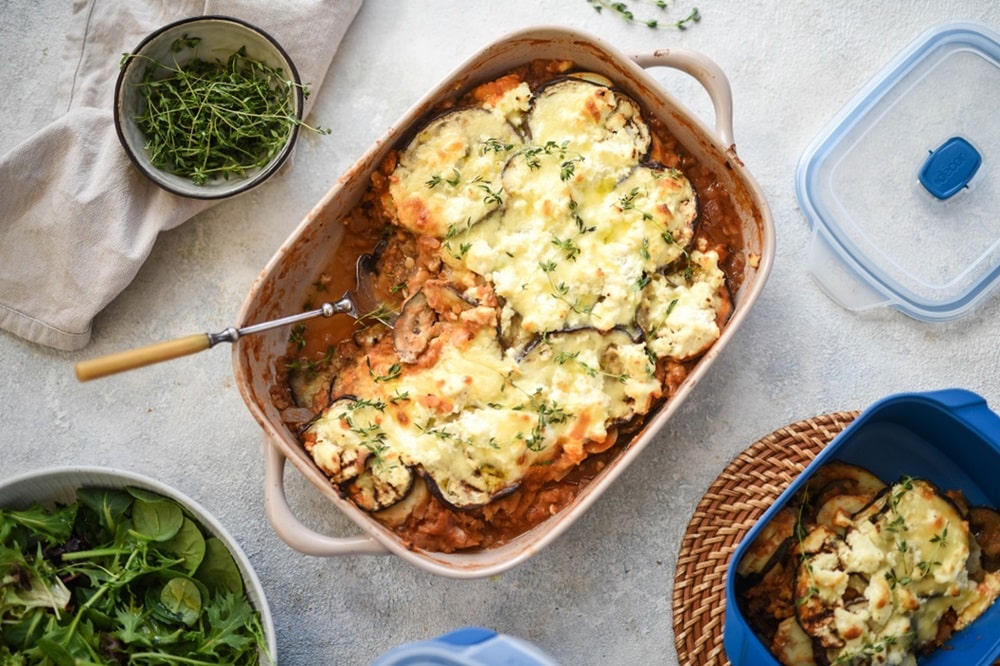 Whether you're a vegetarian or simply looking for ways to cut down on your meat consumption, this hearty Lentil Moussaka Bake is so tasty and comforting that even the most devoted of meat eaters won't be able to say no! You can also easily veganise this dish by making a few ingredient substitutions for the perfect plant-based dinner.
Tools: 2L oven-safe baking dish, potato masher, large skillet and large pot.
Ingredients:
180ml (¾ cup) olive oil
1 onion, finely chopped
2 garlic cloves, minced
1 celery stalk, finely chopped
1 carrot, finely chopped
2 tbsp harissa paste
250g green lentils
2 x 400g cans chopped tomatoes
½ bunch oregano, de-stemmed and chopped
5kg potatoes, peeled and diced into 3cm pieces
150g cheddar, coarsely grated (or vegan cheddar)
100ml milk, warmed (or soy milk for Vegan option)
20g unsalted butter, chopped (or vegan margarine)
3 medium eggplants, sliced into 5mm-thick slices
Chopped parsley, to serve (optional)
Method:
Heat ¼ cup (60ml) oil in a saucepan over medium-high heat. Add onion, garlic, celery and carrot. Cook for 4-5 minutes until the onion has softened.
Add harissa and lentils and cook 2-3 minutes until lentils are heated through. Add tomatoes, oregano and 3 cups (750ml) water. Bring to a boil, then reduce heat.
Simmer, loosely covered, for 90 minutes or until lentils are tender and sauce has thickened. Add more water if the sauce starts to dry out.
Meanwhile, cook potatoes in a large saucepan of water for 15 minutes or until tender. Drain, return potatoes to pan and mash. Add cheese, milk and butter. Beat well.
Heat remaining ½ cup (125ml) oil in a frying pan over medium-high heat. In batches, cook eggplant for 3-4 minutes each side until tender. Drain on a paper towel and set aside.
Once all components are cooked and ready, preheat the oven to 200°C and grease a 2L baking dish.
Lay a third of the eggplant over the base of the dish. Cover with half the lentil mixture. Layer over another third eggplant. Cover with remaining lentils.
Layer with the final third batch of eggplant, then top with prepared mashed potato. Bake for 45-50 minutes until golden.
Sprinkle with chopped parsley to serve.
_______________
And there you have it – 3 winter warmers that are guaranteed to satisfy and warm you from the inside out! What are some of your favourite winter meals to indulge in? We would love to know, so don't forget to leave a comment below! Bon Appetit!