Muffins are easy and quick to make and have been a staple afternoon favorite. They are also very much in demand during the blueberry season when blueberries are abundant and cheap – perfect for whipping up blueberry muffins. If you are into muffins, baking up these babies using an electric muffin maker will surely give you incredibly moist and fluffy muffins with golden-domed tops that you and your family will fall in love with one bite. Here's a step-by-step guide for you on how to use an electric muffin maker for some quick and easy muffin-baking!
What You Need to Bake Blueberry Muffins
Before we go to the steps in making blueberry muffins using an electric muffin maker, check out the ingredients you'll need for baking:
1 ½ cups fresh blueberries

2 eggs

1 cup of sugar

2 cups of flour

½ cup milk

¼ cup butter

2 tsp. baking powder

1 tsp. vanilla extract

½ tsp. Salt
Kitchen Tools You'll Need
To start making delicious homemade muffins, you'll need a few common kitchen tools to bake them with ease. If you're not much of a baker, take a quick look at this list to ensure you have everything at home before starting your batter.
Mixing bowl: A large glass or stainless steel mixing bowl will do.
Whisk: You could use a fork if you needed to, but a whisk will get all the lumps out.
Spatula: Any size you're comfortable with will do this to scrape out all the batter.
Paper liners: Like cupcakes, muffins need some kind of liner. We recommend using cheap paper ones. Silicone ones are great and can be beautiful, but I wouldn't expect them to be returned.
Storage Container: You'll need to store them all, especially if you're bringing them to a family dinner or potluck. We recommend this one because it's easy to carry and clean: I recommend this storage container that can be bought on Amazon.
Prepping the Batter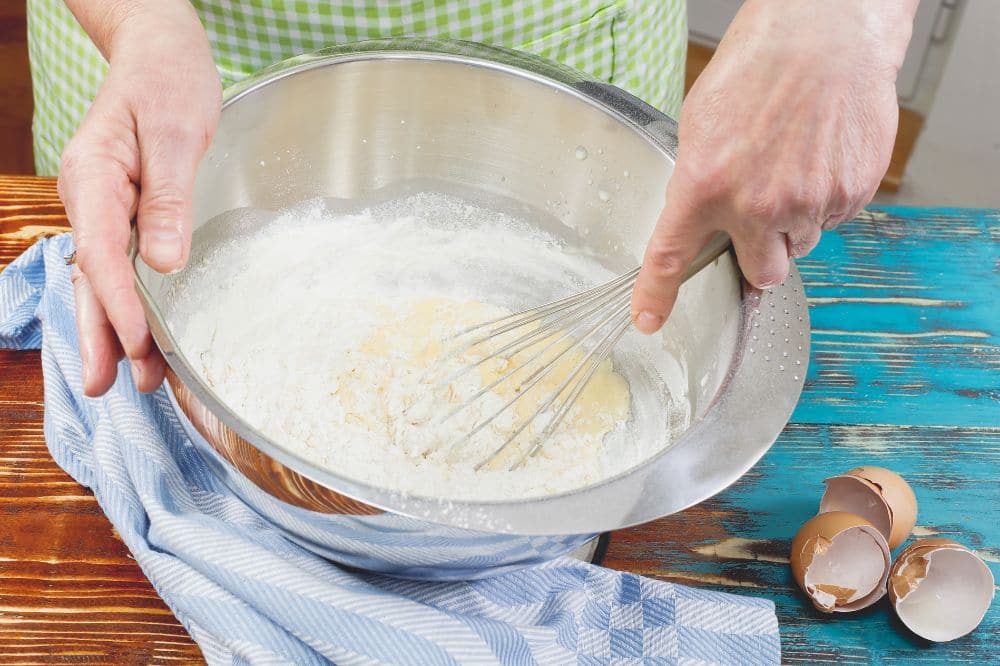 The making part is very quick and easy, and will only take about 5 to 10 minutes to prepare.
Combine dry ingredients: Whisk flour, baking powder, sugar, and salt in a large bowl.
Combine wet ingredients: In a separate bowl, whisk the milk, melted butter, eggs, and vanilla.
Combine Wet & Dry: Make a well in your dry ingredients bowl and pour in the wet mixture. Mix gently until they are just combined and lumpy – and try not to over-mix or stir more than 10 times.  If you see some flour lumps in the batter, that's totally fine.
Add blueberries: Add in most of your blueberries and reserve some for your toppings.
Steps on How to Use the Electric Muffin Maker
If you're using the electric muffin maker for the first time, wipe off the surface using a damp cloth, then dry. Do not pour or immerse the muffin maker in water.

Place it on a flat, heat-resistant and level surface.

Close it and plug the cord in an outlet. The red light will turn on indicating that it is switched on.  The green pilot light stays off indicating that it is warming up.  When the green light turns on, it means that the preset baking temperature has been reached and the appliance is ready for use.

Cautiously open the electric muffin maker and lightly brush the plates with butter, oil, or cooking spray.

Insert the proper paper liners to each cavity. Using paper liners will make removing and serving easy.

Pour in your batter into the electric muffin maker using an ice cream scoop. If you don't have one, you can use a disposable pastry bag or zip-top plastic bag to pour the batter into each reservoir. Fill the bag with your batter, and clip one corner of the bag, and gently squeeze to push the batter out from the corner of the bag.  Don't fill all the way to the edges, fill about ¾ of the plate.  Top the batter with the remaining blueberries.

Close the lid and bake until golden brown. Actual cooking time may vary depending on the ingredients used, but in general, baking time is about 6 to 8 minutes per batch.

When the muffins are ready, remove them using a spatula or insert a plastic or wooden stick on the sides to remove them. Don't use metallic objects as these may damage the plate's nonstick coating.

Let your muffins cool on a rack and unplug the cord from the outlet. Leave the muffin maker open to cool.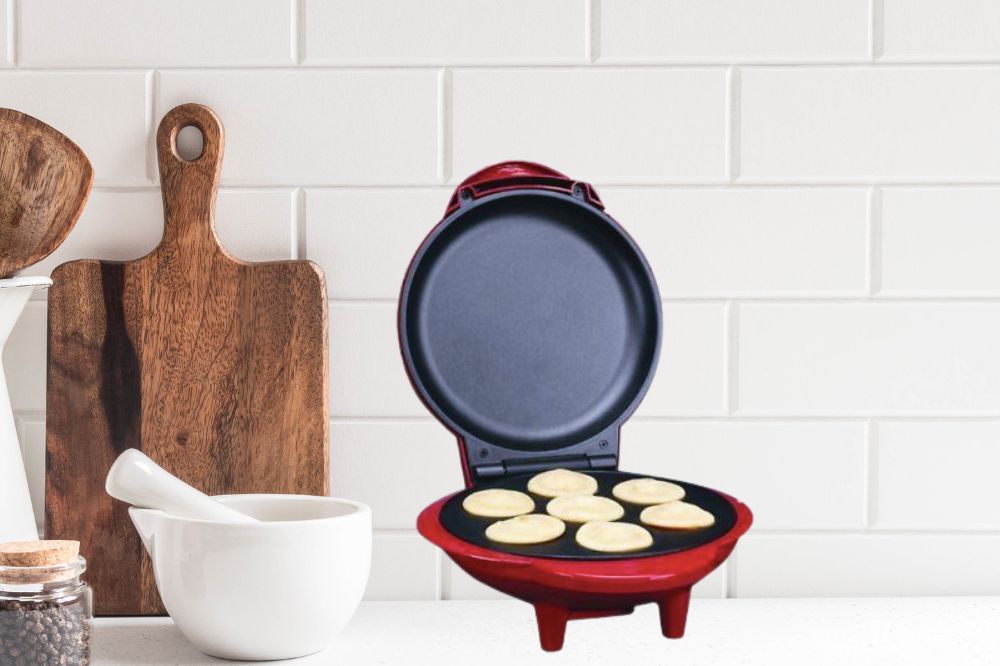 How To Clean Your Electric Muffin Maker
Unplug your electric muffin maker from the outlet and let it cool completely before cleaning.

Wipe the outside and inside with a damp (not sopping wet) cloth and then wipe it again with a dry cloth. Do not fully submerge it in water or any other kind of liquid.

Store in a clean and dry place away from young children.
For More Than Just Blueberry Muffins
If someone in your house doesn't like blueberries, no problem! You can swap them out for strawberries, blackberries, raspberries, pecans, or even chocolate chips! The great part about an electric blueberry muffin maker is you can split your batches into different kinds to ensure everyone in the house is happy. Muffins are also great adding to kids' school lunches a their dessert.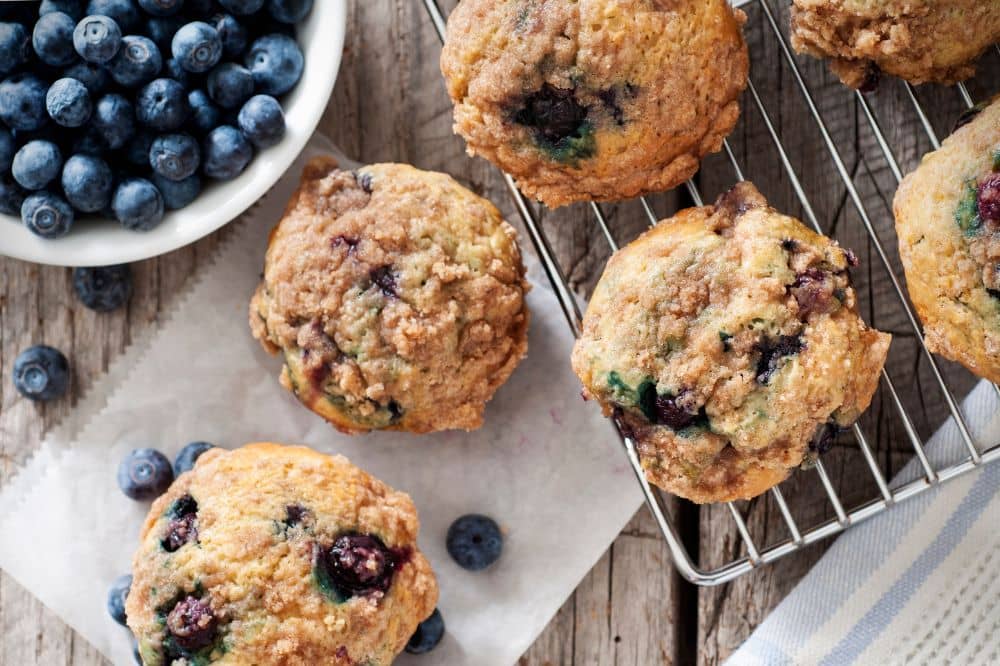 Conclusion
If you are a home baker and you like to make quick and easy treats, you can never go wrong with muffins.  They're easy to make and bake, plus they're perfect as your afternoon delight with coffee and friends, or if you are always on the go and you need to satisfy your pastry cravings.  Making these babies are super fun and easy with your electric muffin maker.  They're easy to use, safe, and let's you bake the perfect bite-size muffins in no time.